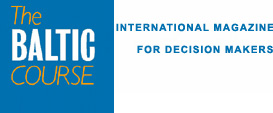 ---
The winner takes it all
Inese Gaiks
Despite the fact that the Baltic-Russian relationship is a coin with many sides, oil transit routes through Baltic ports are one of the most profitable and perspective branches of Baltic economies. More than ten oil terminals deal with oil transit from Russia, Belarus and other CIS countries to western markets. Russia's heating oil transported via Ventspils last year helped stabilize the level of oil products supplied to the USA; this year oil is even being transported via Butinge to Uruguay.
Heroes of Our Time
Russian oil exporting circles on the black gold route dealing with oil product transportation to Northwest Europe via Ventspils seem to have been unbroken for the past several years. Polish, German and Lithuanian players are to be reckoned with in the Russian oil transit bonanza, but the capabilities and experience of Ventspils, gained through 40 years of tough work, helped save its stand.
"In Soviet times, tradition had it that the race was won by Novorosiysk in the first half of the year and by Ventspils in the second half. This lasted for many years. Nowadays, we still keep up the tradition of being the best", - said Genady Schevtsov, Technologies Director for Ventspils Nafta.
Still, the future is unsure. Russian oil export volumes have been stable for the last decade, i.e. 3.2 - 3.4 million barrels a day. Export amounts fell last year. This year Russia wants to stick to the trend of supplying more oil to its own refineries, use its existing ports as much as possible and even build new ones. Capacities for Russian oil transshipment in the Baltic Sea region increase every year, while the volume of oil actually exported is significantly less than was in soviet times.
Nowadays, Ventspils serves as a transit route for Russia's leading oil companies. The biggest exporters - Lukoil Baltija R, followed by Tatneft, Yukos, Bashneft, Tyumen Oil Co, Sidanko, and Onakoimpeks. In total, some thirty or forty companies use this route for oil exports. Over the past year, the Latvian branch of Russian oil giant Lukoil, Lukoil Baltija R has loaded 2.5 million tonnes, i.e. one fifth of Ventspils oil exports (according to the Lukoil annual report, the company's share of total Russian export via Ventspils in 1999 amounted to 32%). According to the company's forecast, export volumes will remain the same this year. In the first half of 2000, Lukoil has handled 1.65 million tonnes through Ventspils, that's 15% more then in the first half of 1999. According to Haim Kogan, Director General of Lukoil Baltija R, an average supply of 585 000 tonnes per month is expected.
This year Surgutneftegaz, the third biggest Russian oil company has started to pump oil exported by Nafta Moskva to Ventspils. Surgutneftegaz still considers the southern route and supplies to Germany more profitable for export. By the third quarter, according to a schedule adjusted by the Ministry of Energy for the Russian Federation, supplies of Surgutneftegaz are split mostly between Novorosiysk and Germany. a new supplier recently appeared in Ventspils - Tangra Oil, exporting 205 000 tonnes of oil between May and June.
Fierce Competition takes its toll
Ventspils is considered as a regional hub with growing competitiveness, lately taking various measures for attempting to attract attention of Russian oil exporters. "Today, price is the main factor. A good level of service quality and a good price will attract a client", - says Genady Schevtsov. The main rivals for Ventpils are the Butinge terminal in Lithuania for northerly-headed Russian oil exports and the ports of Odessa and Novorisiysk on the southern route. According to Schevtsov from Ventspils Nafta, last year's task was to achieve Odessa export levels.
Last year Ventspils Nafta decreased its tariffs twice - down to USD 4.70 per tonne. The tariff still stands this year. In December, a tariff on pipeline oil transportation fell by 20 US cents. That resulted in a general fall in price, and Latvian transit corridor costs even went down by 40 cents per tonne. Even so, handling tariffs for crude oil in Novorosiysk remain without changes - 2.70 US dollars per tonne, and at Odessa - USD 6.0 per ton.
Reduction costs of the Latvian oil transit corridor had a positive impact on profits for oil exporters. According to Petroleum Argus data for June 2000, estimated export profit on the route Nizhnevartovsk - Ventspils reached USD 9.77 per barrel, to Novorosiysk - USD 8.95 per barrel, to Odessa - USD 8.26 per barrel. One year ago, Ventspils route profits amounted to only USD 4.88 per barrel compared to USD 5.18 per barrel at Novorosiysk.
There has been no significant growth in the transit of crude oil via Ventspils over the past years. Volumes have stabilized on the point of 14.4-14.5 million tonnes per annum. Last year's fall amounted to 13 million tonnes. With work dwindling and a price to boot, the stevedore company profits reflected the scene. Four years ago the net profit of Ventspils Nafta was LVL 24.8 million (around USD 42 million), last year's profit was equal to LVL 16.3 million. This year forecasts look even more humble - LVL 8.7 million.
As Genady Schevtsov admits, after Ventspils reduced its transhipment tariffs, Russian exporters are less pretentious and pay less attention to Gdansk as the more favourable route. Ventspils admits Gdansk and Rostock on the list of competitors. But Genady Schevtsov stresses the difficulties in identifying the cheapest route - it's either Ventspils or Gdansk - but Polish transportation and handling tariffs are confidential.
Mr German Sakolin, Deputy Director of the Russian Union of Oil Exporters (RUOE), was not able to enlighten the BC, as to whether Russian oil companies still had any claims in regards to Ventspils tariffs and contractual conditions. A year ago, Ventspils was accused of high prices; the RUOE administration also shared the view of many others. But Mr Sakolin denies that Russian oil exporters were willing to cooperate with their Ventspils colleagues with more than modest quotas exceeding those defined by the Russian Energy Ministry. At least, so is the case of RUOE members.
Mr Mihail Stupak, Commercial Director at the Port of Gdansk admitted that Gdansk had not considered Ventspils as its competitor, while visiting Latvia this May. Approximately 2.5 million tonnes of liquefied cargo handled at Gdansk was made up by Russian oil re-exports. Similar volumes are expected this year. Mr Stupak notes that their liquefied cargo terminals with loading capacities of 33 million tonnes, with only Ľ being used at the moment, would definitely not refuse more Russian oil.
Yet Ventspils clients now have the possibility to save money on freighting rates. Again, according to Genady Schevtsov, Ventspils Nafta has managed to speed up its loading process in a year's time: last year, in-tank loading was capable of 4 500 t/hour, this year - 7 200 t/hour, which "helps the client pay less for the tanker's freight while it's located in Ventspils". The number of large-scale tankers accommodated by the Port of Ventspils is growing: in 1999, there were 65 tankers with capacities over 100 000 dwt, and 22 tankers of the same capacity have already moored at Ventspils during the first half of 2000, ten of which were filled by more than 100 000 tons.
Rivalry methods
A year has passed since Lithuania jumped into the field of tough players exporting Russian oil. In June 1999, the first tanker with 80 000 dwt was loaded at the Butinge Terminal with crude oil supplied by Yukos and sold by BP/Amoco. Today, BP/Amoco is the only company dealing with the trade of Mazeikiu Nafta oil products on the international market.
Yukos remains in the leading export position at Butinge: well over 1 million tonnes of oil by now. In September 1999 the Tumen Oil Co started operations with the Butinge Terminal, soon followed by Nafta Moskva. Since March 2000, Sibneft and Tangra Oil have also joined the race.
In 1999, 656 000 tonnes of oil were exported through Butinge plus 1.6 million tonnes - in the first half of 2000. Believe it or not, 40 0000 tonnes of oil were even imported via Butinge for processing at the Mazeikiu refinery. Butinge's potential and tendency for growth leads us to believe that, in time, a serious competitor could emerge.
For now, competition between Ventspils and Butinge expands much along the same positions: oil transit costs in both directions don't vary much from Polotsk. American company Williams International, operator of Lithuania's Oil Corporation Mazeikiu Nafta and co-owner of the Butinge Terminal, has followed the Ventspils example and decreased handling tariffs down to 4.70 USD/t.
Lukoil, the main supplier for Mazeikiai, denies any interest in the Butinge Terminal, although Ivan Paleichik, Head of Lithuanian branch Lukoil Baltija, admitted that there were offers regarding Butinge among investment proposals for Lithuania. Information available to the BC also leads us to believe that Lukoil is still considering the possibility of using Lithuania's new terminal. In any case, the outcome depends on negotiations with Williams International, regarding the creation of a joint-stock between Lukoil and Mazeikiu Nafta for refining and trading oil in the Baltics, Poland and CIS countries.
While negotiations have already lasted for several months, Williams International has suggested to pay Lukoil a commission fee for each tonne of oil re-directed from Ventspils to Butinge without wishing to trouble Lukoil and its intentions for the Baltic Pipeline System. That reminds me of an interview given by Mr Randy Major, Head of Williams Lietuva, in the last issue of BC, where he claimed that Ventspils and Butinge are colleagues, not competitors, 'two fingers of one hand' is the phrase he used, linked together by interest in a common cause.
Friends and Strangers
Last year Russia exported 115.7 million tonnes of oil to the 'far abroad', as Russian's call it, this amounted to 134 million tonnes together with supplies to CIS countries, 2% less then a year before. In May, the former Minister of Fuel and Energy has reported on a decrease of exports in 2000 of up to 12 million tonnes. Mihail Hodorkovsky, President of Yukos expressed a more optimistic forecast: during the current year, Russia will produce 310-315 million tonnes of oil, and 340 million tonnes in 2001. Mr Hodorkovsky admitted that measures have to be taken in order to increase Russian export capacities; one of the most promising projects could turn out to be the one providing oil supplies to China and also creating the Baltic Pipeline System (BPS). And he's not alone on this view.
After several years of scepticism the Baltic States are finally convinced the reality of the BPS project. Another serious competitor will soon arrive, a Russian terminal smack on the Bay of Finland. In February, Russian president Vladimir Putin accepted the project's financial programme, calling it "a strategic tool" for the security of transportation and energy. It is too early to judge whether Russia will actually get control of this "tool". Lukoil supports the BPS, Surgutneftegaz has also changed its priorities in favour of the project. In May, Vagit Alekperov, President of Lukoil announced investments of USD 50-60 million for the BPS project. According to preliminary information, Kazakh oil transportation company Kaztransoil could also be involved in the project, ensuring up to 7 million tonnes annually. The Kazakhs are offered to become either a shareholder of BPS or to rent territory in the Port of Primorsk.
Involvement of the Caspian oil empire in the BPS project and a Caspian Pipeline Consortium project could be the downfall of Baltic port expectations to become transit routes for Kazakh oil. Less then in a year's time, the first section of the pipeline between Tengiz and Novorosiysk will be opened with capacity amounting to 27 million tonnes. Kazakh oil currently being transported to Odessa, P[T]heodosia and Tallinn by railway could be re-directed by the new pipeline.
In future, part of Russian oil exports could be re-called from Baltic terminals in favour of Northwest Europe and also the Mediterranean market, that is if the idea of connecting the Druzhba pipeline with a pipeline on the Adriatic Sea becomes reality. Until now, Russia was not able to agree with Ukraine on the transit rates for oil exports along the corridor, but Ukraine is becoming more and more compliant. The current tariff on oil transit along the Ukrainian part of Druzhba is USD 5.2 per tonne. If Ukraine agrees with Russia, the Omishal Port on the Adriatic Sea will be joining Russian oil exporters.
The Estonian miracle
Among Baltic ports, the port of Tallinn can easily be named as the most successful in terms of oil product exports. Tallinn holds 8 oil terminals, ensuring more than half of the port's turnover. The volume of liquefied cargoes handled increases each year by  around 3 million tonnes; this year looks to be the same. It has been decided that the construction of another oil terminal will begin in 2000, the Tallinn Port authority will invest USD 4 million towards the creation of a new tanker pier and a spur railway.
The main supplier for Tallinn is a refinery in Kirishi, Russia - Kirishinefteorgsintez (daughter company of Surgutneftegaz). Cargoes of heating oil from the refineries in Kirishi and Yaroslavl keep most terminals busy. Geographically, Tallinn is much closer to these Russian refineries and there's only a little distance from the Russian-Estonian border to the port - this keeps Tallinn beyond the competition of other Baltic ports. Less volumes of oil products are also obtained from refineries in Ryazan and Perm.
In 1997, the leading Tallinn terminal - Pakterminal, situated on the territory of the Muuga Port, had in cooperation with Kinex from St Petersburg, the Estonian Railway and Russian October Railway elaborated the most successful project in terms of oil exports. It's called Link Oil. Since last year, the terminal also transports crude oil, making up 22% of last year's turnover of 8 million.  The Link Oil shuttle train ensures the biggest part of Pakterminal's turnover. The port of Tallinn also gets oil from Kazakhstan and Orenburg (Onako) by railway.
Kirishi intends to construct a complex for deep oil refinery, allowing to increase the production of light oil products up to 3 million tonnes, reducing heating oil production to 4 million tonnes. Tallinn's future depends on the development of the Kirishi refinery and the owner's export strategy for the Surgutneftegaz refinery, having not completely rejected the idea of creating his own port for exports on the Batareinian Bay.
Lithuanian Muscle Power
The Russian refineries at Mazur and Novopolotsk supply the largest part of the oil products handled by the renovated oil terminal in Klaipeda, Lithuania: their heating oil makes up the biggest part Klaipeda turnover. Supplies come from Ryazan, Moscow and other Russian refineries. In 1999, Mr Pranas Sidiskis, then head of Klaipedos Nafta, assured the BC that Klaipeda would be able to get along with the Kirishi refinery regarding the supply of diesel fuel. In June 2000, Ricardas Milvidas, Commercial director of Klaipedos Nafta confessed that oil products from Kirishi were available for Klaipeda only if these products were refused by Tallinn for technical reasons. In Milvidas' opinion, Ventspils is the main competitor for Klaipedos Nafta in handling diesel, and Tallinn - for crude oil, especially Pakterminal: "There are suppliers who, due to geographical reasons, are orientated towards definite terminals, but some of these products could be delivered to us too, and we struggle for this portion".
Ricardas Milvidas confirmed that Klaipedos Nafta is negotiating with a Russian freight forwarding company to consider the possibilities of Baltic terminals, which may be ready to annually tranship up to 3 million tonnes using the services of several suppliers, including Lukoil and Tumen Oil Co. The freight forwarding company's name is kept secret during negotiations.
Today, the most significant forwarding company for Klaipeda remains Osman Trading, also cooperating with the port of Ventspils. It is expected that a new tariff policy is to be established in the near future by Klaipedos Nafta, consequently, Osman Trading will no longer be able to use its lower handling tariff of USD 4.50 per tonne as opposed to the USD 5.60 per tonne set for the rest of the parties. The Lithuanian press announced that as of August, Osman Trading will be paying USD 5.2 per tonne. The decision was made bearing in mind other unsatisfied forwarding companies - Atlant Shipping, Topselis, T.E.K. and the IPCO Group.   Mr Martinas Gusyatin, former head of Klaipedos Nafta and current head of Topselis, supplies Klaipeda with Yukos oil products; his recent promise of forwarding larger volumes is dubious, according to the head of Kaipedos Nafta, Petras Pareigis in June (P.Pareigis left his position in October ).
The beginning of 2001 is significant at least for the reason that a newly built pier with capacity of up to 10 000 tonnes a day will be opened, also set to handle crude and raw oil products. The terminal expects to receive crude oil from Kazakhstan and aviation fuel and petrol from Mazeikiai. By the end of the year, Mazeikiu Nafta plans to start building an oil pipeline to connect Mazeikiai and Klaipeda. Until now, part of the Mazeikiai crude oil amounts have been exported through via Riga port terminals.
Customers lost easily
The main oil flow for the Ventspils Nafta terminal consists of supplies from the Ufaneftehim refinery as well as refineries of Novoufimsk, Salavat, Moscow and Perm. Novopolotsk refinery has joined these after a break lasting of two years. Ventbunkers, another Ventspils terminal, also handles products of the Mazirsk refinery. Mr Stanislav Baiko, Director General of the Latvian Railway, mentioned that an agreement has been reached on increasing the supplies of heating oil from the Moscow refinery to Ventbunkers terminal up to 1.5-2 million tonnes annually. Thus, the terminal will be loaded to full capacity in regards to heating oil until the end of the year; amounts will increase next year after reconstruction.
Heating oil from the wholesale oil points in Bryansk and Gomel is the main source of oil products transported by railway through Ventspils. The Ventspils Nafta terminal pumps 200 -300 thousand tonnes of oil per month from Bryansk.
In 1999 Venstpils Nafta supplies were 4.6 million tonnes of diesel oil. Ventbunkers has 1.3 million tonnes of diesel oil and 1 million tonnes of heating oil. Another 3.6 million tonnes of diesel was transhipped via the pipeline to Ventspils.
Lukoil's project to build a pipeline to connect the Permnefteorgsintez refinery with Almetievsk in Russia was already elaborated several years ago. The final target of the pipeline is now Ventspils. The Latvian port could be provided with an additional 1 million tonnes of diesel per year. Perm diesel is transported not only to Ventspils, but also to the port of Tallinn for a price at almost USD 1.5 less, not mentioning the relatively low transportation costs in Estonia.
New horizons will be opened in terms of oil transhipment by the end of the year with the largest Ventspils Nafta investment project, a railway platform for 6 different types of oil products. The project costs are estimated at USD 18 million. Recently, the Russian railway decreased its transportation tariffs for Latvia, which could make the Ventspils port more favourable in the eyes of some exporters. According to Genady Schevtsov, many suppliers had turned away from Ventspils due to the high railway tariffs: "there is a tendency for customers to leave quickly. On the contrary, to get them back takes ages." Novopolotsk is a good example of where these customers may go. Others are sure to follow.
Riga - Ventspils - Klaipeda
The main oil exporters via the port of Ventspils and via the Druzhba pipeline to Lithuania, Poland and Germany, January-August 1999 (thousands of tonnes)
Exporter                   Ventspils             Lithuania               Germany               Poland
Lukoil                       1442.0                0                          80.0                      869.0
Surgutneftegaz          0                         150.0                   3536.0                  1130.0
Yukos                      904.6                  388.4                   516.0                    217.0
Sidanko                    1844.4                20.0                     86.0                      1003.1
Eastern Oil Company                          0                          516.7                    39.0                      280.0
Onako                      1181.8                0                          0                           265.5
Tumen Oil Company 442.0                  0                          543.7                    360.0
Tatneft                      912.0                  239.8                   1847.9                  521.0
SIBUR                     0                         19.9                     0                           20.0
Source: "Neftegazovaya Vertikal"
3.   Forecast of oil and oil product exports from former Soviet territory (1000 barrels/day)
1st quarter '99                          2008
_____________________________________________________________________
Northwest Europe                                320                                          720
Druzhba Pipeline                                   1060                                        1400
The Black and Mediterranean Sea        1140                                        4320
Other routes                                         160                                          460
Total:                                                    2680                                        6900
Source: Petroleum Argus
4.   Russia's largest refineries according to primary volumes of oil processing in 1999 (mln tons)
Company                                   Refinery                                   Processing
YUKOS                                    Novokuybishev, Kuybishev, Sizran                                          19913.0
Surgutneftegaz                           Kirishi (KINEF)                      17151.9
Lukoil                                        Perm, Volgograd                     18400.5
Sibneft                                       Omsk                                      12456.9
Sidanko                                     Angarsk, Saratov, Chabarovsk                                                13646.3          
Tumen OC                                Ryazan                                    11145.7
Slavneft                                     Yaroslavl                                 9598.4
Moscow Oil Company               Moscow                                  8909.8
Source: Info TEK
5.   Market structure of refineries based on oil exports from Russia to Northwest Europe, 1st quarter 2000 (%)
KINEF                                    46.4
Yukos - Samara           9.6
Slavneft-Yaroslavl        8.0
TyumenOC-Ryazan     7.5
Lukoil - Permnefteorgsintez       6.3
Gazprom                      5
Moscow Refinery         3.4
Norsi                            3.2
Others                          10.6
Source: Info TEK
---