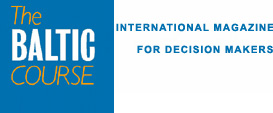 ---
The Baltic bid for Kazakhstan
Kazakh Minister of Foreign Affairs Erlan Idrisov visited all three Baltic States at the end of May, where he met both state officials and businessmen. Talks was mostly on politics and economics. The minister's visit provides a foundation for a new and more active era in the relationship between Kazakhstan and the Baltics. In conclusion of the visit, Idrisov gave an interview to BK's editor in chief Janis Domburs and editor Inese Gaiks.  
Mr. Idrisov, is your visit in the Baltics a regular routine trip, or does it have any specific meaning?
Well, certainly it is not a simple routine visit, but a visit that holds great importance for prospects of our co-operation with the Baltic region, a visit with the aim to give our co-operation an additional impulse.
We have great potential. We have no disagreements in the political sector, we absolutely respect each other on the basis of common priorities towards development. We respect the Baltic countries' wish to integrate into European institutions. In our view, your integration in the European Union will contribute to a more active co-operation between us and the European Union. We are developing our relationship with the European Union ourselves - an agreement on partnership and co-operation has been passed and implemented. We have very good relations with the key countries of the EU.
Latvia, as well as other Baltic States, recognises and highly appreciates the role of Kazakhstan in our region. Democratic and economic changes in our country are also highly appreciated. The process and depth of reforms, the content of which is in many ways similar to our country. We declared a move to create a democratic and liberal state with strong, stable, self-sufficient institutions of a civil society and a market economy.
Our countries also share priorities. Priorities in foreign policy are strengthening independence and the sovereign capacity. We recognise, this too. Moreover, taking into account the globalisation of the world's economy, providing access to markets all over, we represent important transit options for each other. For Kazakhstan, this is the way to Europe and further to the West. While for the Baltics, Kazakhstan is the way to China, Siberia, Central and Southeast Asia.
In your view, how much do economic links depend on treaties and political intergovernmental relations at the moment? And how do things stand between Kazakhstan and the three Baltic States?
They depend on these factors much. Certainly, it is the task of foreign affairs organisations to make a basis, an infrastructure, so to say, for such relationships. We have legal and contractual relations with each of the states. They are most developed with Lithuania. Much work must be carried out for development of this basis with Estonia. We reached an agreement with Latvia's Ministry of Foreign Affairs that we will actively work on making drafts pass through internal co-ordination faster...
What priorities do you see in co-operation?
At this time, there is a basis for trade and economic co-operation, also for co-operation in transit and transport sectors. Also are there documents on evading double taxation, investment protection, in various stages with various countries. Now documents on specific sectors are already being negotiated.
A serious challenge, as you know, is organised crime, drugs, illegal immigration, defence, weapons, etc. Signing documents on these spheres is also planned. This is an new and serious challenge, taking into account that many such negative phenomena go through Central Asia. This is why co-operation between our authorities is in this sense a priority.
Lately, we in the Baltics have often talked about the possibilities of exporting Kazakh oil through our ports and the Mazeikiai oil refinery. What kind of political support is there for the export of Kazakh oil through the Baltics?
There is indeed political support. Kazakhstan holds a considerable potential for oil production. We put out 30 million tons of oil today already. In the near future, production volumes will double, in the long term, we can provide for producing more than 100 million tons of oil.
Everything depends on the availability of transport routes - commercially advantageous, technically feasible, financially sound, and politically acceptable.
Thus I have pointed to four principles - in this very order: commercial interest, technical feasibility, financial efficiency, and reckoning with political aspects - as the fourth. That is, we certainly do not want politics to prevail over the economy. For us, it is most important for the state to make a gain. Thus, there is political support.
We advocate the principle of multi-modal routes. We are ready to develop the traditional routes - and in this respect, we co-operate well with Russia. I would also like to say that all issues linked with transit and transportation infrastructure are an absolutely important and vital part of the partnership with Russia. Absolutely important. This is a traditional route, we made an agreement that we are to develop a constructive dialogue, and the relevant conditions are being created and improved on now.
We also look to other routes. For instance, we clinched a general agreement with China in 1998 on the construction of a pipeline from Western Kazakhstan to Western China. The volumes are great, the prospects are very good. Having gas and oil in Western Kazakhstan, we have to import gas to Southern Kazakhstan. We look at other routes. Project number one for now is the Caspian Pipeline Consortium (Tengiz - Novorosiysk). The first stage of the project will be concluded in 2001. Kazakhstan will be able to transport an additional 27 million tonnes of oil over this route in literally one year - next summer. 
We do not, however, completely exclude the development of our southern routes, in this respect we are backed by European companies. There are routes via the Black Sea, Belarus, Ukraine, even Romania is a possibility. That is to say, there are many alternatives.
What must be done for oil to come specifically to the Baltics?
The most advantageous transit tariff conditions are needed for the corridor to be the most competitive. The transport expenses must be smaller, so that the price for oil is competitive. And - the speed of delivery.
To what extent is Russia's influence on the corridor?
I say that it is of absolute importance that we work in a triangle and reach agreements on tariffs. And this is possible. Today, our experts consider everything - we don't say 'no' to any of the routes. There is political support for all of them - i.e., the experts must now sit down, estimate and make agreements.
That means, you believe that Russia will not impede these plans?
We do not think that a blockade on the passage is the official policy of Russia, on the contrary, latest developments show that Russia is exercising a pragmatic policy. Transit is a profit to Russia, first of all. The volume of export quotas for oil from Kazakhstan has been growing lately - and this calls for some optimism.
What spheres, apart from the oil business, have, to your mind, good prospects for co-operation?
Our transit infrastructure is developing. To date, Kazakhstan can offer Latvia and other Baltic countries a transit route to Eastern ports, the Pacific ports of China. We have made a rail link between China and Kazakhstan - it did not exist until now. We joined branch-lines, constructed a modern railway station there, with various freight handling options - that is, storage, loading, transfer, minimal processing. The potential volumes of this station are growing. Each of your ports offers container-handling services - you have special terminals. We want to provide a mutual movement of containers over this route.
Kazakhstan is a supplier of non-ferrous and ferrous metals, agricultural production (grain, copra), ferro alloys, possibly, fertilisers - that is the initial list.
There are many spheres for co-operation. Untraditionally, your strong processing industry - you have great experience, especially in processing agricultural produce - meat packing and dairy industries. Traditionally, Kazakhstan is an exporter of agricultural produce, however, processing has always been our weakness. That's in your pitch - let businessmen and farmers work together, finding new markets. As for the development of small and medium-sized business, you also have certain experience. We offer mutual co-operation. Because the middle class will become the framework of our economies.
To what extent is the presence of Baltic business felt in your country?
Traditionally, the Baltics have had a good image with their agricultural produce. As to the presence of Baltic companies, I would say that we have about 25 joint ventures with Lithuanians, about as many - between 25 and 28 companies - with Latvia. In Almaty, there is a Latvian House of Commerce, where Latvia's production is represented. Skonto Metals operates in our country, Olainfarm, Gutta, as well as Lithuanian and Estonian companies. The number of Estonian companies is slightly smaller - about 20 partnerships of various forms have been registered. Traditionally, these are food products, machinery, and paper industry.
Yes, there are many possibilities. At the moment Lithuanian businessmen are the most aggressive upon attempting to enter our market - this is OK with us, since a real partnership between business circles does both countries good.
I have got the feeling that Baltic businessmen have begun realising the importance of our market. As to direct investments, we cannot talk about big sums yet. The total volume of direct investment Kazakhstan has attracted is USD 9 billion since 1993. You must understand that the share of the Baltics is very small. However, you have already acquired a certain niche. Our market is highly competitive, all the world's companies are represented in our country, in all sectors - high and information technologies, processing industries. Interest in investments into the oil and gas sectors is also increasing, this now amount to above 70 percent of all investments. Niches in other sectors are being discovered. And there are great possibilities concerning the infrastructure of new capital. Our President offered President Adamkus to build a Lithuanian House: take a land plot, construct a building there, it will be yours, if you want a restaurant - you are welcome, offices, shops - you are welcome. I believe that this is where the Baltic countries could co-operate and make a Baltic House. Why not? Please, place an ad in your magazine. Our country offers such options - you can construct a modern building: offices, restaurants. We have plenty of land. This will be highly welcome!
---