International Internet Magazine. Baltic States news & analytics
Sunday, 03.12.2023, 12:39
Estonia ought to become part of cargo route between India and Europe
BC, Tallinn, 13.02.2013.

Print version
At the meeting with the Indian minister of shipping G.K. Vasan, the Estonian minister of foreign affairs Urmas Paet discussed enhancing co-operation between Estonia and India in the field of logistics and transit, writes LETA/Postimees Online.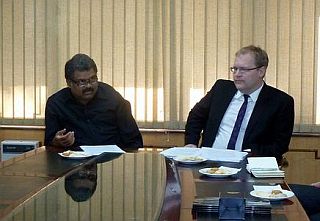 G.K. Vasan and Urmas Paet. New Delhi, 12.03.2013. Photo: flickr.com
"Estonia could be an important link on the cargo route between India and European Union and Russia," said the Estonian minister.
According to him, Estonian ports provide high-quality service and are integrated with railroad infrastructure.
"Estonia is also a suitable place for installing distribution centres and manufacturing units, due to the favourable business environment and entrepreneurial policies, highly developed e-services, competitive labour costs and qualifications," added Paet.
Paet and Vasan also discussed issues involving maritime safety and piracy in the Indian Ocean.
"Piracy remains one of the greatest security threats on international shipping routes. Estonian entrepreneurs are interested in co-operating to increase security in Indian waters," stated Paet.
Minister Vasan said that piracy is also a serious concern for India and more than 200 Indian seamen have landed in the hands of pirates.
Estonian Foreign Minister Paet also met with Corporate Affairs Minister of India Sachin Pilot, with whom he spoke about opportunities for co-operation among Estonian and Indian entrepreneurs, including in the IT realm, as well as developments in India's economy and India-EU trade co-operation.
Paet gave Pilot an overview of recent economic developments in Estonia and the European Union.
While talking about India-European Union trade relations, Paet noted that a bilateral trade agreement would be a major step forward.
"It would be helpful for stimulating the economies of both Europe and India and for promoting bilateral economic relations and investments. We hope that an agreement between the EU and India will be concluded within the first half of this year. It would have a direct effect on Estonia-India trade relations as well," he added.
Estonia and India would also like to make an agreement in the IT sector. Paet added that Estonia hopes to conclude an agreement for co-operation in the ICT sector with India before the end of this year.
There is a 25-member Estonian business delegation visiting India right now.