International Internet Magazine. Baltic States news & analytics
Saturday, 09.12.2023, 03:25
Latvia and Iran agree to facilitate cooperation in foreign policy and industry
BC, Riga, 24.04.2014.

Print version
Latvian Minister of Foreign Affairs Edgars Rinkevics (Reform Party), during his recent visit in Iran, has reached agreement with Iranian officials about further cooperation in the area of foreign policy and production industry, especially emphasizing pharmacy and food production, LETA was informed by Rinkevics.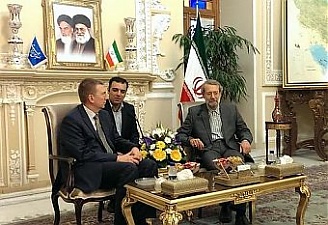 Edgars Rinkevics at the meeting with Iranian officials. Photo: flickr.com
Rinkevics explained that the aim of the visit is to prepare for Latvia's presidency at the Council of the European Union, indicating that Latvia is interested in the developments in Central Asia, Afghanistan and Iran, for this reason regional matters were discussed in great detail. Developments in Ukraine were also discussed.
Rinkevics pointed out that the economic relations were discussed as well, because Latvia has an opportunity to cooperate with Iran in various fields, especially pharmacy and food production. During the talks, Rinkevics expressed Latvia's interest to facilitate bilateral cooperation by developing political dialogue, cooperation in economy, business, culture, and education. "Latvia can offer successful solutions in the field of information technology, pharmacy, food production and other branches," Rinkevics pointed out.
The discussions also involved EU and Iran's dialogue about human rights. "Our opinions slightly differ on this matter," Rinkevics admitted.
Iran's representatives drew attention to the country's potential in power industry, which could help the EU facilitate diversification of energy supply sources. Iran also stressed the significance of the transit network in Central Asia and other countries.
Iranian officials expressed gratitude for Rinkevics' visit and emphasized their interest in cooperating with Latvia. Iran attributes great importance to the dialogue between both countries, as well as Latvia's coming presidency in the EU Council.