International Internet Magazine. Baltic States news & analytics
Monday, 02.10.2023, 18:54
First Latvian economic forum: supporting national producers
Eugene Eteris, European Studies Faculty, RSU, BC International Editor, Copenhagen, 28.04.2017.

Print version
After 25 years of the renewed independence, a pivotal even took place in Latvian developmental history - first economic forum with the main idea of defining national economic identity and Latvian role in the EU and the world. The forum has laid down the first bricks in the new narrative, i.e. Latvian political economy.
Contemporary world is full of "forums": like the global ones (e.g. Davos Economic Forum), regional (in the EU, Asia, Africa, etc.), and national –practically in all countries. Each of the forums supposed to make "an economic analysis", either in the world, the region or a country. The very first Latvian economic forum (LEF) has been an attempt, and quite successful, in gathering social scientists, economists and politicians around presently the most vital idea –defining national economic identity.
Mission and outcomes
Prime Minister of Latvia Maris Kucinskis, member of EP Inese Vaidere and president of LMT Juris Binde. 26.04.2017.
Forum' main mission was, on one side, quite clear: attract attention to Latvian economic development and thus forums stimulating inflow of the local and foreign investments. On another side, analysing the ways public and private developers "make use of the scientific potential in order to find new niches and sources for the development of entrepreneurship in Latvia", as was formulated by the forum's organizers.
Still one more "message" has to be mentioned as well: "creating a platform for exchange of experience and cooperation of scientists, entrepreneurs and politicians that would serve as a mechanism for resolving of social-economic problems with the help of scientifically based and business-like instruments".
Addressing the forum, Latvian prime-minister underlined the LEF's importance and pointed out at the LEF's role in stimulating national growth and prosperity.
Two plenary sessions and a panel discussion were aimed to cover the forum's agenda.   
Plenary Sessions and panel discussions
At the plenary session, the following issues were under review:
- Creativity as the basis of Innovative Economy: know‐how in science, by Pamela Bernabei, President of the Scientific and Humanistic Research Foundation in Switzerland/Italy.
- Attractiveness of Latvia for foreign investments, by Zlata Zasščirinska, Chairperson of the Board of the Council of Foreign Investors in Latvia.
 - Development scenario of Wise Economy in Latvia, by prof. Baiba Rivža, Academician of Latvian Academy of Sciences, head of the State Research Programme ECOSOC-LV and prof. Andra Zvirbule, Dean of the Faculty of Economics and Development of Society of Latvian Agriculture University.
During the first plenary session the following five issues were discussed reflecting development trends and perspectives in the following economy sectors:
 - Information and Communication Technologies (ICT) Industry (by prof. Juris Binde, Latvijas Mobilais Telefons, President);
- Chemistry and Pharmaceutical Industry (by Kirovs Lipmans, Chairman of the Council of Grindeks and chairman of the Grindeks Foundation);
- Metals and Machinery Industry, by prof. Andrejs Krasņikovs, academician and Vilnis Rantiņš from Latvian Mechanical Engineering and Metalworking Industries;
- Woodworking Industry by Kristaps Klauss, executive director of Latvian Woodworking Federation;
- Knowledge Economy and Education Services by Daunis Auers, assoc. prof. of Latvian University and research director of Certus. 
Made in Latvia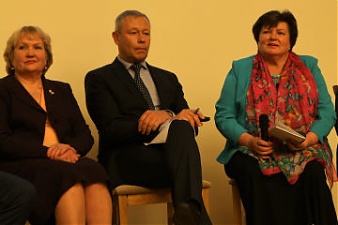 Irina Pilvere, Maris Revalds, Venta Kocere, Riga. 26.04.2017
The following panel discussions were devoted to the main LEF's item
 -"Made in Latvia: Latvian image in export markets". The following five sectors were analysed under the guidance of a skilled moderator, Aigars Rostovskis, President, Latvian Chamber of Commerce and Industry.
- Transport and Logistic Services, by Jānis Vanags;
- Global Business Services, by Sandra Liepiņa, chairperson of the Board of the Association of Latvian Commercial Banks and vice-president of Latvian Employers Confederation;
- Food products industry, by Jānis Šolks, Chairman of the Board, Central Union of Latvian milk manufactures;
- Bio-economics and green technologies, by prof. Irina Pilvere, Rector, Latvian Agricultural University;
- Human Healthcare and Social Work Services, by Māris Rēvalds, Chairman of the Board in Ltd. Health Center 4 and Healthcare Employers Association;
- Cultural Tourism Services, by Dr. Venta Kocere, Director, Academic Library, University of Latvia).
See Forum's program at: http://www.lza.lv/images/stories/PROGRAMM_ENG.pdf
A narrative for the Latvian political economy
Though forum's title ("Made in Latvia-Latvian economic identity in Europe and the world") sounds little confusing. Of course, supporting national producers (goods and services "made in Latvia") is a vital one; but making competitive goods and services is even more important. Only with the help of new technologies and new R&D national producers can be competitive in EU and the world.   
The forum has gathered at a time when European economic integration project is under stress and its future is subject to fierce discussion (some say it is even unclear). The national governments and political leaders need to find out the essence of national political economies, stop playing the blame game and instead rally save the European Union.
Like in Latvian, the EU has a lot of shortcomings that need to be addressed. But scientists' plans have to be less bureaucratic and being "operative" and quick to understand. So-to-say- being agile, i.e. helping to do more with less efforts and resources, which are quite scarce in Latvia.
The idea of Latvian political economy can help: finding out what policies the government shall put in place, what economic system shall be adopted, to actually bring about necessary changes. Ideas abounded, from familiar solutions – retraining people to make sure they have the skills they need, reforming tax systems – to more radical ones.
Of course, the shape of the political economy in modern Latvia will depend on the decisions being made at the present forum. But the main question remains: will Latvian be happy with the new decisions? Because when we are happy, then we feel more energetic, more productive and more creative. The atmosphere of growth can really boost our happiness.
https://www.weforum.org/agenda/2017/04/improving-your-happiness-according-to-an-expert/
Global political economy: challenges for small countries
The end of unipolarity and advent of multipolarity has encouraged the creation of spheres of interest, both because the great powers cannot afford each other as permanent adversaries (may need each other in critical situations, like threat of radicalism) and because Western value-promotion has been downgraded or disappeared. With the election of Donald Trump all three major powers – USA, China and Russia - play pure geopolitics with zero regard for universal values. With weakened international institutions, this generally reduces the influence of the smaller states; however friendlier great power relations with small states will reinforce this tendency. Still, some small states (like three Baltic States) are becoming much more exposed than others, depending on their location.
Thus, there are logically four main possible reactions (two options and additional path) to the new stage in global political economy; first, two options:
One, is the denial of the present liberal market situation and desperate attempts to "please all sides" (either by additional defense spending or if fear of losing EU funds). Second, is movement towards an equidistant posture between the great powers and present different economic models in EU (although staying close to the EU's core) and with strong attempts to "find their own niche" in elaborating sound national political economies' guidelines.
Small states among EU and global powers are located in the present solidified Russian sphere of interest, which doesn't make their political economy easier to formulate. They will need to come to terms with their neighbors, whether great or not very, after a period of defiance. This will, at best, can take the path of, at best, closer ties among the three Baltic States, so-called "common Baltic course".
The TEU Preamble mentioned the EU new motto (instead of the previous "united in diversity") to "continue the process of creating an ever closer union among the peoples of Europe, in which decisions are taken as closely as possible to the citizen in accordance with the principle of subsidiarity" (italics mine, EE). See: Lisbon Treaty: Consolidated version, TEU, Preamble, Official Journal of the European Union C 83/13, 30.03.2010.