International Internet Magazine. Baltic States news & analytics
Thursday, 21.09.2023, 21:37
Rimsevics: Failing to bail out Parex banka would result in closing down of four banks in Latvia
Nina Kolyako, BC, Riga, 30.12.2009.

Print version
Closing down of Parex banka (Parex) would trigger fast withdrawing of funds from other banks, the President of the Bank of Latvia Ilmars Rimsevics points out in an interview with the magazine Klubs. Closing of Parex would also obligate the state to immediately pay out around LVL 660 million to depositors from the state guarantees fund.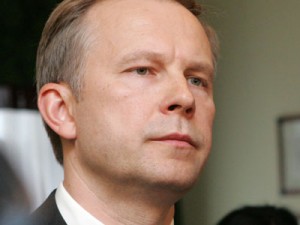 Ilmars Rimsevics.
"This is what would follow immediately; the next moment customers would start to withdraw funds from other banks rapidly as well, and at least four more smaller banks would have to be shut down," Rimsevics announced, adding that this would happed in "a half year's time if not sooner", writes LETA.
The closure of these banks would make the state yet again pay out funds from the guarantees fund to the depositors. At the moment, when Parex was in need of a bailout, the state guarantees fund had less than LVL 80 million in it, which implies that the additional financial resources would have to be found in the state budget, Rimsevics explains.
"Furthermore, Latvia's credit ratings would then certainly be downgraded by several more notches and a number of banks would have to repay their loans to the international lenders ahead of the set deadlines. This would mean several more hundreds of millions flowing away from the banks in Latvia. The next step: hundreds of millions of lats of state, municipal and companies' money would remain as frozen assets in these banks and many individuals and enterprises would go bankrupt over a short period of time," Rimsevics said.
"At that moment, the economy would simply be paralyzed and nothing would happen here anymore, there would only be a chaos; according to our estimates, losses would exceed over three billion lats," the head of the Bank of Latvia underlines.
The greatest challenge for Latvia's banking system was the bankruptcy of the "Banka Baltija" in mid-1990's; this case made Latvia draw conclusions, adopt a new Credit Institutions Law, put in order its banking system and "elegantly overcome the crisis in Russia," Rimsevics told.
"Hundreds of banks went bankrupt in Russia; the situation in the neighbor country was very tough, but Latvia managed to get by only closing down one minor commercial bank and by recovering out another, larger commercial bank, Rigas Komercbanka. Recovery of Rigas Komercbanka was the principal argument that strengthens our belief that Parex had to be bailed out," Rimsevics underlines. "Already back then we realized what consequences bankruptcy of a bank of such a scope would have on the economy. Whatever each of us personally thinks of Parex, we can clearly see now that banks of similar importance are being bailed out throughout the world. Consequences of a failure to bail them out would be much graver."