International Internet Magazine. Baltic States news & analytics
Monday, 11.12.2023, 03:54
Lithuanian authorities and Chinese representative discuss climate change, water, energy security challenges
BC, Vilnius, 16.07.2013.

Print version
At the meeting with the Vice Chairman of China's National Development and Reform Commission Xie Zhenhua on Tuesday, the Lithuanian Minister of Foreign Affairs Linas Linkevicius stressed that all the countries in the world should seek to stop climate change by making efforts to reduce greenhouse gas emissions, reported BC Lithuania's MFA.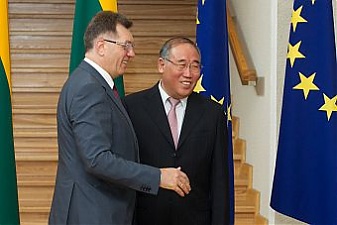 Algirdas Butkevicius and Xie Zhenhua. Photo: lrv.lt
"Lithuania's Presidency of the Council of the European Union will make every effort to make sure that by 2015 we will have a universal, legally-binding international agreement to succeed the Kyoto Protocol, which established legally binding emissions targets for some industrialized countries," said Linkevicius.
The foreign minister also pointed out that aiming for sustainable development, economic growth, safety and security, all the world's countries had to make efforts to act on climate change, water scarcity, energy security and the challenge of mineral resource exploitation.
Prime Minister Algirdas Butkevicius also met with Deputy Chairman of the National Development and Reform Commission of the Government of the People's Republic of China Xie Zhenhua in the informal meeting of he environment ministers of the European Union (EU). During the meeting, Butkevicius and Zhenhua discussed the bilateral cooperation and issues of the environment protection such as Warsaw Climate Change Conference and the importance of the nuclear protection.
During the meeting, the prime minister and the deputy chairman expressed their happiness about the bilateral China and Lithuania's relations.
"China is an important partner of Lithuania. We are interested in strengthening of the political and economical dialogue, to develop the trade and to encourage the investments in the spheres of the tourism, culture, sports, education, environment protection and science," said Butkevicius.