"We are partners, not just family's junior brothers and sisters"
By Inna Rogatchi, from Finland and Lithuania
Lithuanian Ambassador Petras Austrevicius during last six years was Lithuania's chief coordinator in the country's negotiations with the Commission and main person behind Lithuanian's EU policy formation. In an exclusive BC interview, he provides interesting insights on the Union with 25 members of which Lithuania is going to be an integral part, and on Lithuanian foreign policy in this regard.
I.R. Because of EU membership, political and economic situation in the country might change dramatically. What is the Lithuanian concept for the country's position within the EU?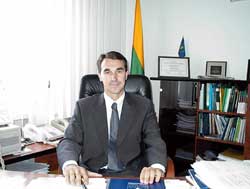 The press office of Lithuanian goverment

Petras Austrevicius, born on 16th of May, 1963 in Lithuania

Fluent in English and Russian, married, has two sons

Career development:

In 1986 graduated from Vilnius University, Faculty of Industrial Economics

Up to 1991 – Researcher at the Institute of Economics in Lithuanian Academy of Sciences

1991-1993 – Senior Official, First Secretary, Head of the Northern European Division at the Ministry of Foreign Affairs

October 1993 – Lithuanian Charge d'Affaires ad interim in Finland

September 1994 – December 1997 Lithuanian Ambassador in Finland

February 1998 – Prime Minister's Foreign Affairs adviser

May 1998 – Director General, Lithuanian Government European Committee

October 1999 – Chancellor, Lithuanian Government

Since January 2001 – Republic's Chief EU Negotiator and Director General, Lithuanian Government European Committee

Since January 2004 – Deputy Government Chancellor for the EU affairs

Has written a dozen of articles and co-authored two books on economics

P.A. It has to be said that since its inception, the "United Europe's concept" was not an alien definition for Lithuania. Politically, culturally and economically it has been the most natural environment for us. With a full membership in the European Union, we do hope to strengthen our existing cultural and moral values. We also want to improve our political and economic situation in order to make these values more modern and efficient. It is also well worth to acknowledge that the EU membership in itself was not an ultimate goal for Lithuania. We regard our membership in the European Union as an instrument that will help us to increase people's standard of living and welfare, to make our life more secure, modern, and international.

I.R. On what ground Lithuanian strategy in the EU is build?

P.A. It is very important for us to act within the Union with a clear vision that Europe, to which we all belong to, is not a body with internally divided lines. We do not think that there should be so-called different EU levels, neither different kind of Union's membership nor any particular East – West differentiations. Otherwise the Union could very soon become completely dysfunctional.

This approach is a key to another important issue. I believe we have to approach the EU within rather larger context, i.e. the Union's realities cannot and should not be isolated from the rest of the world community. In my view, EU is not an old, tired and silent lady who would rather sit quiet in her corner being destined to just playing again and again all sweet memories in her head. Quite on the contrary, the EU is, as I see it, a modern, dynamic and active "human being", which lives and functions according to its own principles, with quick motion and high spirit.

Such EU vision provides a basic ground for us in Lithuania to set both medium- and long-term aims for our country and its development within the European context. Within medium-term tasks, we see all processes that are part of Lithuania's full integration into the EU. We must act with a due sense of responsibly in building Lithuania's political and economic institutions that are coherent to all those that already exist in other EU member states.

Within long-term tasks, our full integration means both harmonization of our national institutions with those functioning in the EU, and creation of new, high-standard international level institutions, which is a big and necessary step both for Lithuania and all other new member states. This task to perform might take about 10-20 years.

To make a substantial progress in economy it will take quite a lot of time. We are already actively working on such Lithuania's important issues as country's incorporation into the EU Lisbon economic development strategy, EMU and Euro currency policy, as well as into such a vital political issue as the new European security policy. It is the most important area of concern and work for us already today to build up basic conditions inside our country for further progress in all those mentioned areas.

I.R. What will be Lithuania's priorities within the EU stemming out of your strategy?

P.A. Today we are busy with modification of our existing institutional structures, to make them compatible with the EU ones, as well as with establishing new institutions in Lithuania. We are giving to these priorities a political clout in order to create modern decision-making and legislative structures. Of course, it is a very time consuming process, but we have acquired full consensus at all levels of Lithuanian political system, i.e. government, parliament, presidential office, that it had to be done, and the sooner, the better. All that will bring benefits to functioning of our own system, as well.

The transparency issue is highly important in that context, and I do see it as one of our top priorities. We must make all our bodies functioning within our political, government and economic spheres to be absolutely transparent with maximum and open public involvement into the political, economic and social processes in the country. Society must know and must understand what and how things are done as well as why and for what reason. This is a principal thing for me.

Another priority connected to the EU membership is of immediate importance. As a full member from May 2004 Lithuania is eligible to different kind of EU funds and subsidies. Just imagine a number of projects that come up all the time with the intention and hope to find subsidies from the EU funds. We have to provide a very thorough and professional expertise to all these projects before we can submit them for EU subsidizing procedures. We have to be sure that the EU funding is channeled into the right hands, and that the projects satisfy high European standards.
New challenges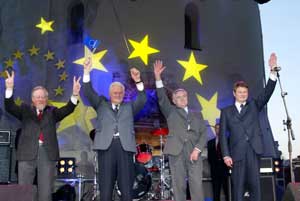 Photo: P. Lileikis
I.R. What kind of new challenges for Lithuania do you see with the country's full EU membership?
P.A. The biggest challenge for our producers is, of course, the EU single market requirements. It is a totally new area for them, with the new principles of competition. One has to be experienced with one's production enough to survive within the EU new, huge common market, which is already quite saturated (sometimes even over capacitated) with goods and services from other member states' producers in that field. On top of it, to be successful within the EU single market, one has to know precisely what it is all about. There is not so much time left to become competitive in the huge EU market scene.
At the same time, single market will not function properly without optimal integration into it of all its member states. How to find a right balance between successful entrepreneurship and integration into the EU single market – this is another serious challenge for the Lithuanians, and only time and first-hand experience can make it work.
The so-called "challenge of the future" is another very serious thing, although of a different nature. I mean our possible participation in the drafting the final version of the new Constitution for Europe. As it's known, it is not an easy process, and there was no success on its final discussion at the December EU intergovernmental conference in Brussels. The difference in opinions have been exposed, and are well known. Now we are facing the next stage in the work on the Constitution's draft, and I believe that it will be the main issue for European construction in an immediate and more distant future.
It is understandable that making different kind of coalitions has become common practice in the work of big international organizations. But if we seek to create a properly functioning, flexible, constructive and efficient Europe, we shall not impose restrictions on the EU structures that have "united character" by definition. It is much more valuable and productive, I believe, not to create inner 'clubs', nor to restrict other member states' activities but to proceed, instead, initiating new ideas, open discussions, and elaborating new and working trends.
One of such ideas formed last year, for instance, is a new structure called the Baltic Ring. It is based on 3+3 membership principle, i.e. Nordic states-existing EU members (Finland, Sweden and Denmark) and three Baltic States (Lithuania, Latvia and Estonia), the new-coming members. The mini-Summits of the six are held regularly on the prime-ministers' level and that of ministers for foreign affairs, prior to the big EU summits. Naturally, our experts are meeting quite more frequently. I have to say that this practice is bringing very good results. We have learned so much during the Baltic Ring cooperation, which we regard as just invaluable contribution of our Nordic friends and colleagues on the eve of the Baltic States' entering the EU.
I have to emphasize that our ideas and proposals are absolutely open for wide discussion within the EU, without its division into any groupings, at all. Nobody can argue the fact that countries are destined to their national territories with their geographical borders to natural allies and other neighbors. The other thing is true as well, i.e. nobody is doomed to be "glued" to any other country forever. We have to consider the situations on case-by-case basis to exchange our views, and to find the most efficient solution on each separate issue. I can mention some useful examples of such approaches, i.e. elaboration of the EU policy on Kaliningrad, or on the issue of the EU policy formation towards Byelorussia, where we were contributing a lot of pretty concrete political decisions based on our knowledge and experience. We are very glad that all that had met positive reaction from the EU institutions as a basic for elaborating further EU steps and EU policies on various issues. This is how new-coming members of the European Community can work -hard and open- to become equal partners in the organization, and not just being junior brothers or sisters in relation to those already experienced member states.
(c) Inna Rogatchi, Rogatchi Productions & Communications Ltd., 2004