To understand, to accept and to make the whole process automatic
By Liza Denisova, Georgy Zhukovskas, Peteris Zirneklis
With the Baltic States about to join the EU, Enterprise Resource Planning (ERP) systems are becoming a standard tool in manufacturing and trade management. Introduction of the Western management traditions helps companies to increase competitiveness. The following article is the first one by the BC aimed to analyse the Baltic ERP's market.
In order to boost competitiveness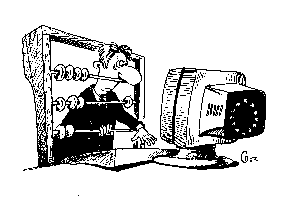 Fig.: S. Tulenev, Chas
To make a company more competitive means streamlining production processes as well as optimising the use of all the resources, i.e. material, financial and human. That is, in a nutshell, the EPR' ultimate aim. The ERP's main objectives can be defined in short as: to understand, to accept and to automate the whole management process.
The initial stage in an ERP system's introduction is an analysis, i.e. to study thoroughly all the processes within a company. In developed countries, as a rule, such study is carried out by a specialized consulting firm. In the Baltic States, in most cases the analysis is being done by, so called, integrator or the auditors' company. The Baltic market lacks presently such a trade as business consultant.
As a result of such an analysis the requirements are identified, which the ERP system must meet. Sometimes, this analysis stage can be combined with a study leading to ISO certificate adoption for a company, which would help it to save some money. In general, introducing an ERP system can be one of the steps towards ISO introduction, as both are aimed at optimisation of internal processes and, consequently, higher quality at lower cost.
Functionally, most of the modern ERP systems are very much alike; when choosing a definite system one should at first determine the likely time and cost of adapting the system to internal processes within a certain company.
Segmented market
At present, the ERP systems' market in the Baltic States is greatly segmented. It is sufficient to mention that the Russian system "1C-Enterprise" is the leader in the Latvian market by a number of integrations (systems introduced) with the 6 percent market share. Experts have attributed 40 percent of the Latvian ERP market to the "unknown solutions" (software developed within the company itself, or solutions elaborated by small local firms). The competing products by leading world suppliers have split their market segment in terms of money as the followings: Oracle about 30%, Microsoft Business Solution about 15%, and Sun Systems, Scala and SAP each holding about 10%. It should be mentioned that Oracle took the leading position by selling the ERP system to the Latvian state-owned electricity utility Latvenergo in 2002. Upon accession to the EU, modern Western-made systems will push local-made products and Russian rivals aside. In experts' evaluations, the Baltic ERP market amounts to 13-14 million euros, including 5.5-6 million euros each for Latvia and Lithuania, and the rest attributes to Estonia.
Western companies such as Microsoft Business Solution, Oracle, and Scala work on the Baltic market through their integrator's representatives. Selecting a partner-integrator is especially important when choosing ERP system, as its introducing and launching is the most responsible and resource-consuming part of the entire project. The main danger is that often the integrator does not have the required resources itself and, as a result, such cooperation leads to an incomplete introduction of ERP project.
The best criterion for picking a partner is references from satisfied clients. It is good if the integrator has acquired experience in introducing ERP systems in a given market segment, for example, at a rivalling company.
In developed countries, integrators usually employ vertical solutions, i.e. once a system is adapted to the needs of, let's say, wood-processing industry, in future they will offer the same system to other companies in the branch. For example, in the Netherlands (with a population comparable to the three Baltic States) in the year 2000 only solutions of Microsoft Business Solutions Navision (then named Navision) have been represented by about 70 integrators covering nearly all vertical market segments.
As soon as the Baltic market is not fully formed yet, integrators have been involved in solutions not in the industries where they have had experience but in the industries where they could find some new clients.
As the share of major ERP systems on the Baltic market grows, vertical division of integrators will occur, and this trend has been already visible.
The Baltic market of ERP systems has significant potentials for growth; experts find introduction of ERP optimal and rational for companies with a staff over 4 people. At present Baltic companies of this kind use at best some local product for accounting, or do not use any system at all. The perspective is such that they will have either to change or to leave. For now, most of ERP system buyers in the region are business leaders, large and, to a lesser extent, medium-sized companies.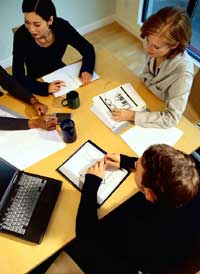 Photo: The BC archives

To choose Western management tradition
As a rule, introduction of an ERP system becomes a part of the process of taking over the Western management tradition, which, naturally, increases company's competitiveness. When choosing an ERP system, one should look to Western-made products because, first of all, they have already years of experience in integration and usage in different countries and, secondly, strong enough integrators represent them. Local-made systems find it increasingly difficult to compete with Western grants, and in near future local developers will focus on tiny or narrowly specialised market segments which big players would simply ignore.
Russian-made products can hardly be deemed as a good choice – they are not adapted to the EU requirements, although one must admit that they are often more simple-to-introduce fashion, than the Western systems. Another thing should be clear as well, as soon as the personnel is the key, the Russian systems better fit into existing Baltic management's tradition that still has a lot in common with the Russian management practices.
Components of success
Successful launch of an ERP system requires not only investments but also a steady policy of both company owners and managers aimed at system introduction. Often it turns out that the personnel is not ready to work with the new technologies and this becomes one of the biggest obstacles to introduction of the system. The personnel needs to be retrained or replaced, if retraining is impossible. In fact, the entire project either suffers delay or is doomed to a halt altogether in case a section head opposes the new system.
Fighting to cut costs
An ERP system adoption is not a cheap solution. But it allows systematising processes within the company, optimising them and thus reducing costs. After successful introduction of the system a client usually sees the following results:
* clear product cost's breakdown;
* at least 5-10% reduction in present company's expenses;
* at least 10-20% reduction of the turnover capital expenses;
* 10-20% reduction of the storage stocks.
Overall cost reduction using the system amounts up to 15% of the company's annual turnover.
What could be the price?
It is very difficult to tell a real price for ERP system, i.e. as soon as specific details about the given company, which will run the system, are unknown, one can suggest only the "bottom price" of the system. At any rate, it's a question of thousands of euros. Usually, the following methodology is used to compare prices of different products: the price of a "turn-key" product is divided by the number of users. The result allows for comparison of products with each other and making the choice.
The price of a system is composed of expenses inquired into the price of separate modules' introduction, e.g. General Ledger, Warehouse, Production, Customer Relationship Management, and also including costs of adapting the system to the specific company and the price of hardware instalment. After the analysis of the study results carried out at the company site, it is becoming clear which modules are to be bought. Such an analysis might also reveal that not all standard modules would suit the given company's purposes.
Upon introduction of a SAP system, it's possible, for example, to alter internal processes in line with SAP methodologies; on the other hand, Microsoft Business Solutions' methodology allows system adjustment to client's requirements. Of course, both approaches have their own advantages although in case of SAP a client buys both methodology and the tool, but in case of Microsoft Business Solutions he can buy just a tool. The price difference is, of course, great.
The pricing principle accepted in the world is that of "the golden fifty-fifty", i.e. 50% goes for the licence fee and the other 50% is paid for system's introduction. As labour cost is cheap in the Baltic States, this ratio tends to be 70% to 30%, instead. The integrator's fee usually includes also training of the client's personnel.
As to hardware costs, it should usually account for some 25-35% of the licenser's fees. All modern ERP systems are built upon the client-server's technology; therefore one should pay a special attention to server equipment and communications channels.
Players on the market
Oracle-based integrated business management systems are used for expensive and very complicated solutions. In the Baltic, they are being used by Eesti Energia, Hanspank, Eesti Mobiiltelefon, Neste, Lietuvos Telekomas, Hansabanka, Latvijas Mobilais Telefons. Among suppliers, IT Alise and POLARIS should be mentioned.
Microsoft Business Solutions is promoting two systems' lines – Navision and Axapta. The Microsoft Business Solutions Navision is offered for small and medium-sized businesses (by the world classification). This system enables small companies to use Western management systems previously not accessible to this market segment.
Microsoft Business Solutions Axapta is very close to that of Navision, but is positioned as the product for medium and large companies. Both products can be adapted to client's requirements. The Baltic suppliers of Microsoft Business Solutions are Alna, Sonex (Softex Latvia), ELVA-1, Columbus IT Partner and others.
The Scala system is meant for medium-sized companies. The software program is built out of the following main modules (finances, fixed assets, logistics, production) and expanded by means of extra modules (project management, services, contracts, payroll, etc.). In Latvia this system is represented by Eskalators, viaPro and others.
A state runs as a company
The ERP systems are used not only for private business, a large part of Lithuanian ministries and government agencies are using Microsoft Business Solutions Navision. Lithuanian government institutions already in mid-1990s have worked out IT infrastructure development strategy, selected partners and are presently enjoying all the benefits of high technologies. In governmental structures in Latvia and Estonia there are various solutions in this regard, e.g. well-known Western technologies and locally made solutions. For example, Estonian Ministry of Finance and the Estonian Health Insurance Fund use SAP products. In Latvia there is not a common information policy so far. Obviously, the Lithuanian approach looks more reasonable.
"The ERP system market will grow and change at the same time. Very soon businessmen will understand that in order to compete successfully they must use modern business management systems. Requirements will change with the accession to the EU, and for local as well as Russian-made products it will be difficult to compete with Western systems. The market will become less segmented, and products recognized worldwide will take key positions. Our company represents Microsoft Business Solutions Navision, and we expect the market share of this product to grow steeply in the nearest future.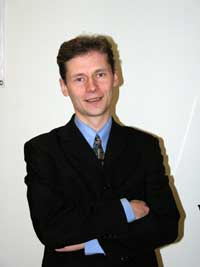 Photo: S. Romin

Rolands Vecvanags,

Director, Software Department, Softex Latvia

If one chooses to install ERP system today, it would seem unreasonable to give preference to local-made or Russian solutions. These systems are poorly integrated, as a rule, and their only advantage is low cost.
I think that Microsoft Business Solutions Navision has become one of the best solutions in terms of price-for-quality ratio. The system is comparatively easy to launch, making simple its adaptation to client's requirements.
Is it well worth for a client to introduce an ERP system himself? In case of small and medium-sized businesses for which it doesn't make any sense to keep their own IT staff, it would not be the best option. Better still to let an integrator to deal with introduction of the system. It would be more efficient that way. As for large companies, this calls for cooperation between the client's IT section and the integrator. The better they understand each other, the speedier will be the introduction and the lower costs.
In any case, for successful introduction of an ERP system it takes, first of all, the will of the company's owners and its top management. The project is unlikely to run smoothly if you have some sceptics among the managerial staff".
Egle Bulotijene,
General consultant, Oracle East Central Europe Limited, Baltic branch, Lithuania
"Lithuania has had an ERP market for nearly 8 years; it's only necessary to remember what kind of systems we are talking about. In the early 1993 there was a demand for local-made systems and medium-level ERP programs. Demand for a flexible system (for example, Oracle eBusiness Suite), with lots of features and program components like Enterprise Resource Planning (ERP), Customer Relationship Management (CRM), Supply Chain Management (SCM) increased only some 3-4 years ago.
Most of the well-developed ERP systems need little fine-tuning, if any, as the system has a lot of features created on the basis of the best world methods. On the other hand, such systems have numerous parameters that can be changed according to the client's requirements within common user environment, adjusting the system to the client's needs. If some fine-tuning is necessary (for example, the system must create a special form for reporting to local authorities), it's better if it is done by the seller, i.e. he knows the system better, knows how to make the changes which one would not have to rewrite when the system starts next time.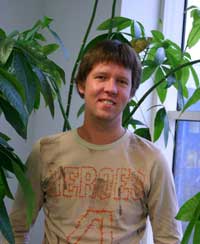 Photo: MicroLink

Juri Kaljundi,

Manager, Marketing & Communication Department, MicroLink, Estonia
"The ERP current situation in Estonia is such that most of the companies which have chosen a solution a few years ago are now dissatisfied with their ERP systems because the business requirements have grown. For a solutions` supplier like MicroLink, it is good that clients know more about what a decent ERP system should look like. Today the market becomes increasingly aware of the ERP's advantages for both accounting records and financial management, and for support to production management, supply chain management, CRM, human resources, the company portals, business meetings, analytical work, etc. The ERP system is on the rise in Estonia, i.e. both in the government and private sectors, among large, medium-sized and small companies.
Clients look at companies like MicroLink not only for technical basis of an ERP solution but also for advice in choosing business processes or best methods from foreign or local companies. ERP is rather not a technology tool but business consultations, and MicroLink personnel is rather financial and business management consultants than technical staff. Very few clients wish to make their own configurations or adapt new ERP systems themselves; most would rather leave this to the supplier of the whole ERP solution.
On the Estonian ERP market, MicroLink works with two different products for two different target groups. For large companies from both public and private sectors, we offer mySAP by SAP AG, which provides the best ERP solution for the clients of this size worldwide.