Where should the railways turn to...
By Michael Tuzhikov
The national economy's blood transferring system, i.e. the railway system, is functioning in the Baltic region for already more than a century.
The future East and Central European states' accession into EU will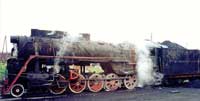 Photo: The BC archives

bring in certain corrections into railway complex' functioning. Whether there would be equal conditions for railway market participants?

The 15 EU countries occupy a territory of about 3,24 million sq. km with a total population of about 380 million people. The extent of highways is 24 times more than that of railways and makes about 3600 thousand km. Length of railways is "just" about 150 thousand km, including 70 thousand km - electrified.
Historic introduction
Out of 208 European regions qualified in the European Union, about 123 belong to, so-called, peripheral regions. The latter occupy 42,3% of the EU total territory where lives about 37,7 % of the EU population, or 146 million. However, despite this fact, European Community's governing bodies within the framework of the trans-European transportation network (TEN-T) have given priority to development of a transport infrastructure in the central European part to the detriment of the peripheral ones.
In December, 1994 in Essen (Germany) a EU working group session finally agreed upon 14 projects concerning the program of creation an all-European transport network TEN-T with the total cost of about 100 billion euro. 9 railway projects of this program provide for creation of high-speed railway communications between Paris, Brussels, Cologne, Amsterdam and London; between France and Spain; between France and Italy; high speed train (TGV East) between eastern and central regions of France; between Denmark and Sweden, and also a railroad line Cork - Dublin - Belfast - Larne - Stranrar, and a railway through European western coast.
While European central regions are fully integrated into world economy and have good perspectives for growth and competition, European "suburbs" are in the loosing position. European Commission's approval of the EU decision to adjourn implementation of high-speed railway project Rail Baltica (Helsinki - Tallinn - Riga - Kaunas - Warsaw - Berlin) to 27th place (from the previous 29th), can reassure this thesis, thus having thrown the Baltic States out of the list of priority transport projects of the European Community (and, at the same time, having deprived them of EU funds).
In the meantime, Finland's Prime Minister Matti Vanhanen has agreed with his Russian counterpart, Prime Minister Michael Kasyanov to construct by 2008 a high-speed railway between Russia and Finland along the route Saint Petersburg - Helsinki.
The Baltic States' accession to the EU will bring changes in the companies' work which are carrying out foreign trade activities with the countries, not included in the general European market, e.g. Russia, the USA, China, etc. Customs regulations will become more complex, as EU procedures and tariffs will be applied. The EU unified system of customs duties TARIC will be used, instead. It means, that all goods imported into the EU, as well as those of export, would be processed according to one for all countries scheme which is based on the uniform combined commodity nomenclature. For example, in modern Estonia there are about 100 various customs regulations, whereas in the EU there are several thousand various tariffs, quotas, antidumping customs taxes and other prohibitions.
On the other hand, loading press on railway infrastructure is increasing, as transport carriers would feel burden of competition. The matter of fact is that from the middle of 2003 on Germany roads the payment for transportation of transit cargoes in the amount of 0,15 euros/km was introduced. Polish government is going to introduce similar duties of about 250 euros per cargo unit somewhere in 2004. This means that every day's cargo delay will lead consequently for transport operators to 150-200 euros of fines.
It is understandable that Baltic and the CIS railways cannot be dismembered on separate independent components, the transport experts have decided to discuss instead the questions of national transport systems integration among CIS and Baltic into a uniform Eurasian continent transportation system at "XII International Transport Forum of the CIS and Baltic", which took place in London and Liverpool on December 8 -14th, 2003.
According to experts' opinion, Baltic States' favourable geographical position allows them to process, alongside with servicing Russia's raw resources export, the growing transcontinental container transports' volume on a route Europe - Southeast Asia, using existing Russian October railway system connections to Trans-Siberian railway network. Other perspective direction for cargoes devises the usage of routs from India and Pakistan to Europe through Iran territory. This rout can include Russian railways and use the Baltic Sea ports. If in future the Russian ports can process and service all its export and import, which is Russia's strategic aim, then the Baltic ports could be included into transcontinental cargo transportation system stemming from European states.
How to make an advantage out of existing problem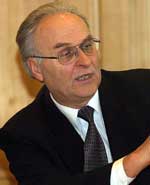 Photo: P. Lileikis

Jonas Birzhishkis.

The first locomotive hooters had notified 130 years ago a new railway era in the Baltic. Then railroad lines Petersburg - Warsaw and Ljantvaris - Romny (in Ukraine) have connected these territories with the only non-freezing then Russian port of Liepaja on the Baltic Sea. Former Memel (now Klaipeda) port belonging to Kajzer's Germany, had stood idle, and Prussian military command quickly began to alter the Russian broad railway gauge of 1524 mm into a narrower European of 1435 mm. Thus, as a result of rough events in the first half of XX century Lithuania has acquired various railway tracks' dimensions, i.e. of 1524 mm, 1435 mm, 750 mm and 600 mm, whereas in Latvia, Estonia and Finland there still prevailed the Russian-size railway track.

During the Soviet period the volumes of cargo transportation through Lithuania have grown continuously, in particular after introduction of a railway ferry line Klaipeda - Mukran (GDR), capable to transport simultaneously 103 cars, although the resources for railway maintenance have been quite insufficient. Due to this fact, after restoration of Lithuanian independence in 1990, the railway infrastructure conditions in the country have been worse, than in adjacent Baltic countries.

The situation has aggravated even more during 1990-1995 when economic decline in Lithuania has led to 2,6 times reduction in volumes of cargo transportation. However, recovering measures taken in due time by the joint-stock company Lietuvos gelezinkelia's management staff (a company wholly owned by state), have allowed for a certain increase in goods turnover up to 36,7 million tons in 2002. Main cargo suppliers for joint-stock company Lietuvos gelezinkelai (LG) are such countries as Russia (58%), Belarus (19%), Germany (7%) and others. Experts predict that this year LG will transport about 40 million tons, a record quantity of cargoes during all years of independence.

At the same time, the quantity of the passengers transported by Lithuanian railroads is constantly falling, e.g. in 2002 - 7, 2 million persons, that was half a million less than in 2001. The matter of fact is that the transportation expenses on local lines are much higher than that of the face ticket price, therefore transportation companies have to compensate incurred losses (of about 90 million lits a year) in passengers' transportation from the profits gained in cargo transportations.

At present European Investment Bank (EIB) has revealed plans to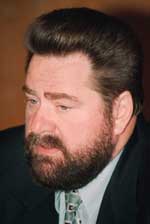 Photo: A.F.I.

Andris Zorgevics.

finance Lietuvos gelezinkeliai's project at the cost of 300 million lits to acquire diesel locomotives. The European Bank for Reconstruction and Development (EBRD) has given Lietuvos gelezinkeliai the credit line for 15 years at the sum of 54 million dollars on tracks and infrastructure maintenance. These resources are planned to invest into 155 km of the basic tracks' maintenance along the path from border with Belarus up to Klaipeda, as well as small railway path from Kaunas to Kaliningrad. The total Lithuanian railways reconstruction project's cost are estimated at 111, 6 million US dollars. EBRD's share in financial part of the project is 48%, LG's - 15%. Other resources needed for project implementation will be acquired in the form of subsidies from the EU ISPA program.

The increase in goods turnover was promoted by realization of the "2K" project (Kaliningrad - Klaipeda), main interest in which belongs to Lithuanian party, rather than to the Russian side. Lithuanian railway having approximately equal tariffs in Klaipeda and Kaliningrad ports earns now much more on the overestimated transit tariffs on the Kaliningrad routs. On top of this, essential role is played by the difference in port capacities, e.g. Kaliningrad - 8 million tons, and Klaipeda - about 30 million tons. Transportation distance to Klaipeda is 2 times less, expenses for initial and final transport operations are cheap as well, which provides for essential share of income in Lithuania's budget. And it is necessary to mention that there still aren't any inter-governmental agreements about the "2K" project. Nevertheless, according to Lithuania Transport and Communications Minister Zigmantas Balchitis: "Lithuanian railway, transporting cargoes to Kaliningrad, has received this year about 30-40 million lits of profit". As a result, Lithuania can win in competitive struggle against other ports in Baltic countries.

In minister' opinion, modernization of the 1-st Krit's international transport corridor (Helsinki - Tallinn - Riga - Kaunas - Warsaw) and the construction of a European- type railroad tracks starting from the Polish border, would give Lithuania and other Baltic States an opportunity to be incorporated with Germany's railway networks and that of other Western European countries through Poland's territory and to expand its network of combined cargo transportations.

At the same time, the whole picture is not as smooth as one would wish for. In an interview to the Lithuanian magazine Jura, joint-stock company Lietuvos gelezinkelai's general director Jonas Birzhishkis has told about the problems connected with Lithuania's way into the EU: "Boundary stations play a very important role in transit business. Cargo loading and whole Klaipeda port functioning, all that directly depends on the stations. According to a certain boundary stations' monitoring system theory, reception-transfer operations are transferred from distributive stations to those on boundary stations. So, as a result, another intermediate control link is appearing where the trains might as well stand for at least 3 hours. If customs officers will find smuggled cargoes, or if veterinary or biological control services would find out some infringements, then the whole train structure should be overloaded and reformed at once. Boundary stations are not ready for such controlling duties. All these procedures should be performed at distributive stations. None of the European states soon to join the EU and having borders with other economic zone, e.g. Ukraine, Belarus or Russia, have been required anything like that. Nothing of the kind is demanded even from other EU applicant states and our neighbours, i.e. Latvia, Estonia and Poland. European Union's "exclusive attention" has been shown only towards Lithuania, and our politicians are trying blindly to carry out these requirements. Nobody even asked the opinion of cargo owners, dispatchers and transport carriers to this problem".

Lithuanian Republic's Transport and Communications Vice-Minister Valerijus Ponomarevas in conversation with journalists in Russian Transport Ministry has defined a general direction of his department activity in the following way: "Our hopes for "2K" project are like this: in the nearest future we have to facilitate existing situation with freight transportation towards ports of Kaliningrad and Klaipeda, and a long-term measure is to create by our common efforts the "2K" as a zone of quite satisfactory goods transportation and processing facilities between Eurasian western and eastern parts, between the EU and the CIS. From 2004 when Lithuania becomes a member of EU, the project "2K" will help to transform a problem of Kaliningrad geographical remoteness into an advantage".
To join Trans-Siberian railway route together with the EU
Railway routs connect Latvian ports with the biggest goods' transit partner in the East, i.e. Russia, and as well with Belarus, Lithuania and Estonia. Latvian advantageous geographical position has permitted Latvijas Dzelzcels together with Latvian ports to compete with the railways` operators from other countries of the Baltic region, i.e. Lithuania, Estonia, and also with Russia and Finland.
LD's general director Andris Zorgevics thinks that Baltic carriers today pay special attention to further cargoes transportation development through Western Europe and Southeast Asia, using all Baltic ports' facilities. He continues: "Presently, main cargoes' routs passes by seas through Suez Canal which represents "a bottle neck" with all incurred problems, imposing additional burden on transportation issues, especially after well known events of 2003". LD's general director explained the existing problem: "I would like to remind everybody that according to experts' estimates, transportation by sea covers about 30-35 million TEU which, in turn, makes 95-98 % of the total amount of cargoes into that direction. The only thing that is important today is how these volumes of cargoes will be transported, what regions, countries and routes can be involved through these transportations. As is well known, cargoes are always transported through those directions, which provide fewer obstacles, where stability and safety is secured. Together with our colleagues from Kazakhstan we have arrived to a mutual agreement that in view of transportation process interaction with participants from both Kazakhstan direction and the Baltic ports, considering operating within conditions of uniform tariff space, we can already at present secure competitiveness not only for Kazakhstan foreign trade and export cargoes in the world market but also for the goods of other countries of the Central-Asian region. And these are just the first steps! Only several months have passed from the date of the first container train "Baltika-Transit" (30.04.2003), and already now we can tell, that our clients have apprehended with understanding the service we've offered. The goods are sent weekly with the delivery on the Russian joint at the station Sebezh every Thursday according to the schedule of a container train ¹ 1418 following the route: port Kaliningrad - Lithuania - Latvia - Estonia - Russia - Kazakhstan and further on".
Latvia managed to provide necessary arguments for transportation corridor "East - West" inclusion into a priority Trans-European transport network regarding the Baltic region, in particular as such inclusion could be an integrated part of the whole European concept. The European Commission vice-president Mrs. Loyola de Palacio, responsible for the EU transport and energy development has said at a seminar in Madrid devoted to private companies' participation in technological projects implementation, that the European Commission negotiates presently with Russia the issue of creating a common unified railway system. She acknowledged at the same time, that the EU and Russia's railway systems network unification would allow to connect Atlantic and Pacific oceans and essentially expand trading communications with Asian countries. Investments from pre-accessory ISPA structural funds of about 150,9 million euro have been allocated for the purpose of Latvijas Dzelzcels infrastructure development.
An island of diesel locomotives
We have to acknowledge that transnational process of railway privatisation is still going on in the world. Purchase by the American Wisconsin Central Corporation of New Zealand the railway company Tranz Rail was followed by railways acquisitions in Australia, Canada, Mexico, Great Britain and, at last... Estonia.
The present Estonian railway company (EVR) general director Ed Burkhardt has left Wisconsin Central Corporation and has established a new railway company Rail World Inc. This company became a nucleus in the consortium which incorporates other undertakings, such as British civil engineering firm Jarvis PLC, Estonian investment group Ganiger and American Rail Development Corporation. In August 2001 the new consortium, named Baltic Rail Service - BRS, has bought 66% of EVR's stocks, and 34% still belonged to Estonian government. It has been stipulated, that in case of privatisation, BRS has a priority right to buy the latter 34% of stocks.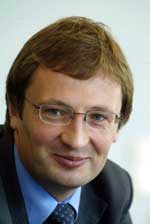 Photo: E. Prozes

Mealis Atonen.

In EVR's locomotive service facilities there were on average 6 mechanics for each locomotive, but in Wisconsin Central there were ten times less. As for locomotives themselves, according to experts, this is the true ground to reduce expenses incurred in privatization, i.e. because you sell and buy from one corporate entity. Second-hand American diesel locomotives from the well-known General Electric company had arrived in Tallinn in May, 2002. Due to improved characteristics of locomotives C36-7 it was possible to liquidate a hump yard and a locomotive depot in Tape; hence, to reduce employment (in 2002 Eesti Raudtee sacked 826 workers, and during 9 months in 2003 another 319 workers had been fired). The whole picture gives an impression that the true purpose of privatisation was not to improve enterprise's activities but an intention to earn on resale of old American locomotives and to withhold all existing assets from EVR.

Oleg Chausov, Academician of Russian Transport Academy, says: "Latvian railroads are more electricity driven than those in Estonia. Finnish railway network is electrified enormously. On this background, Estonia looks like an island of diesel locomotives".

According to Estonian Postimees newspaper, Baltic Rail Service has been compelled presently to find investor due to reductions in volumes of transportation, deterioration of economic parameters and failures in investment plan. Another reason behind the search for new investors has been incompatibility of the American locomotives and that of local rail infrastructures; thus locomotives manufactured in the US did not confine to the "Russian track". The locomotives purchased in the USA could not function without capital breakages in Estonia for more than three months. It happened already once in 1936 when railways in Estonia have simply stopped because of insufficient supply of Soviet locomotives and accessories.

Nevertheless, Eesti Raudtee AS is going to start up the container train on a route Tallinn (port Muuga) - Moscow at the end of 2003. Railway's press-secretary Margus Vjarva has said, that the train was ready at the end of the 2002, but for some reasons the route still didn't function. Chr. Jensen Eesti AS company's director Leonid Krasnodubskiy thinks that it's certainly cheaper to transport containers by rail. It is possible to save about 30- 40 % from transportation costs by motor transport. Now delivery of one standard container from Moscow to Tallinn by the road transport can cost about 17-19 thousand Estonian crones. "But", adds Krasnodubsky, "it will be favourable to transport goods by rail only in the case that there will be no week idle times and delays on the borders". Besides, the question of delivery across Moscow is not solved yet. If container train will arrive only at one station, the further transportation with customs maintenance and security will destroy all benefits from transportation by rail. "Most of our clients", said Krasnodubskiy, "have their own customs terminals, and this is why they prefer motor transport. About five years ago many cargo owners already tried to use railway cargo transportation, but there have been forces to drop the idea".

Mealis Atonen, Estonia's Minister of Economics and Communications declared optimistically at the meeting of the EU transport ministers: "In view of the regional potentials with a gravitating trend towards each other, and economic forces driving cooperation, as well as taking into account distances between them, for Estonia - internationally - the most important are the following transportation directions:

* Western Europe - Estonia - Russian Northwest;

* Scandinavia and Finland - Estonia - Central Russia;

* Finland - Estonia - Central Europe.

In spite of the existing trend in growing goods transportation volumes through Estonian territory, there is a growing competition within this transportation market, first of all from the nearest Estonia's neighbours, i.e. Finland, Russia, Latvia and Lithuania. However, Estonia, Latvia and Lithuania accession to the EU shall be an essential factor for a healthy competition and the international distribution of work".

Two different railway tracks converge at the Shjashtokaj railway station, i.e. a wide Russian line and that of the European standard. Here loading / unloading and an overload of 20-, 30- and 40-foot containers cargoes from cars of one width of track to the cars of other width of a track are made.

At Motskava station the automatic equipment on change of width of a track of carload wheel pairs by means of which it is not required to overload cargoes is maintained. Liquefied gas operator functions at the terminal as well.

Station Draugiste serves a unique in the Baltic countries international railway ferry line Klaipeda - Mukran with a year capacity of 90 thousand cars. It is the shortest cargo transportation way between Lithuania and Western Europe.

Latvian state joint-stock company Latvijas Dzelzcels has transported in 2002 about 40, 1 million tons of cargoes, and insurance losses have accounted only for 3 centimes to each 1000 lats of freight traffic incomes. The basic transit transportations freight traffic (over 83% of the total amount) into Latvia has occurred along East-West transport corridor connecting CIS industrial centres with Latvian seaports. Mineral oil, chemicals and mineral fertilizers prevail in freight traffic transit. Russia's share in total amount of the Latvian transit goods in 2002 reached 48,2%, and Belarus - 37,4%.

The Estonian railway system works along the two main directions:

* Direction East - West which serves cargo transportations line between CIS and that of Western Europe. Into this direction structure the railways Tallinn - Tapa - Narva; and Tapa - Tartu - Pechora are included.

* Direction North - South which serves Finland and the Scandinavian countries' cargo transportation routs to Central Europe, and which includes the railway line Tallinn - Tapa - Tartu - Valga.

The Estonian railway officially has only two basic boundary transitions, i.e. in Narva and Pechora.
Finartis Casts Off from Muuga Port
Finartis Moscow, a leading Russian investment firm, has opted to sell its stake in Dry Bulk Terminal (DBT), located in Tallinn's port of Muuga.
Muuga is Estonia's key commercial port, with total cargo turnover accounting for approximately 90% of the national turnover and nearly 70% of that of Tallinn Port JSC. Muuga's water area, which covers 350 hectares, and the adjacent territory, covering 752 hectares, are enormous by European standards. The port, which is vital to the health of the Estonian economy, had long been in need of upgrading.
At the time of the sale, DBT had benefited from an investment program, was running at full capacity and had begun to yield stable income for investors. "It is at this point that a classical venture investor sells its stake to a strategic investor," - commented Rustam Aksenenko, CEO of Finartis Group, the parent company of Finartis Moscow.
Finartis, established five years ago, provides asset advisory services to qualified individuals willing to invest capital in promising projects throughout Europe. The company's top management stated that the completion of the Tallinn project marks Finartis' exit from the transport sector. Going forward, the company will focus on a more diversified portfolio of projects in a variety of sectors across Eastern and Western Europe.
Western experts observe that Finartis' project in Muuga is an exemplary one. In 2003, net profits at DBT's were US$ 5.63 million and total sales amounted to US$ 17.35 million. Finartis' tenure as a shareholder saw a technically outdated terminal replaced with one of the most cutting-edge port facilities in Eastern Europe.
Presently, DBT has total storage capacity of 140,000 tons, half of which is under one roof; and four independent hemispherical domes ensuring against product cross-contamination, thus increasing the range of products the terminal can handle. Each of the domes has a load capacity of 15,000-18,000 tons of cargo. The terminal also has a 288 meter-long quay.
These facts are especially significant in view of Muuga's importance to Russia's ability to export mineral fertilizers to Europe, Latin America, the U.S. and China. Therefore, the terminal's standing as a top-class mineral fertilizer storage facility is justified from all angles, which is important considering that the buyer of Finartis' stake is Panama-based Izofert Trading, Inc., a major player in the fertilizer market and the principal consumer of DBT's services.
The Estonian side has not been placed at a disadvantage, however. As before, DBT's management holds 10% of the company's preferred shares, with Estonian-based investors holding an additional 45%.