News & Views
Lithuanian Paksas-gate
Photo: A.F.I.

The Lithuanian Parliament is preparing to start the impeachment procedure against President Rolandas Paksas. The scandal began in autumn 2003 after the national security committee chairman Mecys Laurinkus delivered a report to the Parliament about incurred threats to national security. In addition to the report, tapes of telephone conversations recorded in March 2003 were included.

A special parliamentary commission has been formed to give a political assessment of the situation and determine whether there is a real threat to Lithuania's security and its president, stemming from a possible pulling the strings' case from the side of Paksas' presidential election campaign sponsor Avia Baltika's head Yuri Borisov. The commission's investigation, due to be completed by Feb.13, seems to provide affirmative answers, and the period of political upheaval got under way... Lithuania's President is accused of giving Lithuanian citizenship to Borisov by exception. The Supreme Court has already met to discuss the matter, but the final decision is still expected.

Paksas is also suspected of having disclosed highly classified state files to third persons and interfering with privatisation of Lithuania's distilleries. "The Russian lead" is also being followed to find the link with the Russian organisation "The 21st Century" which Lithuanian lawmakers described as "a Russian criminal gang".

Lithuania's population responded to the present political developments by sluggish rallies (over 2,000 demonstrators against the President and over 5,000 of Paksas' supporters) and fiery off-stage debates. The mass media have joined a chorus, loudly exposing Paksas. The lawmakers, aware of their weak legal arguments, are doing all they can to remove the President from the post without any court proceedings. At the same time, some foreign observers have noticed that the present state of events is somehow more reflecting an American rather than Russian scenario, based on Lithuania's pro-American policy which sometimes runs even counter to the European one, and where Paksas does not seem to fit in.
Ekranas takes one-third of European market
Lithuania's only TV-tube producer, Panavezius-based factory Ekranas, has taken 30% of the European market of small-sized TV picture tubes. In the first half of 2003 Ekranas increased its market share of small picture tubes (14'' and 15'') to 30% from 18%. The Lithuanian producer was given a boost after participation in the world electronics' fair in Berlin, a traditional business catalyst for companies of the industry. In September 2003 Ekranas sold 542,290 units of TV tubes or 2.3 times more than in the previous month. After the presentation in Berlin, flat picture tubes are being ordered by firms and companies which are only planning to begin assembly of small-sized TV sets.
Baltic States join NIB
The Nordic Investment Bank (NIB) has officially admitted Estonia, Latvia and Lithuania as its members. The decision about admission of the Baltic States was made by Norwegian, Swedish, Danish, Finnish and Icelandic heads of government at the meeting with their Baltic counterparts last October. The NIB was founded in 1976 by Sweden, Norway, Denmark, Finland and Iceland for boosting investments in Northern Europe. Presently there are about one thousand investment projects carried out by the Bank.
Estonian top managers seeking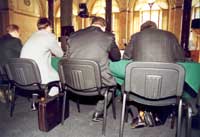 Photo: The BC archives

jobs

Recently dozens of large companies' managers lost their jobs in Estonia, and it is difficult for them to find new employment of the same level. The Aripaev daily wrote that the unemployed managers have to take consulting assignments on the side or try to start their own business, or otherwise be satisfied with a much lower-ranking position and salary. Estonian top managers are unlikely to get any job abroad, except for Latvia and Lithuania, but there too they would have to live with a lower rank and smaller salaries. The abundance of managers out of work was clearly demonstrated by a contest to the Estonian national mail service Eesti Post top position which drew applications from 56 people anxious to become country's Postmaster General.
EBRD' helps private sector
The European Bank for Reconstruction and Development (EBRD) will continue to provide financing assistance to the new EU member states, but will focus on lending to the private sector. EBRD secretary general Johnny Akerholm, speaking at the conference "Baltic Banking and Finances 2003" in Riga in October 2003 said that the EBRD funds were comparatively costly but the bank was financing small and medium-sized companies' projects in private sector where risks are higher. The EBRD secretary general also said that the bank still saw possibilities for helping the municipal and energy sectors as well as with privatisation and development of the finance sector.
MN offers ecologically safe gasoline
Lithuanian oil refinery Mazeikiu nafta's (MN) trading house, which is run by Russia's YUKOS, has started marketing gasoline with better environmental qualities. Gasoline A-95 previously sold in Lithuania, Latvia and Ukraine, has been replaced by gasoline 95, which fully meets European standards. Under the EU requirements, only such gasoline can be sold in Europe, starting from January 1, 2004. This gasoline has been on sale in Estonia for some time already, and soon the MN's trading house will be selling the stuff in Poland too.
Timber poaching
Photo: The BC archives

The World Wildlife Federation (WWF) accused Estonia, Latvia, Lithuania and Russia of massive illegal timber felling and insisted that the unlawful practice must be terminated. The WWF said in its October 2003 report that the EU should take action to curb illegal tree-logging in the countries that had just become EU members or will be soon admitted. According to the report, official records put illegal timber felling in the Baltic States at just 0.5-2 percent of the total logging but the actual rate was 2-3 times higher. In Russia the corresponding figure stands at 10%.
Scandinavian stock exchange alliance – NOREX
Existing cooperation among four Nordic countries' stock market, i.e. Denmark, Sweden, Iceland and Norway, from 2004 will include Finland, Estonia and Latvia. Main idea behind enlarged cooperation is better opportunities for investors. "With this cooperative arrangement among seven Nordic and Baltic stock exchanges, we are going to become among four-six biggest bourses in Europe, which is a great advantage both for international investors and corporations", acknowledged Hans-Ole Jochumsen, Copenhagen's Stock Exchange administrative director.
Leaders in other Nordic states' exchanges agreed that such an alliance is the right step in the right direction both to create an opportunity for seven countries to trade stocks "within one electronic media" and to make more efficient Nordic capital market. Computer company OMHEX which stays behind a fusion between Finnish HEX exchange and Sweden OMX would assist the latter to elaborate a new electronic system "SAXESS" to be used both by present NOREX alliance states and Finnish, Estonian and Latvian too.
Present historic evolution in Scandinavian stock market developed in an accelerated way, i.e. in fact it started in March 1999 with Danish and Swedish bourses` cooperation; in October 2000 – Iceland joined "the club", in May 2002 – Oslo's exchange, and in 2004 – Helsinki, Tallinn and Riga Fondu Birza.
Environmentally sensitive region
Lithuania, Latvia and Estonia have suggested declaring the Baltic Sea as the environmental zone of heightened sensitivity, according to the protocol signed by Baltic States' transport ministers at the meeting in Druskininkai, Lithuania, in November 2003.
The efforts to increase funding for protection of the Baltic Sea have been suggested, which would seriously reduce sea water pollution. Lithuanian Transport Minister Zigmantas Balcytis, Latvian Transport Minister Roberts Zile and Estonian Economy and Communications Minister Meeli Atonen also approved the Baltic Council of Ministers action plan for 2004, calling for co-ordinated joint actions in transportation and communications after the Baltic States' accession to the EU.
Energy project for 750 mln
Lithuania's Kruonis hydro-power plant, which generates highly marketable peak-time's electricity power, intends to carry out a development project valued at some 750 million litas. Lithuanian and Russian energy institutes, the Russian energy monopoly UES and Lithuanian electricity utility Lietuvos Energija have launched a feasibility study for four new units construction at the present power plant. The study should be completed in spring 2004, reported the Lietuvos Rytas daily.
Present Lithuania's need for peak-time power is met by two of the four existing Kruonis power plant units. In a bid to make the plant's operations more efficient, Lietuvos Energija planned to begin exporting peak-time power in November 2003. Lietuvos Energija will be able to pull through the project, if it had agreements guaranteeing the sale of electricity power. The project would be feasible, if Russia agrees to buy the energy generated by the Lithuanian plant, the newspaper said. Moreover, a power line connecting Lithuania with Poland would be built; the latter cannot envisage any problems buying peak-time electric power.
Everything's legal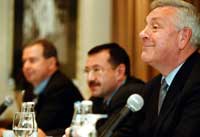 Photo: A.F.I.
The Latvian Corruption Prevention and Combating Bureau (KNAB) has not found any irregularities in the procedures leading to creation of the Latvian-Russian joint venture LatRosTrans and privatisation of LaSam and Ventspils Nafta companies, said Mamerts Vaivads, the board chairman of Latvijas Naftas Tranzits, the largest private shareholder in Ventspils Nafta oil transit concern.
"The proceeds from privatisation were not used to finance any parties and no parties took part in the privatisation", the KNAB concluded in its 32 pages report that Vaivads produced to the press last December.
The fuss around the results of the first stage in privatisation of Latvia's largest oil terminal was started by Latvian vice-premier Ainars Slesers, who in March 2003 questioned legality of the relevant transactions, referring to an opinion by certain unanimous legal experts.
EU squeezes Lithuanian paper industry
Lithuanian paper and cardboard producers have shown a great concern over tough EU requirements concerning waste paper and packaging recycling. At present Lithuania recycles about 40% of paper waste but under the EU requirements the rate needs to be increased to 55% by 2006.
"This will be hard to achieve without respective national policy and economic incentives, and we may face sanctions from the EU", said Klaipedos Kartonas' director general Mr. Arunas Pasvenskas.
He told the Verslo zinios newspaper that Lithuania has had capacities for waste paper recycling but the mechanism did not work. Klaipedos kartonas buys about 50% of waste paper in Lithuania and imports 25% from Latvia, 15% from Estonia and 10% from Russia's Kaliningrad region. This year the company expects to process around 70,000 tons of waste paper.
Russian billionaire intends to settle in Lithuania
Photo: P.Lileikis
Russia's YUKOS oil concern vice-president and board chairman of the Lithuanian oil company Mazeikiu Nafta, Mikhail Brudno, has announced his plans to take up permanent residence in Lithuania upon retirement. "Together with my wife we decided that after retirement we will live only in Lithuania", Brudno said in the interview to the Lietuvos Rytas daily. He has been thinking about buying an estate or a homestead but has run into many bureaucratic obstacles. The 44-year-old Russian billionaire said visits to Lithuania have become for him "usual and pleasant". "I come here every month," he said.
Sugar, flour and salt for a rainy day
Estonia's population has been actively buying up sugar, flour and salt in anticipation of the price rise on certain products after the country joins the EU on May 1, 2004. Mostly people living in the province where wages are lower than in Tallinn have been accumulating food stocks. After the EU membership referendum, sugar sales in Tartu, for example, soared 4 times and in Johve the growth was 30%. Moreover, residents of Johve have also started stocking up on flour and salt. Social scientists said it was like in the Soviet times when people started buying up food whenever a price rise was rumoured. Upon Estonia's accession to the EU, people say, sugar prices will double because of high import duties.
Zhirinovsky remains persona non grata in Latvia
Latvian Interior Minister Maris Gulbis has decided not to change the previous decision banning Russian Liberal Democratic Party leader Vladimir Zhiriovsky from entering Latvia. Zhirinovsky was put on Latvia's list of personas non grata 10 years ago but even interference by Latvia's vice-premier Ainars Slesers on behalf of the Russian politician did not help, and Zhirinovsky remained blacklisted. "We should make up our minds, however, about whether he is banned from entering Latvia for security reasons or it was a political decision," said Slesers.
Tallinn to have bicycle taxis
This spring private company Velotakso will start offering bicycle taxi rides to Tallinn residents and guests, wrote the Postimees newspaper. Velotakso intends to operate some 10 bicycle taxis in the historical part of the Estonian capital. Pedalled by a driver, one such vehicle can carry two passengers. The Tallinn city council said this kind of transport was environment-friendly and a potential tourist attraction, therefore the city was ready to help Velotakso. As the main source of the taxi company's income is advertisements displayed on the body of the vehicle, the city council is willing to make these advertisements tax-exempt. It is most likely that instead of the usual taxi charge by kilometre, the bicycle taxis will charge their passengers a fixed fee of some 25-30 croons per ride. Bicycle taxis first appeared in European streets in Berlin in 1997, and by now they can be seen in 22 European cities.
Baltic song and dance festivals included in UNESCO list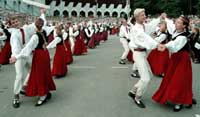 Photo: P.Lileikis
Last November UNESCO headquarters in Paris announced new entries to the UNESCO list of the world cultural heritage. UNESCO secretary general Koichiro Matsuura said they have also granted the joint application by the Baltic States to the cultural event under the title of "Tradition and Symbolism of Song and Dance Festivals in Lithuania, Latvia and Estonia". An international jury examined applications from 56 countries and found the traditional Baltic song and dance festivals a unique component of the mankind non-material cultural heritage.
Baltic Club in the European Parliament
The foundation meeting of the Baltic Club at the European Parliament took place last October. The initiative to organise a club for lawmakers from the Baltic States is attributed to Lithuanian observers in the European Parliament and was supported by current EU member states.
Grate Honour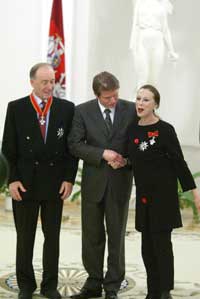 Photo: P.Lileikis
One of the most popular contemporary Russian composers, Rodion Shchedrin, and legendary ballerina Maiya Plisetskaya have been decorated with the Grand Cross of The Order of Commodore "For merit to Lithuania". They received the decorations personally from Lithuanian President Rolandas Paksas, who said Lithuania had been a source of inspiration to the composer and the dancer and had helped them to win fame and glory not only in Lithuania and Europe, but throughout the world. Shchedrin, 71, and his wife Plisetskaya were among the first to receive the Lithuanian citizenship by exception after restoration of the country's independence.
Lay-offs before New Year
Estonian sports gear maker HTM Sport Eesti has ceased production of slalom boots in Tallinn and therefore last December laid off 191 people of its staff of 352, paying them 1,845 million croons in compensations. HTM Sport Eesti deputy director Kalle Voog said that production of slalom HTM Sport Eesti was founded in 1993 through reorganisation of the state-owned Salvo company, and in 1998 the Estonian state sold its last 6.4% in the company's shares to Italian investors.
Lithuanians praise mass media, but distrust state institutions
Majority of Lithuania's population (72%) hold in high esteem the country's mass media, according to a public opinion poll conducted by Baltic Surveys Company in autumn 2003. About 48% approved actions by the Presidential Office and trusted its information. Positive attitude to commercial banks' work and information about them was registered by 32% of respondents, the Bank of Lithuania received praise from 61% and the Home Guards system from 59%. At the same time, 70% of respondents distrust the parliament, 62% do not trust the customs service and 60% detest the police work.