News & Views
List of the EU candidates completed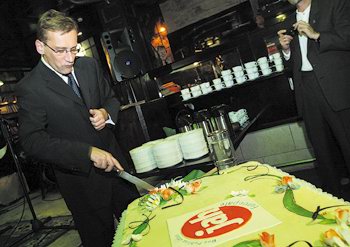 Juhan Parts cuts festive cake

Photo:E.Prozes Ariepaev

On September 14, Estonia said Yes to the EU with 66.9% of Estonian citizens voting for the EU membership in the referendum while 33.1% voted against.

On September 20 in Latvia, 67% of citizens who had turned out for the EU referendum, voted Yes and 32.4% voted No. In Estonia the turnout was 63.4% of the total electorate and in Latvia 72.53%. For comparison, Malta boasted the highest turnout in the EU referendum among aspiring countries at 91% and Hungary was at the bottom of the list with 45.62%.

A substantial part of Estonian and Latvian population was deprived of the chance to express their opinion concerning such a vital issue for their countries. In Estonia, about 300,000 people and in Latvia some 500,000 people (one-fifth of total population) were not allowed to vote because of their non-citizens' status. In addition, anti-EU mood ran high in the largest eastern Latvian cities with predominantly Russian-speaking population, i.e. only 31% of voters in Daugavpils city and 43% in Rezekne city supported Latvia's accession to the EU.

In Estonia, the voting day passed without much fuss, mass events and demonstrations. The people, already rather tired of the persistent EU campaign, did not jostle or wave EU flags.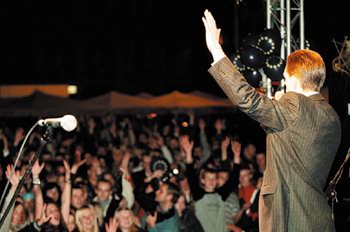 Einars Repse in the Doma Square in Riga the night after the EU referendum.

Photo: A.F.I.

In Latvia, festive mood on the day of the EU referendum were overcast by an announcement by the ruling coalition member, Latvia's First Party, about the need to replace Prime Minister Einars Repse. "Repse wants to grab power, control secret services and introduce authoritarian rule. We have information about Latvia being on the verge of a dictatorship," said Latvia's First Party chairman Eriks Jekabsons. On the following day, three coalition partners signed a letter to Jaunais Laiks (New Era) party, demanding prime minister's resignation.

Unrealized IT potential

The Baltic states IT industry is highly competitive in the global market, but still unrealized export potentials are quite law, according to a survey by the International Trade Center, reported Latvian daily Diena. Latvian and Lithuanian IT industry competitive ability was rated 8 points on a scale from 1 to 10 or higher than 11 other East European nations covered by the survey; the latter however did not include Estonia and Slovakia.

Out of 35 countries surveyed the US and Japan received 10 points while Germany, Finland, Sweden and the United Kingdom scored 9. The score reflects a given country businesses' ability to compete on the IT market in terms of quality, price, deliveries and trademark image.

Latvia's IT export potential was rated low, i.e. at 6.7 points, and only Bulgaria, Turkey, Poland, Ukraine, Romania, Lithuania and Egypt were even lower.

This indicator shows unrealized potentials estimated by such factors as quality of human resources, infrastructure, innovations and market development.

Latvian IT and Telecommunications Association vice-president Andris Anspoks agreed that most American and European IT service users look to Russia and Ukraine where labour is cheaper with plenty of human resources.

Lithuania sells Lietuvos dujos to Gazprom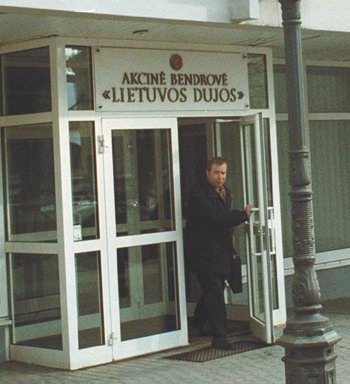 Photo:P.Lilekis, Lietuvos Rutas

The Lithuanian government on September 25 approved in principle Russian gas concern Gazprom proposal that offered 91 million litas (25 million euro) for 34 percent of shares in Lietuvos Dujos natural gas utility put up for privatization. Russians also agreed to add a premium of 9 million litas to their bid, provided that Lithuanian government would stop marked fuel prices' regulation for largest clients and lower the minimum gas consumption level from current 15 million cubic meters to one million cubic meters per year. The parties of the deal still negotiate on the terms.

The agreement on Lietuvos Dujos shares' purchase and sale is expected to be signed already in October but the deal will be probably closed in 2004.

Estonian-Chinese Economic Forum

Estonia and China can cooperate successfully in transit, logistics and tourism, said participants of the Estonian-Chinese Economic Forum organized this September in Tallinn by the initiative of the Chinese Embassy. Chinese delegation included 21 persons, mostly municipal and business representatives. Before coming to Tallinn, the delegation visited Latvia and Lithuania. In the Forum in Tallinn Estonian tax policy and conditions for business development and investment growth were discussed. At present Estonian export to China is at 0.5% level, while Chinese import and re-export to Estonia stands at 5%.

Lithuania has its new land cadaster

New land use taxation is based on the new country's land map, which will take effect on January 1, 2004 in Lithuania. During 2003 taxes will be calculated in the same procedure as it used to be in 2002, the Lithuanian government decided in September.

The effective date of the new land value map had to be postponed until 2004 because the Register Center missed the deadline for drawing up the map that was supposed to be completed already in 2002.

Lithuanian IT group expands to the East

Lithuania's Sonex Grupe has registered its daughter's company in Minsk city's free-economic zone which marked the beginning of its planned expansion into Eastern markets. The new company' main activity will be producing servers and Vector work stations for the Belarus and Russian markets, and offering other IT solutions, products and services
Photo: P.Lilekis, Lietuvos Rutas

Arunas Bartusevicius

"Upon strengthening of our positions in all Baltic states, we launched a thoroughly planned expansion to promising Eastern markets, i.e. in Belarus, Russia and Ukraine," said Sonex Grupe director general and board chairman Arunas Bartusevicius. In 2003 Sonex Grupe plans to generate over 200 million litas in sales and become the largest IT group in the Baltic.

The Lithuanian company also has an office in Riga and during the last year has worked itself into a firm position among suppliers of computer hardware and Microsoft Business Solutions products in Latvia.

Estonia sells Telekom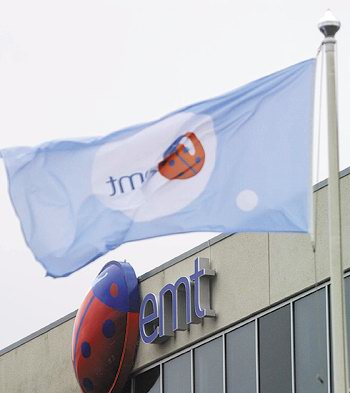 Photo:E.Prozes,Ariepaev
The Estonian government intends to sell its state's share in the publicly listed Eesti Telekom telecommunications company and may also dispose of some other corporate holdings to raise funds to finance education project "The 21st Century School". The Eesti Paevaleht newspaper reported that no specific schedule and terms for sale of state holdings have been yet set. The project costs are estimated at 6.5 billion kroons, including 5.3 billion kroons for school buildings' renovation and 1.2 billion kroons to be spent for teaching materials. The Estonian government holds 27.23% in Eesti Telekom, and the value of this share is around four billion kroons.
Latvian parliament makes second go at controversial bill on ports
The Latvian parliament on the October 23 adopted amendments to the controversial law on ports in a second attempt to pass the legislation, retaining equal number of local authority and state representatives on boards of Riga and Ventspils ports. Previously the amendments called for increased influence of the state at the ports, but Latvian President Vaira Vike-Freiberga returned the bill to the parliament for revision.
Under the amendments passed in the second go, Riga and Ventspils ports will each have eight members on the board, four representing the state and four from the local authority.
The bill also states that only the port of Riga will have the status of a legal entity under the public law meaning that the state will be responsible for all liabilities of the port of Riga and will have the crucial role in decision-making whereas Ventspils port and the country's small ports will remain under supervision of local authorities. The port of Liepaja will retain the status of special economic zone and no changes will occur in its administration.
Previous amendments that were re-turned to the parliament by Latvian President Vaira Vike-Freiberga sought to increase influence of the state both at Riga and Ventspils port boards, setting the number of board members at seven, of them four state representatives and three from the respective local authority. Currently all Latvia's largest ports have ten members on board, five from the state and five from the local authority. The government proposed to amend the law after Riga free port board supported several doubtful decisions on land lease at the port and credit guarantees.
Resignations in Ventspils Nafta
Latvia's Ventspils Nafta oil terminal council has accepted resignations of the company's president and its executive board's chairman Janis Adamsons, and company's vice-president and its executive board deputy chairman Ritvars Priekalns. The resignation was to take effect from September 13 this year. Adamsons has left Ventspils Nafta for personal reasons but Priekalns will assume a high-ranking position in Ventspils Nafta Terminals Ltd., a subsidiary that was organized to relieve the parent company from the oil and oil production handling functions. The management changes at the company have to be approved yet by Ventspils Nafta shareholders' general meeting.
EBRD to help with Lithuanian-Polish power network
The EBRD has reaffirmed its intentions to contribute to a project connecting Lithuanian and Polish power nets. EBRD 's first vice-president Noreen Doyle said in a letter to Lithuanian government this August that the Bank was interested in participation in the power network project and was ready to provide some investments.
Lithuanian power utility Lietuvos Energija and Polish company Polskie Sieci Elektroenergettyczne (PSE) have already agreed to draft a business plan for the future joint venture. Total value of the project is estimated at 1.498 billion litas.
EBRD's advisors believe that the power network project will be economically viable if the EU provides financial grant of 949.5 million litas for the project. The Lithuanian-Polish power grid project is expected to be carried out in 5–7 years' time.
New railway car plant
Last August witnessed a groundbreaking ceremony for a new railway car plant at Kohtla-Jarve's suburb of Ahtme in Estonia's northeastern part. The new plant that will have as a co-owner Russian industrial giant Uralvagonzavod will produce oil tank cars and passenger cars in future as well. The plant owned by the UVZ & AVR's joint venture is to reach full production capacity of 3,000 oil tank cars a year by the end of 2004. Annual turnover is planned around 1–1.5 million kroons, and the plant will provide employment for at least 400 people. In addition to making new tank cars, the facility would also service about 2,000 used oil tank cars annually. The plant expects to serve mostly to clients from the Baltic states.
Air taxi
A well-known Estonian transit businessman Endel Siff has decided to take up air taxi business. His company Harmony Aviation has bought a Lear Jet airplane built in 2000. The eight-seat jet plane can carry transport passengers from one of Baltic capitals to any destination in Europe non-stop.
Baltika opens retail chain in Russia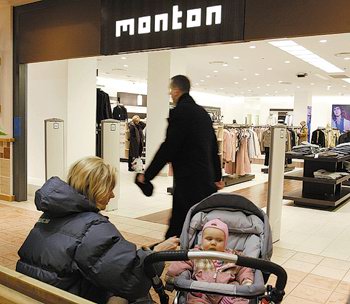 The store premises in St.Petersburg

Photo: E.Prozes, Aripaev
Estonian clothing company Baltika listed on Tallinn Stock Exchange this August signed an agreement to organize retail trade joint venture in Russia. According to the letter of intent, the Estonian party will be holding 50.1% in the new company and the remaining shares will belong to a group of individuals, Baltika's long-time franchise partners. At first the joint venture will acquire ten stores in Moscow (including in GUM department store), in St. Petersburg and in Tula. The retail chain will hold trade marks of Baltman, Monton and Vabrikupood. Afterwards shops in Yekaterinburg, Novosibirsk, Perm, Tyumen and Chelyabinsk will be added to the chain. Baltika opened its first stores in Russia back in 1996 but later switched to franchise operations. In the first half of 2003 Baltika's Russian share of sales reached 14.4 million kroons.
Former radio plant turns into Domina Shopping
The former VEF radio factory in Latvian capital Riga has sprung back to life as the first stage of a grand shopping center worth about 60 million Euro opened in the former factory's territory in September. Domina Shopping accommodates 47 shops and service facilities, which occupy up to 19,000 square meters. By the next May Domina Shopping will expand to 110,000 sq. m and rightfully assume the title of the largest shopping center in Latvia. Pro Kapital Latvia, a company that belongs to Italian businessman Ernesto Preatoni, commissioned the construction of the facility. He personally attended the inauguration ceremony together with the popular Italian cyclist Mario Cipollini, who won the 2003 World Championship and has become a patron of Domina Shopping. All in all, the shopping center will employ about 1,000 people.
Estonian clothes made in Hong Kong ...
Baltika and Klementi, Estonia's largest clothing producers have recently found numerous Hong Kong subcontractors with the aim of reducing its production costs. The Eesti Paevaleht newspaper wrote that similar arrangements have become common in the EU where clothiers' producers place up to 90% of orders in Asian market. Not so long ago Estonians also worked as subcontractors to European producers but now they have started looking for cheap labor themselves. The key reason for this is the growing wages in Estonia that push up production costs.
...but Lithuanians lose German partners
Lithuanian clothiers are losing regular partners as the large German trade chain Canda International (CI) has left for neighboring countries, such as Belarus, Ukraine, the Balkans and Turkey where labor is cheaper. Several other foreign companies intend to follow the path, business daily Verslo Zinios reports, adding that this would not provide better outlook for Lithuanian clothes-making industry.
CI with affiliates and branches in a number of countries in the world has been one of the key Lithuanian clothiers Lelija and Satrija customers. Being the key partner of the Visatex company for more than a decade it has been also placing orders with at least ten other large Lithuanian garment producers.
Lithuanian Apparel and Textile Industry Association will ask the government to cut income taxes. "The time has come to decide whether Lithuania needs clothing industry or not. Costs in this industry are closely tied to the income tax. All neighboring countries keep lowering taxes and soon Lithuania will have the most expensive labor force in the region. What would we do with thousands of jobless clothing industry workers?," questioned association's chairman Vidmantas Vikshraitis.
Two jubilee fashion collections
Anna Osmushkina fashion house, was named by the most popular French fashion magazine Madame Figaro "the only really functioning Baltic fashion house". It celebrated its fifth anniversary by releasing two new collections of spring-summer season 2004 at once.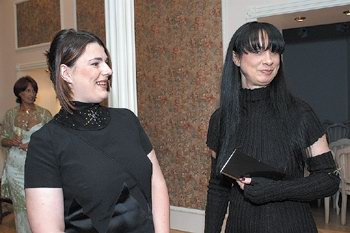 Anna Osmushkina(on the right) and Iveta Bojare

Photo: the BC archives

The fashion house lists among its customers the whole Latvian beau monde from pop singer Laima Vaikule and Riga City Mayor Gundars Bojars. Fellow fashion designers from Austria, Switzerland, Belarus, Estonia, Lithuania and other countries had also come to Latvia to congratulate Osmushkina on the anniversary. These visitors became the first audience to see the new collections by the Latvian fashion designer: Salad (pret-a-porter) and Coffee (haute couture). In fact, Salad was made in triplicate: one set stayed in Riga and was presented at the anniversary show and two other were sent to America for participation in various fashion shows and fairs.

After the show, one of the dresses that cost about 10,000 Euro was immediately bought by Countess Kerner who took it with her to Vienna.

Finns drink more

After the EU enlargement, Finnish alcohol imports will double and alcohol consumption will rise by some 10%. Estonian newspaper Eesti Paevaleht wrote that in order to protect local producers Finnish authorities may cut excise duties on alcohol by one-third, allowing consumers more easily afford alcoholic drinks.

Estonia is one of the favorite markets where Finns go to buy cheap alcohol. After Estonia's accession to the EU, restrictions on alcohol export to Finland will be loosened with one person permitted to bring into Finland 64 liters of beer from Estonia instead of the current 16-liter limit.