European money for our roads
By Tatyana Komorskaya, Vilnius
A true transport revolution awaits future EU member states in the next three years. The BC discussed the issue with Lithuanian Deputy-Minister for Transport and Communications Valerijus Ponomariovas.
Even today Lithuanians' transport is the most integrated into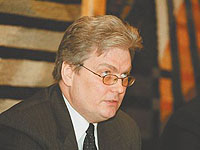 Lithuanian Deputu -Minister for Transport and Communication Valerijs Ponamariovas, photo P.Lileikis, Lietuvos Rutas

European market sector of national economy. Huge investments have already been made into this sector, and major projects have been carried out.

As we know, after accession to the EU, the most sizeable EU funding would be allocated to infrastructure projects. Is Lithuania ready to acquire and make use of these financial "euro-injections"? Do you have any interesting projects and at what stage of development are they?

There is a strong foundation underlying implementation of both regional and transcontinental projects, and Lithuania's priorities in transport development have remained unchanged in the last years. This is reflected in strategic documents adopted by our government and the parliament.

Nevertheless, to provide a full readiness' guarantee for the EU funds' usage, the matter was discussed at the government's special strategic committee. It was decided that available resources would be split fifty-fifty between the road carriers and the railway sector itself. And if we realise that some projects' implementation is delayed, money will be reassigned from one transport sector to another. This arrangement has already resulted in growing competition, and the two transportation sectors have elaborated some extra projects' draft for slightly larger amounts than the expected funding.

Railway transport is likely to see the biggest changes during the EU integration process. A scheme for restructuring and subsequent privatisation of railways has been approved. The key point of our reform is to separate two functions, i.e. management and administration functions in railway infrastructure, and that of commercial carriers' operations. At the same time, we have to liberalize carrier market, creating equal, non-discriminatory conditions for all railway companies. Only infrastructure sector will remain within the state ownership, all the rest will fall into the hands of private capital. We have not yet decided on the model of privatisation, and presently are studying French experience, but this is not the matter we should speed up with. We hope that these changes will allow us to reduce transportation costs and improve railway's competitive ability as compared to other transportation means. By the way, in 2002 alone 7.6 million litas from Union's ISPA program were used on Lithuanian railways' renovation and upgrading projects.

One of the greatest projects that has been already agreed upon between Lithuania, Latvia, Estonia and Poland was Rail Baltica - railway line running along the Baltic Sea coast from Tallinn through Riga and Vilnius to Warsaw. By 2015 the moving transportation speed along this railway line will be about 200 km/h. With this aim in mind, participating nations are planning large investments into the project. I have to admit, though, that not all the participating states regard this project as a top priority.

Among the projects we have already successfully put into operation could be mentioned shuttle train Klaipeda-Odessa-Ilyichevsk called Viking with the aim of bringing goods and cargoes from Scandinavia to the Black Sea region. About 40 rail cars are dispatched weekly, of which 10 carry containers and 30 con-trailers. The train makes the whole journey within 56–72 hours, depending on stopovers' time at cargo terminals in Vilnius, Minsk and Kiev. The train has been afforded great privileges along the rout in terms of freight rates, speed of delivery and safety of cargoes, as well as simplified transit procedures.

In 2002 transit cargo flow through Lithuania has grown among all transport sectors. Railway transit grew by 37.3% and made 56.7% of total railway cargo turnover. Transit shipments at Klaipeda port reached 36.7% îf all transit cargoes via Lithuania. The growth in air transits has been at 12.6% of the total and motor carrier growth reached 19.8%. In terms of container transportation, the port of Klaipeda is coming to turnover volumes of such Baltic ports as Riga and Tallinn.

Lithuanian President Rolandas Paksas's recent visit to Georgia and Armenia opened up new perspectives for the mentioned route. It has been suggested to use a ferry in the Poti port near Batumi to transport cargoes to Odessa, Ilyichevsk and from there to Klaipeda, and further on to Scandinavian countries. In reverse direction, Scandinavian cargoes will be transported to South Caucasus' countries. Both Armenia and Georgia leaders expressed interest in such a railway route.

By the way, Lithuania is now working on a project to launch a similar shuttle train on the route Kaliningrad-Klaipeda-Vilnius-Moscow.

Renovation of the Klaipeda port has allowed for re-routing cargoes' shipments. Transportation volumes are growing all the time and mostly at the account of Lithuanian cargoes. Neighbouring Belarus has become a major partner in the project. As to Russian cargoes passing through the three Baltic states, Lithuania's share is only 3%, Latvia handles 27% and Estonia gets the lion's share of 70%. Are you making any plans to change the situation?

It can be said that at Klaipeda port development we made a step forward, by deepening its quays' depth to 14 meters. Now the port can receive Panamax-type vessels, although it is still difficult for us to compete with other Baltic ports. In the future we are going to consider building of a new, deepwater port - up to 17 meters - outside the existing harbour gates. We also have a great natural advantage, i.e. this is the only ice-free port in the whole area.

The fastest growing cargoes' handling operations at Klaipeda port involve the use of modern combined transport technologies. Trailer and car trailer transports grow up to 20% annually, and for containers the growth is 30%. Recently Lithuanian parliament passed a law on Klaipeda free port. Through adopting new by-laws` regulations and introducing new simplifies information technologies for cargoes' documentation, the port will be able to offer qualitatively new services in the very nearest future.

Regardless controversial political attitudes, we have great hopes for the so-called 2K-transportation project. This is about co-operation between the two ports - Klaipeda and Kaliningrad. Lithuania has a common border with Kaliningrad region, and we have some responsibilities concerning our geopolitical position. Preliminary work on the project has come closer to signing the necessary documents, which are to guarantee continuous, steady government relations concerning cargo transport lines from Russia's inner regions and third countries to Klaipeda and Kaliningrad.

In 2002 Klaipeda port handled 19.7 million tons of cargoes (14% growth in comparison with 2001). Together with the oil terminal in Butinge, 25.8 million tons were reloaded. Containers, fertilizers and oil products have shown the biggest growth. These trends in cargo handling at Klaipeda port will prevail in 2003 as well.

Such agreement will make it easier for us to defend our rights before all Russian state bodies, and not only in Russian Transport Ministry, especially keeping in mind that transportation tariffs' policy is not the main concern for the Transport Ministry. This issue is handled directly by the Federal Energy Commission working under direct supervision of the Russian Government. By the way, the Commission's representatives have been attending regularly our negotiations for some time.

Through concerted efforts, the 2K project may have a good future. Expanded transport network in the Baltic region, i.e. joint transport corridor with fixed rules and stable rates will provide an ultimate attraction for transport operators of the entire Euro-Asian economic area. That could help to transform the whole region into an international multi-modal centre of transport logistics, production, trade and financial operations.

According to preliminary analysis, the transport industry in 2004-2006 may get from the EU funds about 470 million litas annually. Optimistic forecasts of the Ministry of Transport and Communications, which takes into account all sources of financial investments, i.e. own corporate funds, the EU funds and bank loans, have shown that total amount of investments into the national transport industry over these three years may reach 3.3 billion litas. These huge investments will be justified, however, only in case of growing passenger and cargo flows. In this respect, Lithuanian situation is quite favourable at the moment: in 2002 transport and warehouses' facilities produced about 9.4% of GDP, and all carriers together transported 87.02 million tons of cargoes, which is 9.5% more than in 2001.

Lithuania's transport system will not be complete without modern roads and highways. Because of never-ending renovations, there are already plenty of road traffic congestions on various routs, e.g. along the road Vilnius-Kaunas…

In 2002 alone, 719.8 million litas have been spent on motor roads' renovation, enforcement of embankments, construction and renovation of bridges and viaducts. We have been investing much more resources per kilometre of the road in comparison to Latvia, Poland and Estonia. This has had a direct positive effect on traffic safety. We call our neighbours to provide more or less equal road conditions and safety requirements along the entire route, and hope they would take our appeal into consideration.