Container transport and globalization
By Michael Tuzhikov, Transpost Rossii

The Baltic states joining the European Union, globalization issues as well as concentration and integration of container transportation, all that has already caused increasing fears among people involved in the business. The prevailing threat is such that changes in the "rules of the game" would affect both the participants of the market and mainly cargo owners. What are experts' predictions as to the tendencies in the transport service sector's development?

First, what's happening around the world...

Financial and economic crisis in Asia and Latin America in 1998 has led to a collapse of the sea cargo transportation market. Chartered container transportation goods' rates have fallen twice compared to the 1977 level. By 2000 economic stabilization has eclipsed in Asia, Europe and the USA followed by the general revival in the market of the sea transportation, accompanied by increased pace of large-capacity container fleet construction (only in 2001 it has increased by 6%) and consequent freighter's rates.

However after September 11th 2001 freight traffic has decreased again and obvious attributes of the world economic transition into stagnation have appeared. Weak pace of growth in container transport has caused a significant decrease in rates in container industry around the world. The insurance companies have quickly reacted towards the changes in political climate after September 11th, having doubled the insurance's fees. More than that, the insurance fee has to cover not only the ship's construction and mechanisms but the containers as well. Transport operators reacted adequately having increased their rates.

So, up to the early spring of 2002 the growth of world trade volumes and charter rates have been outlined. According to consulting group Drewry's estimations, the bulk of container transportation in 2002 has reached 225 million TEU. Container transport between Europe and East Coast in the USA, as well as between China and Europe has drastically increased, mainly due to China's joining the WTO.

An active process of transport carrier operators' strategic alliances and associations in order to gain additional profits by granting a wide spectrum of services has emerged recently. At present, five big container operators control about one third of the world market of container services.

Container transportation market's cyclical development has envisaged that 2001 crisis was not the last one. One can say that such crises sustain a sort of companies' natural selection law, i.e. in difficult circumstances it's the "survival of the fittest" notion works, but among those who survived the competition has become even more tense.

... and consequently, in the Baltic region.

Today the economic benefits of Baltic Sea can be estimated at 4 million TEU. However container transportation collides here with certain difficulties connected to price increase on ships' refueling, as well as various ports' fees. Suffice it to say that "ice breaking fee" collected in Russia, Finland, Sweden and the Baltic states, considerably increased the cost of 1 TEU of cargo, compared to situation in Atlantic and Mediterranean ports.

In order to decrease operating costs, carriers have chosen transportation of containers "in volumes", i.e. by big capacity containers. According to calculations made by experts in China Shipping Container Line, cargo transition with ships of 1800–3000 TEU on courts for transportation of containers with 5600 TEU capacity on transportation routs Europe – Asia, the price of transportation of one container can be reduced by 150–200 dollars. And the additional profit on transportation of containers on courts with 9000 TEU capacity will reduce it by 300–400 dollars per container's unit.

With this in mind, container terminals' administration is compelled to increase depths at port piers. For example, depth in the Rotterdam port will be increased to 19,5 meters in order to receive big containers of about 18000 units. In the port of Antwerp depth will be increased up to 15 meters for containers' reception of 8000–9000 TEU. Situation in Baltic Sea ports seems more complicated as the sea can accept only ships with the capacity of up to 3000 TEU (because of small depth in the Danish straits). Consequently it is necessary to search for other options in order to increase the volumes of processed container cargoes.

In Finland the problem has been solved in a rather simple way, i.e. container terminal in the port of Hamina has increased its quay's length by 234 meters and introduced additional capacities for processing of 0.175 million TEU. And near to the city of Kotka a construction of the new terminal on 0.18 TEU is being finished. These measures timely introduced have produced good results, e.g. in ports of Helsinki, Kotka and Hamina the biggest amount of containers on the Baltic Sea is being processed, i.e. 0.6 million TEU. Great assistance to the ports is rendered by the railway administration; on a regular basis three times a week containers are sent to Russia.

Lithuania has followed the Finnish example, it has constructed specialized containers' terminal in Klaipeda port, and are planning to construct a new one of 18 million TEU's capacity a year. The entrance channel to the port has been profoundly deepened, i.e. up to 14.5 meters on external outlets and up to 14 meters on internal ones. It is secured that a deposit of courts in port of up to 12.5 meters is provided. Width of the entrance channel to the port is of 150 meters. It is planned to provide a regular railway communication with ports of the Black Sea. Container train Vikingas is already in action since February 13 this year between Lithuania (Klaipeda) and Ukraine (Odessa, Ilyichevsk), making shuttle trips twice a week. Hong Kong company Hutchison Whampoa Ltd has shown some interest in the Klaipeda port activity, and representatives of Rotterdam and Antwerp ports visited the site.

In 2002 Klaipeda port has expedited 40% more containers than in 2001. In the first quarter of 2003 the growth rate has reached 82% in comparison to the same period of last year. According to the figures of 2002 about 75% of all containers are directed to or from Lithuania, and only 25% are that of transit.

In Estonia container transport makes for approximately 40% of the total amount of the cargoes traveled through the country's ports. For example, in port Muuga the volume of container transportations has grown three times for the last 10 years. The new container terminal Muuga CT the last year has processed 87.1 thousand TEU of cargoes. In July this year a construction of two new moorings started, which according to plans should come into operation in December 2004. This would allow processing and transferring of 150–160 thousand TEU, and at the end of terminal modernization it will increase its capacity up to 0,25 million TEU a year.

Volume of processed container cargoes has increased considerably in Latvia during last two years, i.e. container cargoes occupy the second place of the total volume of processed goods, having made in 2002 14% of all the cargo in the state. Approximately 98% of all the container transportation goods in Latvia are processed in the Riga port where the most powerful is Riga's Baltic Container Terminal (BCT). The terminal has about 450 meters of moorings with depth of 10.6 meters and it can process 42 containers an hour.

Most of the cargoes coming to BCT in Riga are destined for countries in CIS by automobiles. However Latvian railway officials are planing to alter situation in the near future. Thus, Nord Natie Ventspils Terminals in Ventspils port (40% of its stocks belongs to Belgian company Nord Natie) is being modernized and after the construction efforts are over at the end of 2003 it will process 0.25 million TEU a year. When efforts to deepen Ventspils's port are concluded this port can become the biggest of the kind in the Baltic Sea able to receive ships of the AFRAMAX-type, with a carrying capacity of up to 130 thousand tons.

In Russia, according to its custom statistics, the share of motor container transportation crossing borders with Finland exceeds three times country's railway capacity. At the same time volume of imported goods transported by road transport exceeds twice total amount of exported goods transported by motor transport in the country on the whole.

Road carriers and operators are quite interested in delivering container cargoes from Russia to Finland, as they can be sure to receive a return loading. On top of this they can successfully compete with the railroad rates. These data can indirectly prove the fact that the Baltic region is able to occupy a leading role in distribution of container freight traffic.

This conclusion is supported by the statistics on distribution of container freight traffic in the oceans of the world.

In 2002 Russian sea transport operators in the Baltic Sea region transported 73% of the entire foreign trade volume of container cargoes. It is to be mentioned that Russian transported through Far East Sea region – 17% of its national export/import, through the Black Sea and the Azov Sea region – 7%, through the Northern and the Caspian Sea – 1%, correspondingly; and by transit – 1%. Thus the Baltic Sea ports are obviously of huge importance for Russia. The main share in a planned increase of goods turnover in Russian transport system will fall to St. Petersburg and Ust-Luga ports and container terminals thereof. Minister of Transport of the Russian Federation Sergey Frank has acknowledged that growth rates of container transportations in Russia presently is 15–20% a year. "This is why we've now began the creation of the container terminal in Ust-Luga port". And it's not occasionally that the largest European container-carrier and operator, i.e. German-Italian company Eurogate is going to be an investment partner in Russian container terminal project of 3.27 million TEU a year capacity in Ust-Luga port. Containers' processing in this port is planned for the year 2006.

The absolute leader of the last year became the Saint Petersburg, which has passed 580 thousand the big cargo containers, i.e. 65 % of the turnover of containers within the countries of East Baltic.

Russian National Container Company (NCC) acts as the single operator of a full transit of containers' cycle through system of Russian ports. Presently, NCC owns container facilities in such ports as St. Petersburg, Olja (in the Astrakhan area), Vostochnij (in Nahodka region), as well as Novorossisk and Ust-Luga. It is particularly important to mention that ports of the Baltic Sea, that of the Far East, the Caspian Sea and the Black Sea are connected into a single and uniform logistics' system.

The leader in Russia's container cargo turnover is the port of St. Petersburg. The main advantage of this port is attributed to the fact that it is a unique port in the Baltic, having direct access to Russian customers without crossing any borders. Therefore experts regard the port as the strongest competitor in the Baltic, despite its high fees for cargo's loading and rather low containers' processing efficiency of, i.e. about 18 containers an hour. The holding company Seaport Saint Petersburg is going to increase turnover of container goods up to 1.35 million TEU a year.

The second-largest container operator in St. Petersburg port is PetroLesPort Ltd. which plans to increase by 2012 turnover of goods from the present 0.12 million TEU to up to 0.3 million TEU a year. Now in the port there are three functioning container terminals and the fourth is under construction.

According to TACIS Program in Kaliningrad port an expansion of containers' processing capacities of up to 0.4 million TEU a year is envisaged by 2025. However an obligatory fee for foreign ships and a one-way traffic of courts in the sea-port channel have limited the competitiveness of the port.

According to Klaipeda State Seaport Moscow's chief representative Vitalius Marinecas' opinion, Lithuanians, Latvians and Estonians should not underestimate present growth of container cargoes' transportation. In 2002 the number of containers processed in St. Petersburg port has increased by 21%, in Riga – by26 %, in Kaliningrad – by 30%, and in Klaipeda port – by 40%.

In 2003 the situation in the port of St. Petersburg has changed a little; for the time being, as experts in SeeNews acknowledged, containers' operators are abandoning St. Petersburg's port. And although experts believe, that Finnish ports will gain from such freight traffic redistribution, volumes and turnover of goods in ports of the Baltic Sea countries will grow anyway at an advanced rate. Thus, in Tallinn port processing of containers in January-July this year has increased by 13%, as compared to the same period in 2002, while in St. Petersburg port the similar increase was less than 4%. In ports of Latvia a cumulative growth for the first half-year of 2003 has been about 8%, and in Klaipeda port containers' turnover has practically doubled in comparison with the same figures in 2002, having exceeded 60 thousand TEU.

Eurogate's partnership in Klaipeda has been finished more than a year ago. Thus, Eurogate work in Ust-Luga port is not going to create neither magic growth in container processing, nor any conflict of interests. Presently we do not work with the Baltic countries and we do not have any plans in this regard. However, Eurogate is always interested in new developments and we are ready to consider all possible offers".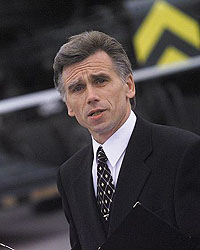 General Director Muuga CT(Estonia), Sergey Artyomov

"According to experts' forecast annual growth in container freight traffics through the ports in the Baltic Sea will increase by 10–12% a year, and in 10 years it will increase by 2–2.5 times compared to the present situation. With this in mind, we are going to start this year construction of new moorings and after the construction of new facilities in 2005 the capacity of the terminals will increase of up to 250 thousand TEU a year. As it concerns changes in containers' transportation in the Baltic after Estonia joins the EU, one can only say that it is difficult to make any predictions though we would hope that there are going to be less problems".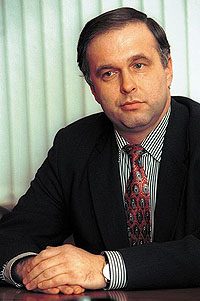 General director Baltic Container Terminal(Latvija), Aldis Zieds

"Why Finns hold first place in container transportation in the Baltic regardless of the fact that their prices are higher and the way to their ports is longer? It is because, on one hand, many cargo owners got used to work with them, and on the other, there is plenty of stuff by Finish origin, which can be loaded into containers so that they do not go back empty. For auto-carriers the rates are not the only decisive thing, nor the main requirement for successful development in our business. It is necessary to take into consideration all cargo transportation expenses, e.g. rates of the sea freight, the port fees and duties, charges of the stevedore companies, other charges for paper's work and official registration, other expenses concerning auto-, railway, etc. charges. Other factors are very important as well, such as time of goods' delivery, its safety, control opportunities, efficiency of container park usage, etc.

"Ust-Luga container terminal will become a transit port for cargoes between northern European ports and Russian internal transportation facilities. Today we do not notice yet an expansion transatlantic companies' courts shipment towards Ust-Luga port. It is expected that courts of the greater capacity will serve freight traffics, than it is available today, for example, in St. Petersburg port. We believe, that the turnover of goods at the start of Ust-Luga port functioning will be about 300 million TEU and will increase 10 times, stage by stage, in the years to come, according to the adopted plans. Eurogate's participation in the National Container Company of Russia's project goes hand in hand with the subsequent Willemshafen's participation in project where the use of courts of the greater capacity is envisaged.

"Two container companies KLASKO and Klaipedos Terminalos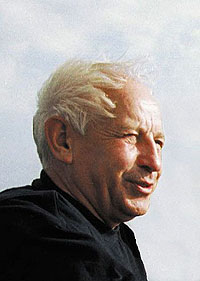 Director,Company Eurogate-Klaipeda-Klasko branch(Lithuania), Vaclavas Grigalauskas

provide containers' processing in Klaipeda port covering transportation direction from Scandinavia to the ports of the Black Sea. Goods and cargoes sail from Karlshamn in Sweden to Klaipeda, and then by container train Vikingas to Odessa and Ilyichevsk, and further on to Bulgaria, Turkey, Iran and other countries. Our optimistic expectations were such that we thought this very favorable direction will be of great demand, but the train capacity is filled up only by not more than 10–12%. The reason is bad marketing due to which customers in the East are not aware of the facilities".

Stanislav Bajko,

"LDz for two years was engaged in the development of the project under the title "The Baltic product", with aim of collecting a container freight traffic from Baltic Sea coast and to direct it through Russia and Kazakhstan transit directly to Uzbekistan. Containers from ports in Kaliningrad, Klaipeda, Liepaja, Ventspils, Riga and Tallinn are collected in Rezekne where our train facilities under the name of "Baltika-transit" are formed.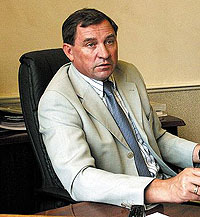 First general director's deputy, Latvijas dzelzcels(LDz)Co.:

Photo: LDz

The first train has started its route along 7000-kilometers on April 30, 2003 and since then every Wednesday the container train ¹ 1418 starts strictly according to schedule to Russian station Sebezh, transporting 31 container cargoes' cars. Regular routs of a similar container train on a destination Riga – Moscow are planned in the near future".