The Baltic way to a "European Road"
By Michael Tuzhikov, Transpost Rossii
The Baltic motorways and bridges have groaned under excessive traffic burden; they wear out in need of urgent repair and reconstruction that on turn demand constant investments, i.e. a lot of money. To rely on the EU funds seems quite unreasonable, any Euro funds from EU would be directed to another transport project in the region – Via Baltica.
Annual expenses on road facilities in the Baltic states reach 229.6 million Euro per year, i.e. Latvia – 75.1 million, Lithuania – 57.9 million, Estonia – 96.5 million Euro. Is it too much, or too little? The answer is clear enough, as Finland, for example, spends about three times more on roads, that is about 613 million Euro a year.
Highway Via Baltica, which will connect Warsaw, Vilnius and Riga, will be finished in 2013. And Via Baltica is the largest joint transportation project in the history of the Baltic region, Finland and Poland. The total Via Baltica's length is expected to reach 930 km. By the beginning of 2003 within the framework of the project 110 km of new roads have been constructed, 333 km of already existing working highways repaired, and 28 transport bridges and viaducts built and modernized.
Via Baltica's second stage of investment (2001–2006) is expected to allocate 655,7 million euro. Most of the funds will come from various European funds and banks. At the same time Baltic states' governments are going to make some allocations, e.g. Estonia is ready to donate 35 million euro, Latvia – 271 mln, Lithuania – 29 mln and Poland – 219 million euro.
Latvia says money is enough only for roads' restoration
The Latvian roads' network is connected to that of Estonia in 30 sites, in 17 – with Belarus, in 13 – with Lithuania, and 4 highways and 20 minor motorways of minor importance connects Latvia with Russia. About 30% of Latvian bridges are under emergency conditions, and 70% need urgent reconstruction. To this list annually is added 25 more bridges. To solve the problem, about 77.6 million lats is needed from the state budget.
Olafs Kronlaks, general director of the Motorways Directorate at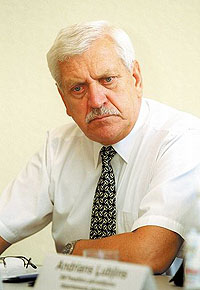 Olafs Kronlaks, photo: A.F.I.

the Latvian Ministry of Transport emphasized in the interview to BC: "Estonia spends for their roads 25 per cent more than Latvia and Lithuania about twice as much as Latvians. Our calculations show, that only on the maintenance of the roads, without construction of new motorways, we need about 120 million lats a year. And it is to remember that the volume of the postponed repair work has already reached 327 million lats. Latvia has allocated in the year 2002 about 4.7 million lats; the State Motorway Fund (SMF) has collected 44 million lats (40 per cent of resources coming from duties on vehicles and 60% from the excise duty on fuel, which is 48.7 million lats totally. But this amount is enough only for main roads' restoration and repair.

It is to be noticed that one kilometer of road's restoration with asphalt covering requires 46–60 th. lats, and 10 times more on a construction of a new road. Now the state has decided to deprive SMF of a task of collecting money and will allocate instead a fixed amount of 44 million lats from the budget in spite of the fact that both the number of motor vehicles and the price of fuel increased. It's unreasonable to expect that we'll get assistance from Europe as the European Union's ISPA and PHARE funds will go only for Via Baltica's highway, which should be operationally finished for Latvia in 2008. We do not expect any paid roads in the near future in Latvia as such roads presumes the necessity of an alternative free-of-charge motorway, which is going to be an unbearably expensive pleasure".

Authorities in Latvia expressed hope, that Via Baltica's second stage investment would help them modernize national motorways' network. It is expected that the most intensive motorways within suburbs of Riga will be reconstructed, as well as roundabout roads in areas of Saulkrasti and Baltezers; access roads to the international airport and seaport of Riga are to be renovated.
Estonia: attention to the main roads
Financing of road infrastructure in Estonia occurs through allocation of state funds, which amounts to more than 800 million crones a year, out of the national budget of 33.1 billion crones.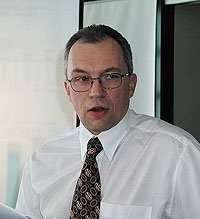 Riho Sormus, photo: ERA

Riho Sormus, ERA's general director (Estonian Road Administration, national Ministry of Transport and Communications) has told BC, that about 1,5 billion crones has been allocated in 2003 on the maintenance of roads in the Republic. About 869.8 million crones – from various state resources; 358.6 million crones – from ISPA funds; and 282.5 million crones – loans from different financial institutions, i.e. World Bank, European Investment Bank, Nordic Investment Bank.
This year has seen 62.5 million crones increase from the state budget instead of earlier planned investments. Maintenance of national highways in working conditions in 2004 will cost the budget 500 million crones. The general budget of road maintenance for the next year is planned at a rate of 1.8 billion crones, out of which 600 million will be the external help, and 322 million – loans.
After Estonia's joining the European Community, the main attention will be paid to the main national highways. The EU plans to allocate solid sums annually, in 2004 – 24.1 million euro, in 2005 – 32.5 million, in 2006 – 29.3 million and in 2007 – 34.9 million euro.
Estonia's part of Via Baltica will be finished, generally, somewhere in autumn 2004. It is expected that the most part of Via Baltica's motorways on Estonian territory will get a new asphalt covering. High-speed highways around Estonian capital as well as roads in its suburbs are going to be restored within the framework of the project, while conditions of minor roads and 60 bridges require urgent repair and reconstruction. Taken into account that resources allocated by the European Union on main highways' modernization is a small fraction of what is necessary in the state budget, there is a good reason to suggest further deterioration in auxiliary roads and the bridges' condition.
The planned highway Via Baltica's northern site, i.e. the road Tallinn – Parnu – Ikla will connect the Baltic states on the north with the European southwest and farther on with Poland. The Estonian-Russian border is crossed by about 10 motorways whereas Estonian-Latvian by about 30 motorways
Lithuania: the new roads' construction is going on
With the World Bank and the European Reconstruction and Development Bank credits road restoration work and that of road improvement covering 50.8 % of national roads have been performed in Lithuania.
Although the road service expenses in Lithuania and Latvia are approximately identical the Lithuanian state budget on motorways maintenance is twice the Latvian amount. And as a result about 4000 km of reconstructed and asphalted old roads have been built in the state since 1991, and 854 bridges have been repaired, and 70 new bridges and viaducts constructed.
Up to the year of 2001 the financing of road infrastructure sector in Lithuania has been carried out by the national Road Fund liquidated under the decision of the government.
Lithuania's Motorway Directorate (LAKD) general director's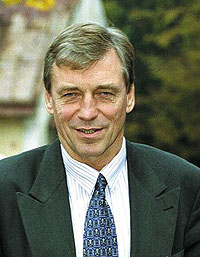 Algimantas Jnushauskas, photo: P.Lilejkis, Lietuvos Rutas

assistant Algimantas Yanushauskas has told BC that "the sums allocated from the state budget for the maintenance of roads (5.,9 million euro) have not reduced but instead bureaucratic obstacles creating certain difficulties in our work increased considerably. Nevertheless the construction of new roads goes on, i.e. in 2004 it is planned to finish Via Hanseatica 200-kilometer Lithuanian site of the road at Russian boarder crossing near the city of Sovetsk. And construction works on a 274-kilometer site of the country's road Via Baltica has been proceeding. A good assistance in this construction is rendered by the European fund ISPA, which annually allocates about 80–90 million euro. The EU Cohesion Fund plans after the introduction of Lithuania into EU to invest 271 million euro during 2004–2006 into transportation sector (i.e. railway, roads and infrastructure), and 128 million euro more will be invested into minor roads' structural fund. However, to receive this money, it will be necessary to prove, that this money is really necessary and to prove that they will be spent in a right way".

The head of the Road Department at the Lithuanian Ministry of Transportation Virgaudas Podzukas acknowledged, after the beginning of Via Baltica road construction on country's territory the volume of motor transport cargo at a site between the city of Kaunas and the Lithuanian border with Poland has increased by 350%.

In 1996 three Lithuania's highway roads acquired the status of European dimension, i.e. E-67 Via Baltica (Tallinn- Riga – Kaunas – Warsaw), E-271 (Klaipeda – Kaunas – Vilnius – Minsk – Gomel), E-272 (Vilnius – Ukmyarge – Panevezhis).

Two priority corridors of European value cross Lithuanian territory: Via Baltica (1st corridor) with a branch 1A into Kaliningrad region and transport corridor IX with two branches – IXB (Klaipeda – Kaunas – Vilnius – Myadininkaj – Minsk) and IXD (Kaunas – Mariyampole – Kibartaj – Kaliningrad).
To follow the Hanseatic path
Going to Western Europe citizens of the Baltic states, as a rule, use the roads of Baltic branch's Corridor I, covering route Helsinki – Tallinn – Riga – Kaunas – Warsaw, turning around Kaliningrad from the east without using much its Hanseatic branch Riga – Kaliningrad – Gdansk.
It happens because of numerous boarder-crossing problems on 23 international boundary transitions in the Kaliningrad region. But they can be easily resolved creating a branch of Via Baltica highway, i.e. Via Hanseatica highway which will connect the cities of Riga, Vilnius, Kaliningrad and Gdansk. Our assessment has shown that there are enough potential investors to make a new "Hanseatic way".
Vyacheslav Beldej, chairman of Association of frontier cooperation said at June 2003 transport conference in Lithuania: "Via Hanseatica's perspective road development up to St. Petersburg and Murmansk sounded very optimistic and it had been within the sphere of the European Union and Russia's interest, that is to get a good transportation line from Murmansk port washed by Gulf Stream, up to the Baltic States. Formation of large transport unit "the Hanseatic way" with the participation of transport utilities of Kaliningrad region, and that of Lithuania, Latvia, Sweden, Poland and Belarus can become a priority project both for Russia and for the Euro-Asian economic union".
Jury Gorelik, a representative from Commercial Department at the Embassy of Byelorussia in Latvia acknowledged that "Byelarus has no connections to the sea, but our border connections with Lithuania, Latvia and Russia enable us to transport cargoes to the Baltic ports. Two out of nine important international European transport corridors cross Byelorussia's territory, i.e. highway ¹-II (Berlin – Warsaw – Minsk – Moscow) and ¹–IX (Helsinki – St. Petersburg – Pskov – Vitebsk – Gomel and further to Ukraine – Moldova – Bulgaria). This opens big opportunities for international intermodal logistic transportation solutions. About 73 million dollars have been allocated in the state in 2002 on road technical reparation works and about 60 million dollars on new road construction".