Failure of Fortum: when politics lead economy
By Inna Rogatchi
Autumn 2003 has brought the most significant news for the Finnish economy for years: energy giant Fortum has decided to de-fragment itself, with a separately new company Fortum Oil that will concentrate its business exclusively on oil.
FUSION AND DIFFUSION
The news caused quite a stir both in the Finnish business community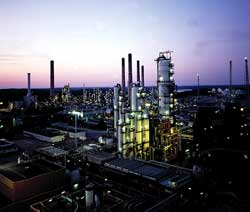 Porvo oil terminal, photo: Fortum

and in the political circles. The Finnish parliament will discuss and make decision on the ways this sudden re-structuring of the most important Finnish company has occurred. Consultations on all levels have started and the destiny of the whole country's energy sector has become a pivotal matter in public discussions. The issue seems to matter much to many finish businessmen and politicians as its energy sector is still controlled by the state and the latter intends to go on with this at least in the nearest future. Presently the state owns more than 60% of Fortum's share, the energy giant that was born six years ago is in the biggest and as it looks now the most controversial fusion ever conducted in Finland.

The recent decision to diffuse Fortum has arisen a lot of issues that many leaders in business and politics in Finland would rather wish to forget and to hide it away from the public attention. Experts underlined the only known example of a failed merge through the history of quite many successful merges around the world, i.e. that of oil company Neste and energy company Imatra Voima. No other successful Western economy produced such a failure in the process of globalization, especially in energy sector globalization. So, why Finns, people that usually are quite methodical and thoughtful, being accustomed to consider decisions of such strategic importance very meticulously failed so dramatically in the vital country's sector? Is it a coincidence that another strategically vital decision for the country, i.e. to diffuse Fortum, has been taken now, at the start of a new government coalition where social-democrats has lost their leading position although retaining some places in the government, and where more market-oriented Center's party is back after a decade in absence? Or are there any other important international factors that left Finnish government no choice but to act now and to admit that the previously praised merges of energy companies have been a very big mistake?

Now, with a new reality facing Finnish energy situation, experts and the sector's insiders are talking more openly, critically than ever before analyzing Fortum's adventures. More details appear on the surface, and the story of failed big Western energy companies' merge is clearly in the new light.
Objective or false dependence?
Six years ago, when Finnish oil giant Neste suddenly declared that "it was a right time for us to merge with Imatra Voima", nobody knew what was the real reason behind the deal. The real reason appeared to be a break in a non-stop for decade's supply of the Soviet oil that has been one of the main bonds between Finland and the Soviet Union. The state-owned Finnish Neste lived primarily on barter with the Soviet oil. That barter has been a political decision of the Soviet communist leadership, i.e. by a special and confidential decision of the Soviet Politbureau, the Finnish company Neste was granted 20-years Soviet oil supply. There have not been very many such contracts guaranteeing oil bonanza to the concrete Western energy company for a long time. What forced Soviet leaders to such decision providing and even guaranteeing such a lucrative supply – it is a long, rather peculiar but anyway a different story. To be short, somehow that was the way, they paid for the Finland's loyalty to the Kremlin leaders.
But the Neste's luck ended in 1994 when Russian President Boris Yeltsin's government did not see any solid reason to prolong a secret Politbureau's decision. What happened to Neste afterwards was a most vivid example of how a sector in economy could become helpless and disfunctional within state-run and depended economy. This Finnish energy company has been and still certainly is the most important sector in the national economy. Collapse of the Soviet Union has caused a nightmare for the key Finnish energy company that, which in its turn was crucial for the whole Finnish economy. There was a new regime in Russia, new government, new principles and new priorities. But Finnish Neste's leadership was still the same, i.e. the team of managers living quite nice with the guaranteed bonanza, and who found it "impossible" to manage the company efficiently in the conditions of the functioning and real market. The only way out that Neste head Jaakko Ihanmuotila and his associates were able to achieve was to organize a merge with a successful powerful energy producer and to sell Imatra Voima, in order to live quietly on their assets.
Heikki Martinen, at that time Imatra Voima's boss, however, did oppose the forced merger categorically trying to explain everywhere that it was a needless, ill-thought plan, when two companies with too different structures and operations could not make a successful merger. And that a new artificially made energy giant will be unable to operate efficiently. That would kill the tiny sign of competitiveness that started to appear in Finland (too slowly still, in many Western experts' opinion). Thus still diminishing chances for decent international performance by Finnish companies. But the 1997 merger had been a political decision, and Finnish businessmen just could win it with even more reasonable economic arguments. Only now, because Fortum's failure was so big and humiliating, comments appeared questioning the role of then permanent secretary in the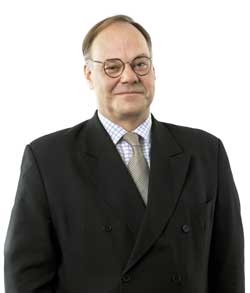 Matti Vuorila, photo Fortum

ministry (the rank of a deputy minister) Matti Vuorila in the deal. As one of the highest government officials, he was the one who made the ill-thought merger a reality. "Surprisingly" for the observers unfamiliar with the nuances of the Finnish political-economical situation, the same person has become the chairman of the board of the newly formed Fortum. In this capacity he has entered the club of the world business super-weightier, but not for too long. In a few months Vuorila is leaving the misfortunate Fortum.

The atmosphere inside forcefully formed Fortum has been quite uneasy, and even painful as the insiders described it. In an attempt to make the energy conglomerate to function, the leadership in year the 2000 invited an outsider from Sweden to lead it, an unheard step for the domestically minded Finns. The Fortum's new boss Mikael Lilius who is described as "merciless professional economist" undertook many harsh decisions, but it actually hardly helped. Presently, the new Finnish government's main concern is how to dissolve Fortum in a fastest and less painful way.
Vague horizon
With separation of oil operations from the present Fortum that will be called Fortum-Electricity after the diffusion, will Imatra Voima have better perspectives locally and internationally? Experts are not sure about it because of several reasons: six years have been practically lost while the international competitors have been, on the contrary, quite active in new acquisitions. According to Anni Lassila from Helsingin Sanomat, "Fortum has resources left for just one more acquisition but nobody knows which one!" International companies are not ahead of Finns in other places in Europe. They are coming to the Finnish market with very big resources and high desires. What is especially challenging, when Finnish experts point out to German E.ON, that it has already started to buy Scandinavian and Finnish energy companies.
Ironically, now everybody agrees that this is definitely the time for a real merger for Fortum with some truly powerful partner, otherwise the days of the Finnish energy sector might be counted. But being in such a low position, it is very difficult for Fortum to find a good partner that will agree to merge on decent Finns' terms.
What about Neste' share in misfortunate Fortum? The new company called Fortum-Oil, that the government is so busy with now, is planned to be listed in bourse as soon as spring 2004. "How can trade and industry minister Mauri Pekkarinen, who is declaring that next spring the market situation will be "very good" for Fortum-Oil to be listed, know about situation at the market with such awareness?," asked one of the leading Finnish economy experts Jyrki Iivonen. "And if he is so much for an idea to make the company public, does not he realize that the state control of the energy company certainly does not make the company more attractive in investment sense?"
Besides clearly negative factors in still prevailing state-ownership's share of the new company, potential investors and energy analysts could not see any new strategy lines in the company's energy policy. When almost free of charge Soviet oil-flow stopped to come to Neste, they declared publicly that "oil was not the modern age energy supply and we'd concentrate on gas". Instead of following free market rules in trade with the new Russian oil suppliers, they preferred to sit comfortably on Imatra Voima's shoulders and wait until the better times. During the decade after their Soviet contract ended, and after six years of fruitless merger, there have been no progress to explore in the gas-direction alternative.
A theme of various routes for gas-pipelines from Russia is always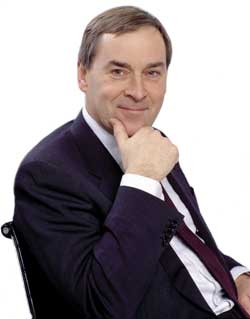 Mikael Lilius, photo Fortum

present in Russian-Finish relations. But all Finnish efforts to convince Russian decision-makers in politics and economics to make a definite project build through Finnish territory have been still unanswered. The only hope for the Finnish new state-run oil company is a new contract with new and maybe different Russian partners. Lukoil is one of the most serious players in the region as the company is building its new oil terminal quite near Finland, and it has also built another terminal in the same area recently.

But will Lukoil (that is already deeply involved in the USA), and other Russian companies that form joint ventures with British Petroleum, Exxon Mobile, TNK or JukosSibneft, really need Finnish partners? If they will, they might be interested primarily to attract more funds from Finnish government and the European Union through possible Finnish partners. They might also consider having another trader from the EU jurisdiction with all the merits it could provide. Will it bring substantial benefits to the Finnish national economy? The answer is hardly positive. Russia today has a wide choice of business partners, especially from Germany and France representing the EU club. Highly possible that it will cost Finland much both politically and economically, for the time the country lost in the energy sector battles during the last decade and for its current inability to explore the real market economy chances.

© Rogatchi Productions & Communications Ltd., 2003. Helsinki