We look now in the direction of Japan
By Olga Pavuk
This year, the trademark Parex becomes 15 years old. Not so long ago, the company Parex Asset Management entered the list of the largest asset managers working in Europe.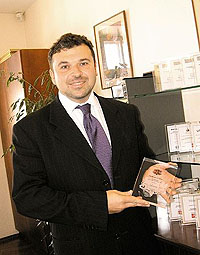 Gene Zolotarev, Vice-prezident of Parex Bank, photo: S.Romin

BC offers you an interview with Gene Zolotarev, vice-president of Parex Bank and chairman of the executive board of Parex Asset Management, on topical questions concerning economic development in banking in Latvia and in the other two Baltic states.
Mr Zolotarev, talking about the high speed of economic growth in the Baltic states, these countries are often called the Baltic Tigers. Do you agree with such an assessment?
This definition comes from the Asia. If talking about the speed of economic growth, this comparison is partially true. But in Asia, the growth was based on manufacturing. In Latvia and in the Baltics as a whole, a lion share of the GDP comes from services, including transit. The structure of economics differs between the Asian region and Baltics very markedly.
Which economic sectors do you think should be considered as priorities to secure success?
If we want to consolidate economic success, we have to keep in mind that not only development of the service sector is necessary, but also manufacturing. We have well-established traditions in hi-tech spheres such as electronics and pharmaceuticals, as well as light industry. Money goes where profit is possible. It is not necessary to foster development of separate sectors of the economy by means of subsidies; political freedom is needed.
Small and medium-sized enterprises produce more than half of Latvia's GDP and they employ 70% of the labour force in the country. Do you consider State support to SME's sufficient? And what is the role of your bank in SME business?
The State provides some support, but it is not sufficient. Parex Bank considers providing services to SME's a priority. As a rule, the small and medium enterprises are the most dynamic sector of economies. In Italy, for instance, SME's supported by banks are incredibly dynamic. SME's generate 80% of Italy's GDP. The situation is mutually beneficial for the SME's and the banks.
Parex Bank has made steps lately to change its shareholder structure: first an offshore company disappeared from the list of shareholders, and after that an emission of shares was performed. What is going to happen next?
We plan to make at least one more share emission on a closed subscription basis in 2003. The idea is the following: to form a core of main shareholders before organising a public emission. Before the end of 2004, Parex Bank stock will most likely be trading on the Riga Stock Exchange and the London Stock Exchange. We have already started encouraging investors and assessing their demand. The fact that Parex Bank successfully completed the previous stock emission indicates that local and foreign investors want to buy more stock in the Baltics and have an unsatisfied demand. A special interest is shown by the Scandinavians who know the location of Latvia, as opposed to Americans and Canadians. Scandinavians feel comfortable when communicating with us. In the last emission, the largest stock holding went to a Scandinavian investor.
Already now, the Parex group works not only in Latvia, but also in neighbouring Estonia and Lithuania. Your deposit programme also found response among residents of Sweden. With which countries and in what forms do you intend to expand cooperation?
Parex Bank differs from its competitors in principle, because owners of other banks reside in the West and they dictate with whom and how their banks are allowed to collaborate. At Parex Bank, we work where it is profitable. Historically, the Bank cooperated primarily with the CIS countries. But each year, we increase cooperation with the West: a representative office has been working in Germany for four years, in London – for two years, and in Sweden – half a year.
Now we look in the direction of Japan. Why is the "Land of the Rising Sun" interesting? Japan has an immense number of investors who keep their savings in bank deposits without any interest (zero rate) and with expensive fees. Parex Bank is a better alternative for these investors.
The investment company Parex Asset Management entered the list of largest asset managers working in Europe. What criteria are taken into account when adding a company to this list? What are the development forecasts for PAM?
The only criterion – amount of assets under management. Development forecasts for PAM are very optimistic. PAM is the biggest company of its kind in the post-Soviet territory, although we are working now for only a year. Amazing dynamics. We got on a prestigious list of the 400 largest asset managers in Europe where there are 5,000 competitors. Out of the largest 400, there are only two from the Central and East Europe – PAM and Poland's Handlowy Asset Management. Others are from Western Europe. We believe that in the next year we will surpass the Poles. Now PAM is entering Moscow; we plan to establish a representative office in Lithuania; and – in some years' time – we plan an office in Ukraine. PAM has proved that it is possible to earn 8–15 % annually at minimum risk by putting investors' resources into highly secure obligations with A ratings or higher. 95% of these are securities of Western companies, 5% – of CIS countries.
What is your attitude towards the fact that the Corruption Preventing and Combating Bureau of Latvia intends to gain access to bank secrets?
Negative of course. Such things can easily destroy interest in a banking system, which is based on loyalty. From the point of view of combating money laundering, criminality, all banks are interested to fight such phenomena, especially the big ones. We spend a lot of money and effort to uphold our image; that is to provide reliable service to our clients while making sure that untrustworthy potential clients are not permitted to use our services.
Your forecast concerning development of banking in Baltics within the context of joining the EU?
I think banking in the Baltics is developed and competitive enough for a global context. The only thing that could be expected – joining the EU could give an impetus to mergers and takeovers and also a small qualitative sifting, which should all provide opportunities to Parex Bank.
Thank you for your time and I hope that the Baltic economies continue growing and the Baltic banks continue on a path of success.