Kobilzhon Nazarov: "It's a pleasure to work with such partners"
By Olga Pavuk
Kobilzhon Nazarov, the Republic of Uzbekistan Extraordinary and Plenipotentiary Ambassador to the Baltic states, in an exclusive interview to BC expressed an opinion that existing amount and structure of trade with Latvia, Lithuania and Estonia is not adequate to these countries' great potentials.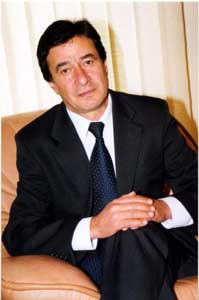 Kobilzon Nazarov. Republic of Uzbekistan Ambassador and Vaira Vike-Freiberga, prezident of Latvija.

Rich in mineral resources

Uzbek Republic is immensely rich in minerals and natural resources. Some experts have estimated that total Uzbekistan's value of minerals and raw material resources can reach 3.3 trillion US dollars.

There are more than 100 industrial sectors in Uzbekistan's economy, and half of it belongs to heavy industry branches. Most dynamically developed are chemical and oil industry, mechanical engineering and metal-processing, as well as light, food, pulp and paper industries. Production of gas, gasoline and different kinds of fuel, liquefied gas, construction materials, elevators, passenger cars, chemical fertilisers and other manufacturing goods is increasing.

Republic has witnessed 23% growth of foreign trade in the first half of 2003, including 41% percent growth in exports due to the soaring foreign economic activity of the country. Uzbekistan's trade balance has been positive during the last six years, and foreign trade surplus has reached 530 million US dollars in the first half of 2003.

Uzbekistan has good trade and economic relations with more than 120 countries, never restricting its co-operation to any specific region or group of nations. In recent years it has expanded and strengthened foreign trade ties with highly developed countries, and relations with the CIS-member states are approaching the optimum. In the first half of 2003, non-CIS countries accounted for nearly 77% of Uzbek exports and 62% of its imports. Through integration into the global economic system, the Uzbek economy is gradually expanding and reinforcing its positions in the fierce competition on the world markets.

Foreign investments (FI) in the first half of 2003 reached 200 million US dollars, of which 65 million US dollars were direct foreign investments that had nearly doubled, compared with the last year. In 2002 more than 650 million US dollars of foreign investment landed in Uzbek economy. During the last 12 years FI in Uzbekistan totalled 14 billion US dollars. Over 60% of all investments, both national and FI, aimed at industrial development.
Cotton comes first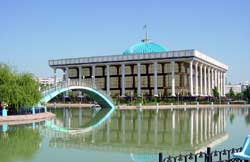 Parlament of the Republic of Uzbekistan (Oliy Maijis)

Ambassador has confirmed that Uzbekistan regards co-operation with Baltic States as a priority direction in its foreign economic development due to these countries' geographic position, as well as industrial, scientific and technical potentials. Uzbekistan and the Baltic states have created a legal framework for necessary conditions in business co-operation development, and signed vital agreements concerning transport, investments, taxes, customs, tourism and crime prevention.

Uzbekistan ranks second in the world by cotton fibre exports, being at the same time major and very important partner for Latvia in transit business. Latvia offers the whole set of transportation services: freight, forwarding, reloading, storage, insurance and financing. Despite the great distance separating Uzbekistan and the Baltic, a reliable and smoothly running railway system exists between two countries. Special warehouses for cotton storage with total capacity of 130,000 tons have been organised in Latvian ports.

Uzbekistan uses not only Latvian railway and ports' facilities but also national financial and insurance services, and not only in Latvia but throughout the world. Thus, for example, a Latvian insurance company provides insurance services for transportation of Uzbek cotton and other goods in different regions, i.e. through Iraq territory or on the Black Sea.

"Today about 10 Latvian companies offer forwarding and warehousing services to cotton traders. The largest among them are UzBaltTrans, Cargo CÓntrÓl, Signŗls-P, Tilts Baltija, as well as Riga Merchant Port and Ventspils Freight Forwarders", said K. Nazarov.

According to independent experts' estimate, Latvia earns about USD 20–30 for each ton of cotton that crosses the country's territory. Only in Riga total turnover of cotton transit is evaluated at about 300–350 thousand tons. In other words, annual profit in this services sector alone can reach 6–10 million US dollars.

Cotton has been and still is brought to Latvia mostly from Central Asia – Tajikistan, Kazakhstan, Turkmenistan and, first of all, Uzbekistan. About 170–200 thousand tons of cotton shipped through Latvia annually originated in Uzbekistan.

Uzbek-Latvian joint venture Uzbalttrans is the main forwarder of Uzbek cotton through the Baltic states and to Russia and, judging by the share of total transits, also the largest in this market segment.
Trade surplus with Latvia
Latvia imports from Uzbekistan mostly oil-seeds (about 25.5% of all import from Uzbekistan), machinery (14.7%), transportation devices (11.7%), sugar and sweets (7.6%), meat and dairy products (6.1%), etc. Due to growing exports and decreasing imports, Uzbek-Latvian foreign trade has had a positive balance of about USD 57.28 million in 2002.
At the same time, Uzbekistan – Latvia statistical records of foreign trade differ greatly, e.g. data provided by Latvian Central Statistics Office do not cope with Uzbekistan statistics concerning export-import transactions. The key reason for such statistical differences between two countries lies in the fact that large quantities of cotton fibre transits from Uzbekistan through Latvia have been calculated in statistics as export goods into Latvia.
"In general", said Nazarov, "existing amounts and structures of trade are not adequate to our countries` potentials". In this regard, Uzbekistan is interested in increasing and diversified trade with Latvia. Uzbek companies are now making a wide assortment of export goods that could be used in Latvia. At the same time, Latvia produces high quality goods that can be of great demand on Uzbek market.
Currently there are 23 companies actively working in Uzbekistan with a share of investments from Latvia, including one company with 100-percent Latvian capital. Particularly good, said Uzbek ambassador, were such joint ventures as as UzBaltTrans, Shark-Rietumi and several others.
Uzbekistan is interested in making highly processed products and seeing more active Latvian business' involvement in investment projects in light industry, pharmaceuticals, food industry, production of construction materials and consumer goods, transports infrastructure and telecommunications, health care, etc.
There are some industries in which Uzbekistan has a competitive advantage over Latvia. First of all, it's cotton fibre processing, fruit and vegetables, production of construction materials and polyethylene, tourism. According to information from the embassy, potential investors from Latvia are highly interested in these areas. Uzbekistan in its turn is ready to create most favourable conditions for such joint ventures operation. Participation in privatisation of Uzbek industrial companies and commercial banks could be another perspective way for expanding co-operation with the Baltic, said Nazarov.
At the beginning of 2003 Latvian Interior Ministry on its homepage recommended Latvian citizens (tourists, business people, etc.) not to travel to Uzbekistan as this would allegedly jeopardise their personal safety. Uzbek ambassador acknowledged in a polite Oriental manner that "this is not an obstacle, only a slight deterioration" in the development of our bilateral relations.
Decline of trade with Lithuania
Trade between Uzbekistan and Lithuania has become weak in recent years. According to the Uzbek State Committee for Statistics, foreign trade between the two countries reduced more than twice during 2002. Uzbekistan exports to Lithuania mainly textiles, cotton fibre, machinery and equipment, non-ferrous metals, etc. and imports mostly dairy products, pharmaceutical goods, chemical products, sugar and sweets, etc.
The Uzbek side is interested to increase investment co-operation with Lithuanian undertakings, stressed the ambassador. At present Lithuanian investors participate in 31 companies in Uzbekistan, of which six have 100-percent Lithuanian capital. Specifically, Uzbek-Lithuanian joint venture Bravo-Sut producing dairy products should be mentioned.
Trade with Estonia is low
Current trade and economic ties between Uzbekistan and Estonia can be described as quite low. There are only six companies in Uzbekistan with the participation of Estonian capital. Specially mentioned should be Uzbek-Estonian joint venture Pheramon producing pheromone traps for agricultural purposes.
Partnership with EU
Co-operation with the EU is one of the main directions in Uzbek trade and economic development. Uzbekistan — EU agreement on partnership and co-operation entered into effect on July1, 1999, which established legal framework for mutual relations between Uzbekistan, the EU and the EU member states.
Uzbekistan has officially supported Latvian, Lithuanian and Estonian accession to the EU. With this in mind, Uzbek trade representations' establishment has become vitally important for promoting our goods in the Baltic market and subsequently entering the EU common market. Because if presently the Baltic represents a small market with a modest level of consumption, then after the EU enlargement when the total EU population of 25 member states will reach 454 million, the EU's GDP will reach 9.98 trillion US dollars.
Uzbek ambassador said in the conclusion that "Uzbek business community has developed deep respect for their Baltic partners quite characteristic to our best business traditions. Working with such partners is a real pleasure and we intend to put in all efforts to facilitate further co-operation".