Famous Baltic resorts: with a view to the future
By Olga Pavuk, Ludmila Fomkina, Hannes Tamme
Restoring romantic glory of Baltic seaside health resorts is the task that mayors of three Baltic coastal towns have committed themselves to. Dainis Urbanovics, Jurmala ex-mayor (Latvia), Pranas Zeimis, Palanga Mayor (Lithuania) and Vaino Hallikmagi, Parnu Mayor (Estonia) were all willing to answer questions to journalists from the BC on the present and future of their cities.
What changes has the resort's structure seen over the years of independence? How many visitors did the city have in Soviet times?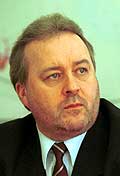 Photo: A.F.I.

Dainis Urbanovics. The structure has changed substantially. In the late 1980s – early 1990s Jurmala had about 70 health centers with about 12,000 holiday-makers all year round. To date, there are about 30 recreation facilities in the recreation business, able to accommodate no more than 4,000 guests. Earlier as many as 232,000 people came to Jurmala for holidays every year, now this figure is down to 62,000, which is a very big difference. As for the number of foreign visitors, it shrank four times after the introduction of visa requirements for Russia, for example.
There are objective reasons for the decline. During the Soviet times, Jurmala was one of the biggest rehabilitation centers and health resorts for the working people from the whole entire Soviet Union. And the region of Jurmala experienced constant growth since 1969. The situation changed dramatically since the early 1990s when we re-gained independence. Out of three Baltic states resorts Jurmala was hit harder that her neighbors. We haven't been able to attract local or Western tourists to compensate for the reduced number of holiday–makers at our rehabilitation centers. In the last two years some positive trends emerged, however. Firstly, the annual number of tourist visitors has grown up to 12-15%; it's much higher than an average figure for Latvia in general (5-6%), or the global rate of 9 percent. In the given situation (the survival of the fittest) the strongest will survive, i.e. those, who managed to preserve rehabilitation facilities, keep skilled personnel, and do qualitative marketing. Secondly, a new trend emerged, i.e. the opening of small pensions, boarding houses (bread & breakfast), and small hotels with 5 to 30 rooms. At least three such hotels offering highly comfortable accommodations (three or four stars) are opened every year.
Photo: K. Rozenvalds

Pranas Zeimis. According to the 2001 census, Palanga has a population of 17,700. During the years of independence the town's population has fallen by 2,000 people. After the restoration of Lithuania's independence, the number of holidaymakers declined steeply, leaving many rehabilitation and recreation facilities empty and neglected. The downward trend continued until 1995 when the Lithuanian government and the city council chose a privatization path on favorable terms for those interested in this business. Today the situation has changed completely: there are no longer any "ruins" in the town, and every facility has an owner. By the way, the Vasara restaurant that many still remember from the Soviet times will re-opened after renovation this summer. In 2001 Lithuanian resorts Palanga, Birstonas, Neringa, Druskininkai were given the resort town's status which provided for special attention from the central government. Investments in Palanga increased several times during the years of independence. A new wastewater treatment plant was constructed (worth 12 million litas) alongside a new system for drinking water purification that cost 500,000 litas (launched in 1998). Up to 2 million litas are being allocated every year for renovation of the city streets and squares. About 3.5 million litas of investment went into the river Raze' environmental project. The number of visitors to the Palanga region has actually dropped 10-12 times as compared to the Soviet period, but it has been growing with every year since 1997, reaching 180,000-200,000 people a day during weekends and 40,000-60,000 on working days.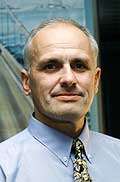 Photo: R. Mee, Aripaev

Vaino Hallikmagi. In Estonia, we do use a notion of local resorts. Therefore Parnu is called a "holiday city". One could even say that Parnu is Estonia's summer capital. Many Estonians take a notion of a recreation center as a synonym for a resort. Recently only 20% of guests in Parnu's health centers came from Estonia but it seems that more and more Estonians are again willing to go to Parnu for recreation and rehabilitation. Popular forms of treatment include spas, all kind of massage, mud therapy, acupuncture, cold and salt therapy (ice and salt chambers), paraffin treatment, circular showers, water exercises, etc.
It should be pointed out that a resort does not mean only rehabilitation facilities. Parnu has a lot of good restaurants, beautiful parks, and attractive beaches popular not only among Estonians but foreign visitors as well. Everybody in Estonia knows and loves Parnu.
Unfortunately, we don't have adequate statistics about visitors coming to Parnu during the Soviet times. Modern statistics began only in 1995 when about 220,000 guests visited Parnu. And the numbers are growing with every year. According to the statistics, around 385,000 holidaymakers visited the town in 2002, a little reduction from 390,000 in 2001. Of course, the figures are not exactly accurate but they allow us to plan for the flow of visitors and we must be ready to receive them in a nice and civilized, wholehearted and hospitable way.
Would you name health centers or other similar facilities offering both recreational and rehabilitation services?
D.U. There are seven rehabilitation centers offering tourists and visitors non-medicinal treatment, such as balneology, climatic therapy, aroma therapy, spa treatment, mud therapy, etc. These facilities are situated in Jaunkemeri, Dzintarkrasts, Vaivari (the national rehabilitation center), Jaundubulti (the state rehabilitation center), Rigas Jurmala, Belorusija, Viktorija-91. Alongside traditional methods, sanatoriums, health centers and hotels offer some new types of treatment, i.e. fitotherapy, rejuvenation, therapeutic cosmetics, etc.
P.Z. Since last year when the Lithuanian government adopted a strategy for development of local resort towns, our city has become a resort for active physical recreation, rather than a place for rehabilitation and therapy. But we have excellent facilities for restoring one's health as well. Palanga Rehabilitation Hospital is one such therapeutic facility. Natural factors like sea air saturated with iodine and pine aroma combined with therapeutically oriented methods in the rehabilitation centers will restore one's body resistance to illness, normalize psycho- and physiological processes, help a man to recuperate, avoid disability, and adapting the patient for active social position. The facility has everything to perform these functions, e.g. good equipment and qualified staff. This allows for successful recuperative treatment and rehabilitation of patients after various injuries, major surgeries, diseases of pulmonary organs, digestive tract, and nervous system. The hospital offers various methods and forms of treatment, including physical therapy, medicinal therapy, fito-theraphy, as well as unconventional methods of treatment, and salt therapy. Spine-stretching mechanical therapy, laser therapy, etc. are used widely during treatment. The variety of available therapies makes it possible to choose for the client the optimum course for rehabilitation and recuperative treatment.
V.H. Parnu has six sanatoriums and health centers, i.e. Mudaravila (mud therapy), Tervis, Soprus, Estonia, Viking and a private sanatorium clinic Villa Medika. There are plenty of hotels in Parnu but two of them -- Strand and Emmi – offer a range of therapeutic procedures, spa treatment, solarium tanning equipment, acupuncture, etc. alongside good recreation and accommodations.
Where do most of the tourists come from?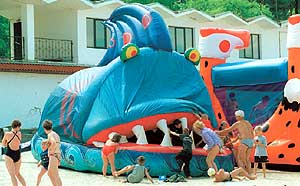 Photo: A.F.I.

Jurmala: hot summer 2003.

D.U. Most of the tourists – about half of all visitors to Jurmala – are Latvian residents. Some 20% come from Russia, 7% from Belarus, 4% from each Lithuania and Estonia, 3% from Germany, 3% from Finland, 2% from Poland and 2% from Israel. Guests from the U.S., Sweden, Denmark and Ukraine together make up to another 1%. Tourists from Europe prefer camping sites while Russians and guests from the CIS countries stay in hotels. The latter also account for the largest growth of tourists. Every year we organize a marketing campaign with a specific tourist target group. In 2001 we worked with Russia, in 2002 with Finland and this year we are focusing on Germany. We participate in fairs and exhibitions, we publish booklets, etc. At an exhibition in Berlin we found out that Germans prefer ecological tourism. Naturally, we do not forget about our main tourists from Russia, Belarus and Ukraine where we have a lot of friends among local tourist agencies. In Moscow alone about 20 agencies are working mostly with our routes. Our principle is to work where our clients live. Sometimes we get questions like why don't you work in Japan. The answer is – because 10,000 US dollars invested in Russia will bring us much bigger return than we would get from the same amount invested in Japan.
P.Z. According to the Palanga Tourist Information Center, most tourists are Lithuania's citizens; Russians come second, followed by Latvia, Germany, Estonia, Poland, Belarus, and Scandinavian countries. European tourists account for 97% of all holidaymakers.
V.H. Quite a lot depends on weather. It could be said that 60-70% of visitors is from Estonia and 30-40% is foreigners. Among foreign tourists, Finns prevail, followed by Sweden and Russia. In recent years, many tourists came from Latvia, Lithuania and Germany. The number of visitors from Spain, Poland, Norway, France has increased significantly in 2002.
Are tourists from the East or West more likely to boost the number of holiday-makers?
D.U. I think it would be fair to say that it doesn't matter where the person comes from, East or West. We work with everybody. For us a tourist has no nationality, color, etc.
P.Z. From both directions. Our tourist information center has representation offices working successfully in Riga, Kaliningrad, Minsk, and Moscow. The opening of the air traffic connection between Palanga and Copenhagen we regard as a chance to see more tourists from Western Europe.
V.H. I think we can increase total number of visitors from both eastern and the western directions. We love all our guests.
How popular are business-tours?
D.U. People travel for a variety of reasons. In 2002, for 53% of tourists the main purpose was recreation, 28% sought therapy, 16% were business trips and sports attracted 0.3%. In 2001 much less (41%) traveled just for fun and the number of business tourists was higher (23%). Part of business tourists gets diverted to the Latvian capital- Riga where the service level at conferences and forums is higher than in Jurmala. Possibly, some tourists inclined to hide the true reason for their visit to Latvia when filling in our forms. At the same time, participants of seminars and conferences are the main target audience during off-season periods. This is where the potential of our facilities lies. We expect businessmen to come over not only for work but also for recreation. This is definitely our winning card. We are active in offering untraditional entertainment tours, e.g. for gourmets, sport fans, art lovers, etc. Our experience has shown that the more non-traditional are entertainments we offer, the more attractive they are.
P.Z. We have no such kind of tourism here.
V.H. Parnu is a member of the European Federation of Conference Towns (EFCT) since 2001. Parnu has 50 rooms for organization of conferences with varying number of participants. The biggest conference facility is the new Concert Hall that can accommodate over 900 people. The Endla theater also has a large hall, and conference rooms are available in the Tervis sanatorium and in hotels Strand and Rannahotell as well. Parnu has already become a center for traditional annual international business forums and conferences on mail/postal tourism, seminars for medical experts and a series of other events.
Does your country have a national tourism policy?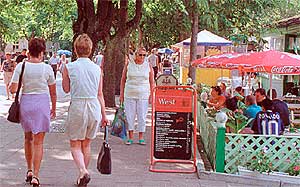 Photo: A. Cepulinskaite

Palanga's Broadway on Basanavichusa street.

D.U. Our basic legal document is the law on tourism. There is a tourism department under the Economics Ministry, and the Latvian Development Agency also deals with tourism-related matters. But in many aspects our problems have only been solved "on paper", e.g. since the term of the previous government, although we have great hopes for the new Economics Ministry. Today tourism makes up just 2% of the Latvian GDP but its share could be no less than 10% like in neighboring Estonia.
P.Z. There's the law on tourism in our country. We also have the government concept for tourism development. The law on tourism defines principles for the organization of tourism, lays down requirements for provision of tourism services, etc. A kind of "resort coefficient" is set for resort towns every year upon approval of the national budget and the budget of municipalities. This coefficient allows to plan financial and infrastructure development in the resort areas in comparison to that of other towns in the country.
V.H. Tourism plays a great role in the development of the Estonian economy. The industry is closely connected to many other services and the national economy in general. It is difficult to determine the place of tourism in the Estonian economy with any great accuracy but its role is growing steadily. The latest major study of tourism (Economic Impact Assessment of International Tourism -- CHL Consulting Group, 1997) showed that internal tourism accounts for some 10% of the GDP directly, and for about 15% indirectly. The tourist industry creates about 15% of all jobs. On top of this, domestic tourism has become increasingly popular over the past years. Estonia's population loves to visit different regions of their own country for recreation, and rural tourism is also very popular.
The key objective of the national tourism policy is to ensure development of tourism export and local tourism in the manner allowing for constant growth of turnover for tourism services. To be more specific, in 2004 we plan to double the tourism growth figures of 1997. Tourism revenues in the national budget accounted for 8.34 billion kroons in 1997, and increased to 17 billion Estonian kroons this year.
What kind of help can a resort expect from state authorities?
D.U. Tourism should be declared as one of the national priorities. Firstly, the tourism industry creates added value. Secondly, it does not have any adverse environmental effects, and, thirdly, it helps to solve the problems of unemployment. The state should spend more money on tourism industry development; but there's absolutely no need for so many various agencies responsible for tourism. The main attraction for any tourist or visitor is the accessibility of the country, e.g. a tourist does not want any problems related to getting entry visas. Apparently, consular capacity needs to be boosted and training of consular staff improved. Possibly, visas could be issued right on the national borders.
P.Z. Naturally, we expect from them financial help. This fall we will begin reconstruction of the main street in Palanga – Basanavicius Street. The final design has been made, and in three years we will have a completely new street. You may ask, why in three years? The answer is that technically it is very difficult to renovate the street in one season. This year the Lithuanian government granted 1.5 million litas to the project. Total cost for reconstruction of the street is estimated at around 14 million litas.
V.H. Information about recreation opportunities in Estonia is getting better all the time. Our tourism organizations attend various international fairs, conferences and forums. They expand the range of services and improve their quality. Estonia's regions are getting more and more help – it is one of the priorities in tourism development.
Nationals of which country prevail among buyers of real estate in your town?
D.U. The main buyers of real estate in Jurmala are from Russia, Germany, the U.S., Israel. Yesterday, for example, I approved the sale of six houses to foreigners: one from America and five Russians. Often, but not always, such buyers have roots in Latvia.
P.Z. Under our laws, real estate can be bought but land can only be leased for a period of 99 years. After Lithuania's accession to the EU, foreigners will be able to buy land too. At present Russian citizens prevail among those, who buy real estate in our city.
V.H. Foreign investors make up a large share – some 15-17% of all buyers of real estate in Parnu. Mostly, they are Finns, Germans, Swedes and Russians. Local investors, who buy real estate in Parnu are individuals and corporate clients from Tallinn and the surrounding areas. About 80% of the buyers were guided by the wish to acquire a place for summerhouses. They prefer to live closer to the coast. The major part of local investors are young families.
Do the new property owners take part in investment programs for urban development?
D.U. Of course they do, i.e. local investors contributed to construction of an aquapark in Lielupe area. Ventspils Nafta oil terminal is renovating the Rigas Licis sanatorium. Negotiations are underway with a foreign investor that is interested in building a sanatorium in the Rigas Jurmala territory. Russians have bought a recreation center in the Dzintari area. Russian oil and gas companies together with local investors are working on a project to create a tennis academy in the Vaivari area.
P.Z. No, they don't, so far.
V.H. Many buyers acquire real estate in Parnu for summer residence and do not live there all year round. They do not live here permanently but we nevertheless expect from them proposals about development of the city and ideas about its future. Those, who buy real estate in Parnu are mostly well-to-do people and we are glad they have restored a number of villas and residences that used to be so outrageously run-down. In particular, one should note the contribution by new owners into renovation of old wooden architecture units which are so characteristic to Parnu, and renovating famous sites of cultural value, for example, Villa Ammende .
What is the main problem that currently worries the mayor most?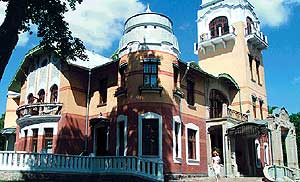 Photo: The BC archives

Parnu. Ammende villa's second life.

D.U. The mayor of Jurmala is worried first of all about stability in the country as well as tax matters. Tax policies must be consistent with tourism priorities. I have to admit that presently our Baltic neighbors have better tax and investment policies when it comes to tourism. As a result, Latvian tourism services are among the most expensive in North-East Europe.
P.Z. We have many problems like everybody anywhere else. But I would name as the biggest one the improvement of the city infrastructure, seeking money from EU structural funds for that purpose. If we have a developed infrastructure in Palanga and offer tourists various quality services, this would help the resort town to flourish and improve the well being of its population. I am certain that this will happen.
V.H. The biggest problem for the Parnu mayor today is to find investments for the town, especially concerning projects to benefit holidaymakers. We want to offer tourists quality services. To this end, we need to renovate our streets, build enough car parking lots, bicycle and roller-skate tracks, pedestrian paths, etc. The city must be clean and comfortable too. Hotels, restaurants, sanatoriums, discotheques and other service facilities must operate on the highest level. Therefore Parnu needs a complex approach to resort development.
What surprises has the city prepared for tourists in 2003?
D.U. More then 200 various events, mostly with free admission, are planned for the summer season not only in Jurmala but also in surrounding areas. Naturally, some of them have been related to the Eurovision Song Contest 2003 [held in Riga late this May]. I'd like to mention a few more: the celebration of the 150th anniversary of the Kemeri spa and health resort, a theater show on Midsummer Day or Ligo in Latvia, and other traditional Latvian festivities such as Anna's Day, the unique Bread Festival. And, of course, a lot of music – folk, classic, jazz and pop to everyone's taste.
P.Z. This year our town, like many other cities of the Klaipeda region, will mark its 750th anniversary therefore tourists will be able to see a lot of cultural events. There will be the Palanga-2003 pop music festival and we hope to see also popular singers from Russia and Latvia to perform during the festival. Night serenades, chamber music will be traditionally played in the Amber Museum. A variety of events for young people will be organized right on the beach. One simply must not miss the chance to come to Palanga and see it all with his own eyes. Information is available at all times on our website - www.palanga.lt.
V.H. Parnu will host many traditional culture events, for example, the song festival on Midsummer's Night, a festival of documentary films, the David Oystrakh music festival, beach volleyball competition, etc. This year we will focus on the old times, paying more attention to the city architecture and its restoration. As usual, Parnu will be the summer capital of Estonia.
Where do the mayor and his family take their holiday?
D.U. I myself prefer recreation in Latvia: hunting, angling. In general, residents of Jurmala, including myself, are lucky to work and pass leisure time in a wonderful place, i.e. our wonderful city - Jurmala.
P.Z. Usually I work during summer time. On weekends my wife and I love to go for a bicycle trip. Fifty kilometers on a bike is a good pastime. We spend our vacation in Lithuania, in the beautiful resort of Neringa. Such holidays are also much cheaper than a trip to some place in Europe. As my wife is Russian, in fall we plan to visit our favorite city St. Petersburg.
V.H. I like to spend summer holidays with my family in Parnu. I have done this for three past years. Of course, it is difficult to be mayor and try to get some rest in the same place you work because the work interferes with recreation. Even during vacations you still need to take care of some city problems, even only briefly. I like to make short trips to some places abroad where I can look at new ideas and later put them to work in Parnu. In winter we travel to places where one can enjoy skiing.