School of Business Administration Turiba launches first international education program
By Astrida Notte
Studies in Tourism and Hospitality Management at the Faculty of International Tourism of the School of Business Administration Turiba – the sole Master's Degree program in this area in Latvia – are possible in English commencing September this year. Fifty students instructed in English will establish the first-ever internationally represented study course since the founding of Turiba 10 years ago.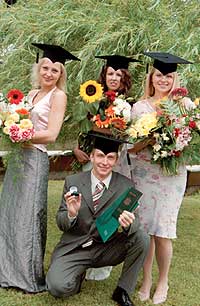 Photo: Turiba

The first round of enrolment examination successfully took place on July 26. Those candidates, who have passed TOEFEL or a similar English test, need not take the enrolment examination, which is planned on August 23rd. Deadline for concluding study contracts – August 29.

The school's present student body numbering 4,000 will also be welcoming fellow students from neighboring countries in the academic year of 2003/2004.The 4-year study program is aimed mainly at Latvian students, as well as students of the Baltics, the former CIS and candidate countries of the EU. Representatives of Denmark, the Czech Republic, Germany, Poland, Russia, as well as Thailand, Mongolia and Zambia have also shown interest in this program.

Preparation works for the Tourism and Hospitality Management study program started in spring and investments of around 10,000 USD have been partly spent already for purchasing training resources and adapting the study environment. Activities continue in staff training and maintaining a home page for the English program.

Emerging specialists – managers of tourism and hospitality organizations – will be able to acquire knowledge in the chosen subjects in English, and master it in a second language – a choice of Business German or French, according to the level of language skills.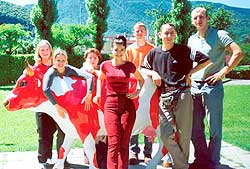 Photo: Turiba

Students and lecturers of the Faculty of International Tourism participate regularly in student and academic staff exchange program, international projects and scientific conferences. Participation in such projects as developing the UNESCO development program for culture, politics and tourism of the Baltic Sea, The Environment as an Asset for developments, international project of the EU "Europe Rural and Urban: Strategies and Perspectives in View of the Forthcoming Enlargement of the European Union" (The Eastern and Southeastern European Research Institute, Vienna, Austria) describe only part of the activities of the Faculty of International Tourism within the context of international projects.
Collaboration with foreign tourism and hospitality enterprises is developing successfully – students take study practice in Germany, Switzerland, Greece, Ireland, the USA. It is the third year now, commencing educational collaboration with the Tourism Department of the French Government. Similar collaboration activities are planned also with Austria.
Lecturers of the faculty prepare and publish their teaching resources and study books both for ensuring the implementation of study programs and assistance of educational programs for Latvian schools.