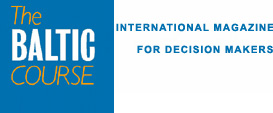 ---
Charging Europe
Olga Pavuk
Over the past decade, the clothing industry has become a crucial part of the Baltic economy and one of the major three exports for all three of the States. Most of the textile and garment exports go to European Union member states. Newly established Estonian clothing company Ilves–Extra, Lithuanian flax producers and Latvian textile companies running the old Soviet Rigas Manufaktura as several separate enterprises, are the main figures of this article.
The textile industry has completely changed over the last decade. In the late 80s, it was represented by groups of companies, fully-equipped with modern machines made in Japan, Yugoslavia and Germany, dressing up the whole Soviet Union. This made up a large share of total industry output and has turned out especially vital for today's situation. Expensive spinning equipment with a little modernisation can go long way and even function properly for 20 or 30 years.
Large-sized enterprises are involved in the new wave of establishing as stock companies, after the state having used to own up to 100 % of company shares. These are exactly the companies noticed by western foreign partners willing to cooperate by offering raw materials, tools and signed contracts for the purchase of up to 90% (and in some cases even 100%) of a mill's output. Trade with Europe is free, and import textile quotas are still not used to their full capacity. Output left over from European contracts is easily distributed on the local market.
Along with the large-scale enterprises still making up most of the light industry turnover, many small and medium-sized enterprises also began to appear. The number of employees in the industry has hardly dropped, especially when compared to increasing unemployment in heavy industries.
The main market for selling textile and garment products is Europe. But the three Baltic neighbours try not to cross each other's paths. Estonian companies mainly work with Finnish and Swedish partners. Most contracts with Latvia and Lithuania are signed with Germany, but even here the market is strictly divided – the Latvians work within northern Germany, Lithuanians within other regions of the country. Denmark, Belgium, the Netherlands, Italy and Spain are also among other important western partners.
It's no secret that the trick is cheap prices together with good quality. Market competition is fierce. Even cheaper labour forces are available not only in the countries of South-East Asia, but also in Romania, Yugoslavia, Belarus, Ukraine, Moldova and other post-soviet countries. Salaries at the companies producing yarns and fabrics are rather high, which couldn't be said about the wages of garment factory staff. Consequently, the management of some enterprises is considering the possibility of recruiting labour forces in other countries.
Riga
Status Quo
Impressions of Swedish entrepreneurs working in the Baltics, retold by Dagens Nyheter's reporter Disa Hastad.
PerOlofHygren, Chief Executive of Fristads (Sweden)
Fristads specialises in the production of working clothes and is the owner of a Danish textile firm.
- "Currently, we are expanding our production onto Latvia and Russia. Fristads owns two factories in the Leningrad region (4000 employees). The reason for the expansion is a general shift to the east. The Fistads factory in Portugal is about to shut down due to the closure of the enterprise. We are interested in Russia and the Baltic countries, but speaking of calculations, it's cheaper to work in Russia. In this context, Russia is our priority, Fristads could make more then 200 new working places available. Our Danish department is trying to push our industry in Latvia. Production increase in Latvia is expected to be lower than in Russia, but it's hard to say how low. Our second choice would be Ukraine, we still don't own anything there."
(In February the same person was interviewed by Dagens Nyheter and claimed that Ukraine and Romania are more attractive to the company, as payments in the Baltic States were much higher. Obviously, that was said before the decision was taken to close down the department in Portugal).
BengtLiljestam, Chief Executive of Snickers (Sweden)
The company owns the Snickers Production factory in Tukums (Latvia), specialising in the production of working clothes.
"It is neither our intention to change production costs and expand in Latvia, nor to go back on our decision. Obviously, we are not "putting all our eggs in one basket". It is a kind of status quo for Latvia."
Stockholm
Textile and garment exports, USD mln
| | | | |
| --- | --- | --- | --- |
| | 1997 | 1998 | 1999 |
| Latvia | 260 | 292 | 258 |
| Lithuania | 628 | 690 | 683 |
| Estonia | 358 | 375 | 339 |
Source: Associations of Light Industry Companies
Indicators of the clothing industry in Europe
1995 = 100
| | | | | | |
| --- | --- | --- | --- | --- | --- |
| Country | 1996 | 1997 | 1998 | 1999 | 1999/98 |
| Belgium | 76.0 | 64/5 | 54,1 | 38.9 | - 28.1 |
| Denmark | 100.2 | 104.2 | 102.8 | 93.1 | - 9.5 |
| Germany | 91.8 | 85.8 | 81.4 | 71.0 | - 12.8 |
| Spain | 95.6 | 97.7 | 100.6 | 95.8 | - 4.8 |
| France | 81.8 | 74.7 | 68.0 | 61.2 | - 10.0 |
| Greece | 85.8 | 82.9 | 77.9 | 79.7 | + 2.3 |
| Ireland | 99.6 | 84.4 | 75.6 | 64.1 | - 10.4 |
| Italy | 100.6 | 100.6 | 100.6 | 91.8 | - 8.7 |
| The Netherlands | 93.5 | 95.4 | 100.1 | 104.2 | + 4.1 |
| Portugal | 113.5 | 109.6 | 116.9 | 114.5 | - 2.0 |
| UK | 97.6 | 91.6 | 84.5 | 74.6 | - 11.7 |
| Austria | 88.1 | 77.8 | 78.2 | 67.2 | - 14.0 |
| Finland | 99.6 | 97.2 | 92.8 | 86.5 | - 6.8 |
| Sweden | 94.9 | 103.7 | 98.8 | 75.9 | - 11.7 |
| USA* | 97.2 | 95.3 | 90.2 | 84.5 | - 6.3 |
| Japan* | 94.6 | 88.2 | 79.4 | 73.5 | - 7.4 |
| Estonia* | 98.7 | 95.6 | 101.6 | 933 | - 8.2 |
Source: EURATEX, * ERTL
The Ilves-Extra Way
Olga Pavuk
Starting afresh in the early 90s, the Ilves-Extra clothing company is fourth according to production amounts of Estonian garment mills today. Casual wear – the company's speciality, is not sold to the west. Estonians have become more and more convinced of the quality of this local producer.
Arvo Kivikas, 50-year old chairman of Ilves-Extra is well-known in Estonia. He is known not only as a successful businessman. A mathematician by education, he has been working in the Cybernetic Institute of the Academy of Science for 17 years. Arvo was on the Soviet national orienteering team for 11 years. He is still quite fond of sport. On August 22nd, a veteran team from the city of Tartu became Estonian champion once more. Arvo Kivikas, a professional orienteering athlete, has also managed to be competent in business much better then others.
So, how did it start? How did the mathematician and athlete start sewing clothes?
It started back in the days of Gorbachev. The first sports orienteering club in Estonia was established in 1978, it lacked sports wear. We decided to set up a cooperative for sewing sports wear for athletes.
A joint venture with Swedish Company Sport & Motion was set up in Moscow on September 6th 1989. I had good contacts among the Swedes since the times when I was a member of the Soviet National Team. I was nominated as director of the joint-stock company and left the Academy of Science. I told my colleagues that I might end up as a beggar, but it was worth trying. Moreover, I have a big family: 7 children and 3 grandchildren.
We then built a building 300 m˛ in size - there were no empty premises at the time. We started exporting the clothes we produced. We found out that small consignments of goods could be competitive for Scandinavian countries. Don't forget about the cheap labour force. Garment production in Sweden did not exist at the time; most of their supplies (up to 50 thousand pieces) were made in Southeast Asia. Our strong point is that our clothes can be both exclusive and widely distributed.
What has helped you stay on the market?
Since the very beginning we bought all kinds of fabrics. Urmo Kivikas, my son, deals with the vital matter of supplying fabrics and accessories. Ever since we opened, we have designed our own models. Design is a much more expensive affair in Scandinavian countries.
Is the 5-story building on Riga Street your property?
No. In 1992 our Swedish partner went bankrupt. We created a new enterprise named Ilves-Extra. In 1992 we rented out a building, which had been without heating for 4 years for a period of 25 years, and continued work. At first we only had 200 employees, now we already have 400.
What is the payment procedure at your factory?
We pay wages on a weekly basis. A qualified seamstress earns up to 6 000 kroons/month. An average wage is 4 000 crones, minimum salary – 2 000 crones. We are constantly lacking in work force. Today we have 26 vacancies.
Is there a trade union?
No. We will make one on the condition that any enterprise within the trade union produces as least half of the volume produced by our company.
All the equipment in your factory is new, costing quite a bit. Where did you get the means?
The sewing machines are made in Japan. The oldest equipment is from 1995, and should function properly for 20 years. Everything in he world is available to us. Production is fully computerised, programmes are agreed to be updated constantly.
We invested everything we made. Thank God each year brings us profit. In total, we've invested 35 mln EEK, including Hansapank loans. We still need 4-5 years to pay back the loan. After the banking crisis, it became impossible to get a loan in Estonia. Consequently, Estinvest has become a 25% shareholder (a Swedish fund, dealing with investments in Estonia).
What is your share in the business?
I own 30%, and another 13% belongs to my work and sports colleague Madis Oras.
What is your range of goods?
Casual wear, mainly. Women's work outfits and sports wear is also our speciality. All the rest depends on market demand. We were very proud of getting a contract for making sports wear for the Finnish Team at the Olympic games in Sydney.
Who did the contract for the Estonian Team in Sydney?
The Fila company.
How can your clothes be recognized?
We use the THIO trademark for women's wear and the JSC trademark for sports on the domestic market. Most of our exported clothes are marked with the Finnish trademark Sail & Ski.
How much do you export?
In 1996-1997 we exported almost everything. In 1998, only 8% was kept in Estonia. In 2000, about 26% of our produce can be purchased in Estonian shops.
What is the price?
Our clothes are not cheap. For example, a jacket can cost up to 2.5 thousand EEK and more, half a month's salary. But over the past two years, people have realised that imported stuff is mainly made in Asia, and that stuff made locally is of a better quality.
Tartu
Trusting Your Own in Estonia
It was easy to get the industry statistics in Estonia. The Textile and Garment Industry Association (ETGA) has been on the web since 1997. Only two people regularly update the site: Maie Vader, Director and Kristin Tőemet.  Anyone can find basic data on each of the 75 members of the Association. Moreover, current figures can also be found in an information booklet, published twice a month. Incidentally, the ETGA is the only among the three Baltic States to be a member of the European Textile Association EURATEX.
Altogether, there are 510 such enterprises registered in Estonia; staffing at 139 of these consists of less then 20 employees. 75% of total textiles are produced by only a few large enterprises – members of the association, making up 4% of the total number of enterprises (employing 55% of the industry's staff). Consequently, 9% of the garment factories produce 70% of the goods (40% of the total staff). It is worth noting that textile workers and seamstress wages are almost equal in Estonia (this cannot be said of other Baltic countries): a little over 200 USD.
"The main target for Estonian companies is to reduce the number of contracts, - says Maie Vader. A lot of contracts in the early days of our career allowed us to improve our qualifications, find out more about the technologies and provide people with work. But funds gained from implementing these contracts allow the companies to survive, not to develop. According to statistics, contractual work amounts to 45% of Estonian exports (knitwear – 55%, ready-made garments – 77%, cotton yarn and fabrics – 7%).
Little by little, potential foreign investors become more willing to cooperate with Estonian companies. The Boras Group, a centre of the Swedish textile industry and supervisor of Krenholm Group has announced the establishment of a new Garment factory in Narva with 350 vacancies. Investments to the new enterprise will amount to 50 mln EEK, sales will increase up to 28%. The factory is scheduled to be opened in March 2001. Total investments over the last five and a half years amount to 317.5 mln EEK.
The European Union is the main market for Estonian goods (80%). Double customs duties and instability after the Russian melt-down prevents from better cooperation with the Eastern neighbour. Minor deliveries are also made to Ukraine.
Baltica, a producer of ready-made clothes, considers the countries of the Baltic Sea region its main export market, especially after the Russian crisis. The company starts exporting its goods to Poland this autumn; exports to Norway will start next year. "Centrum, one of the biggest wholesale networks, will represent us in two of the biggest Polish shops in Warsaw and in Wroclav, - says Tomass Tivel, Marketing Manager of Baltica. 12 shops in Estonia, 1 in Latvia and 4 in Lithuania sell clothes with the Baltman trademark, owning a large retail stake for ready-made clothes in the Baltics.
Tallinn
Largest textile and garment enterprises in Estonia, 1999
Name

Production

Net turnover,
mln USD

export,
%

Number of
employees

Kreenholmi grupp

Cotton yarn and fabrics, retail

65,6

90

4 770

Baltika

Ladies'/Men's wear

19,3

65

700

Marat

Knitted wear

18,7

85

1250

Wendre

Cotton fabric, cushions

9,2

85

270

Klementi

Ladies' wear

6,3

21

700

Ilves-Extra

Casual wear, etc.

5,5

85

347

Sangar

Men's wear

5,3

83

425

Virulane

Ladies'/men's wear

3,1

62

450

Linette

Ladies lingerie

2,3

68

300

Hipo

Children's wear

1,6

86

120
Source: ETGA
Sub-contractual work done by the largest Estonian garment enterprises, %
| | | | | |
| --- | --- | --- | --- | --- |
| | 1998 | 1997 | 1996 | 1995 |
| Baltika | 23 | 28 | 34 | 25 |
| Klementi | 22 | 34 | 41 | 80 |
| Parnu Marat | 1 | 1 | 4 | 4 |
| Ilves-Extra | 0 | 0 | 0 | 8 |
| Sangar | 55 | 60 | 60 | 50 |
| Virulane | 32 | 34 | 44 | 88 |
| Linette | 57 | 46 | 34 | 40 |
Source: ETGA
Spin that Cotton
Olga Pavuk
The Latvian textile industry is one of the few restored industries playing an essential role in the country's economy.
Kreenholmi tekstiil, Baltex2000, Alitaus tekstile Trenichaj – all large-scale enterprises focussed on the production of cotton yarn and fabrics in Estonia and Lithuania. The Latvian counterpart called Rigas manufaktura has disintegrated into seven different companies, most of which are nowadays supervised by joint-stock company Rimako. That stands for "Rigas manufactura" (Ri-Rigas, Ma-Manufaktura, Ko-kompanija). The funds of all seven enterprises are monitored by either Rimako or the Director of, Andrejs Blejdelis, the same Blejdelis who was in charge of Rigas Manufaktura in Soviet times. The amount of cotton yarn and fabric goods is the same as produced by one of the largest knitwear enterprises in the Baltics - Ogre.
It's hard to define the exact amounts of cotton produced in the Baltics, as official statistics also include cotton re-exported from the countries. Most of the Uzbek cotton is transported through Latvia, some of the cotton-wool is transported via Estonian ports. Though, processed cotton amounts don't differ much between the three Baltic States. In Latvia cotton production amounts to 18-19 mln LVL (12% of the total turnover).
Riga
Latvia's Cotton Yarn
Rimako, joint-stock Co.
Coldfeder Gmbh (Austria) owns 53% shares
Terry, and products
Sheets
Silk cloth
Retail
Mezroze Ltd.
Dyeing / Decoration of cotton / linen / mixed fabrics
Sheets
Work outfits
Kokvilna Ltd.
Cotton yarn, cotton fabric/garments
Ligija Teks, Joint-stock Co.
Founded by Rimako
Cotton yarn and fabrics
Mineral water
Windows and doors
Rima, Joint-stock Co.
Founded by Rimako
Sheets
Vefietis – 1
Founded by Rimako
Trading house
Juglas Manufaktura
President: A. Vainsteins
Remei AG (Switzerland): 20% shares
Cotton yarn and fabrics
Alexander Miller, Vice President of Juglas Manufaktura, the only enterprise not part of the Rimako Group.
Cotton is delivered from Uzbekistan and Turkmenistan. Usually, contracts are signed and arranged with state bodies. We try not to buy cotton from private traders, as they can't provide a regular flow of supplies. Our assortment compiles more then 150 types of fabrics.
We are not able to compete with Uzbekistan and CIS countries in the production of inexpensive fabrics and low counts of yarn (1m of coarse calico costs 0.50 USD in CIS, and 0.70 USD in Latvia), so in order to go on, we have to use high counts of yarn and expensive fabrics (approx. 2 USD and more). Depending on the contractor's wish, fabrics can be dyed at Mezroze and Silvos Trikotazas (Lithuania).
We have been working on contractual basis with European countries since 1993: coarse yarn is sold to Italy, fabrics to Germany and France. 11% of the yarn and 7% of the fabrics is sold in the Baltics. There are no supplies to Russia.
The Russian crisis left some effect on our business too. Turkey had been orientated towards the Russian market and dumping in Europe began after the Southeast Asian crisis. Cotton yarn and fabric prices went down. What's more, a significant decrease in cotton prices also caused effect: from 1600 USD/t in '97, to 960 USD/ton in '99. Currently, prices are stabilising, 1339 USD/t in August.
As to competition within Latvia, Rimako produce is different to ours. Turkey holds the leading position in Europe among competitors, followed by India and countries of Southeast Asia. CIS-Russia and Belarus take third place on this list.
Customs duties for natural resources also had impact and reduces our chances to win the competition against our Baltic neighbours. Rising labour costs is another obstacle (the average wage of a Juglas Manufactura employee varies from 310 to 380 USD). A cheaper labour force is available in many regions of Russia, Ukraine, Belarus and Moldova, not to mention Turkey and India.
Arturs Dreimanis, President of Mezroze Ltd., has managed to considerably increase the company's level of productivity.
The capital in our enterprise is of local origin and is shared by three physical persons. Having started the process in 1993 with bleaching and dyeing yarn, our factory started bleaching and dyeing fabrics again in 1995. We have 130 employees at the factory.
After Rigas manufaktura split up, our enterprise inherited several millions lats worth of debt exceeding our equipment value. Floating capital, some stock and even some equipment was taken by Parex Bank for repaying the credit. The head company had to be divided into several firms, each with its own plan for privatisation.
After having rented a part of a trimming factory, we faced considerable difficulties. In order to restart production after a break of 3 years, we had to build our own electricity transformation substation and boiler-house plus undergo full reconstruction of our heating and water supply systems.
All the funds were and are still invested into the modernization of the manufactory. In 1999, we began to produce printed fabrics again after having installed a STORK printing machine. At the beginning of 2000, our garment section was fully equipped and we began production of sheets and work clothes. We use western dyes and chemicals and are able to produce fabrics of any colour.
70 % of our production, made on contractual basis, is exported to the EU. Scandinavian countries are our main purchasers, the Baltics only partly. As to Russia, we sometimes buy up several kinds of raw material there, but there are no exports in that direction.
The slump of the Euro was a serious problem that led to significant losses. Stock exchange fluctuations in May and April resulted in losses of 15 000 DEM. The exchange rate for lats and dollars doesn't really help increase exports or production.
Contracts for Latvia
Just over 10 industry companies out of 300 in Latvia make up a turnover of LVL 1 million. According to Guntis Strazds, President of the Association of Light Industry Enterprises, exactly these 10 companies, produce up to 90% of the whole industry's production. There were 20 377 people employed by the industry in 1999. 92.2% of the textiles and clothes produced are exported to Western Europe.
Anna Romashenok, Director of the New Rosme, which specialises in Ladies lingerie, considers the design of new patterns as vital as contractual work. There are several young designers working at the factory. Ivars Muravskis, President of Rigas Drebnieks (an enterprise established one year ago on the basis of a branch of Latvija, a famous manufacturer of overcoats with more then 1000 employees), assumes it more profitable to order western pattern designs, instead of designing them locally: "We have to make our products competitive with the lowest costs."
The strategy of Ogre, joint-stock company, completely changed after the Russian crisis hit, having given up designing its own collections. Nowadays, knitwear is available purely on contractual basis. "I am convinced that this is the only proper way," -says Vladislav Tikans, Director General at Ogre. It's not the label that's important, it's the trade mark recognized by western partners".
Latvian light industries can be considered nationally owned. Only two large enterprises: Snickers Production (a branch of Snickers Europe IB, a Swedish clothing company) and New Rosme (owned by Swegmark Holding AB), have 100% foreign owned capital.
Except for the above mentioned New Rosme, Guntis Strazds has indicated several enterprises that sell its production under their own labels, i.e.: Lauma, Velme, Luvek, Juglas Manufaktura, Rimako. There is no claim as to the quality of the stuff, though. Promoting products would be a necessity, unfortunately, advertisement in the west is extremely expensive. Nevertheless, in Mr Muravskis believes that the future of Latvian garments is linked with "Eastern countries, where the produce is competitive. As to Western countries, we are destined to lose there, as our only attraction is cheap manpower and sometimes even half-finished stuff".
According to data of the Latvian Association of Light Industries, foreign investments towards the industry since regaining independence has amounted to 16.8 mln LVL; Germany takes the leading position among investors with 69.4% of the total. As for local investor support – this amounted to 20 mln LVL.
The largest light industry companies in Latvia
Production

Sales & service,
mln USD

Export, %

No. of
employees,1998

Ogre

Cotton knitwear, woollen knitwear

29.23

88.4

2650

Lauma

Ladies' lingerie 

23.12

88.1

2007

Rimako

Terry, silk fabric, etc.

16.10

90

900

Snickers Production

Work outfits

13.98

100

Juglas manufaktura

Cotton yarn and fabrics

10.93

93.9

663

Rita

Knitwear

6.78

89.1

441

New Rosme

Ladies lingerie

4.91

93.9

633

Larelini

Linen fabrics

4.26

86.8

526

Klippan-Saule

Woolen blankets , rugs

2.39

86.8

171

Mezroze

Fabrics, dyeing

2.31

63.3

120

Kokvilna

Cotton yarn, fabrics

2.29

52.9

186
Source: Latvian Association of Light Industry Companies
Exclusive Brand
Olga Pavuk
Linen or flax tablecloths, napkins and towels have been the attributes of almost every Lithuanian, Latvian or Estonian house for a long, long time. Nowadays, linen is the height of fashion for only the most exclusive apartments around the world. Lithuanians, among the few producers of linen fabrics, exports the product under their own name.
Linas, the largest linen producing company in Panevezys, became a joint stock company in early 1990 (18% - state share), and celebrated its 40th anniversary last year.
There are 4 companies that deal with linen manufacturing in Lithuania. Business develops successfully when exports reach 90% of the produce and more. For example, Linas profits for the first half of 2000 were 4.965 mln LTL, double that of last year so far.
3.5 thousand people are engaged in the linen industry, that makes 10% of the total number of employees in the industry. Production at the enterprises is organised in the following order: raw materials, spinning, weaving, and sewing. A large number of products can be bought: carded linen, flax tow, natural, dyed and bleached yarn, textile dyed fabrics, and clothing – towels, tablecloths, napkins, curtains, sheets.
Before World War II, Lithuania was the third flax cultivating country in Europe. For some reason, the flax-sowing process considerably reduced over the last decade. According to Vidmantas Viksraitis, Director of the Association for Light Industry Enterprises in Lithuania, 1.8 thousand tonnes of linen fibre is produced annually. But, the demand is higher, at approximately 6.5 thousand tonnes. A while ago we also had a lack of flax, it was then bought either in Belarus or Ukraine. Romualdas Mazylis, Press secretary of Linas, mentions that nowadays, flax is partly bought in Ukraine, but the largest supplies come from Belgium, Germany and Denmark. "The major problem is resuming supplies from the CIS and mainly Belarus".
"After processing, the largest part of the produce – up to 90% - heads off for Europe. Leaders of all the linen industry factories took part in a meeting held in Japan this year. Consequently, there are a few offers from the country of the rising sun. "
Higher counts of yarn have become more valuable throughout the world, leading to the need of a new type of equipment. As Romualdas Mazylis said in his interview to the BC, in August a new Italian Sombisoft machine was installed for fabrics and braids emollient.
Ramunas Ljancauskas, the 34-year old President of Linas, is known as a real generator of ideas. Romualdas Mazylis, Chairman of the Trade Union Committee, notes: "We are able to find a common language with the boss. A collective agreement is the best way, as our Danish colleagues at the company also say". 70% of our staff are members of the trade union. The reason for the popularity of the union among employees is that it still deals with the tourism aspect of staff holidays. Several relaxation centres, including ones in Palanga, a seaside resort, are available to the staff upon request.
When Linas was going through hard times, the company opened a Linen Museum. Some consider it to be a waste of money. But Ramunas Ljancauskas says: "There is no future without the past".
Panevezys – Vilnius
Lithuanian Companies – producers of linen items
| | | | |
| --- | --- | --- | --- |
| Name | Sales and services, mln USD | Export, % | No of employees |
| Linas (Panevezys) | 19.03 | 89.6 | 1635 |
| Linu audiniai (Plunge) |   9.18 | 90.2 | 906 |
| Siulas (Birziai) |   6.98 | 93.5 | 568 |
| Klasikine tekstile (Kaunas) |   2.50 | 80.0 | 50 |
| Tulpe (Panevezys) |   0.82 | 95.0 | 189 |
Lithuania thinks small
Up until 1990 there were 78 light industry enterprises with 80 thousand people employed in the country. Today, 500 firms are registered dealing within the industry with approximately 60 thousand in staff. (For comparison: in 1940 there were 256 companies with 9 thousand employees). Garment factories make up 64% of the total number of industry companies with 42% of the total number of employees. Seven of the largest companies with their staff of 12 thousand produced more then 25% of the output. The average monthly salary of a textile worker is 230 USD, and 192 USD for a seamstress.
In contradiction to Latvia and Estonia, small and medium sized companies are of special weight in Lithuania.
Situated not only in the capital of the republic, many small and medium companies began their work on the internal market. As did, for example, Savita tilius, where only 40 people are employed. Janina Sanikoviene, Head of Savita tilius, mentioned that the five-year old company supplies its knitwear to four shops in several cities across the country.  Elegant designs are produced in small batches and are exported with the assistance of foreign partners to go on sale in shops abroad owned by people of Lithuanian origin.
According to the data shared by Vidmantas Viksraitis, Director General of the Lithuanian Association of Light Industry Enterprises, approximately one quarter of all exported products are textiles and clothes. 80% of this is exported to the EU, mainly to Germany – 23%, Denmark – 10.9%, the UK – 9%. Only 8-9% of production stays in Lithuania.
As far as sales to the eastern market go, Vidmantas Viksraitis told the BC that it was impossible to establish trade with Russia: costs of customs duties raise costs by 80 %. As for trade with Uzbekistan, this had to be stopped due to debts. Nevertheless, many Russian companies from Krasnoyarsk, Tver, Belgorod, Petrozavodsk, were invited along with western partners to participate in the Baltic Textile+Leather exhibition, held in September in Vilnius. Some cooperational links may have been established.
Over the past two years, foreign investments have doubled. For example, in May, CapMan Capital Management, a Finnish company, purchased 68.39 % of Drobe textiles company (situated in Kaunas) for 4.8 mln USD. Finnish investment projects for the next four years amount to 11.36 mln USD.
An unfortunate example of foreign investment is the sale of a majority stake in Alytaus tekstile to the Tolaram Group, a financial corporation from Singapore, which didn't commence any investments towards the acquired Lithuanian company (one of the terms of privatisation was the investment of 60 mln USD over a period of 5 years). Understandably, the first half of 2000 has ended up with Alytaus tekstile losses of 4.751 mln LTL (1.19 mln USD).
The regionally renowned Garuniai market in Vilnius is considered to be a serious competitor for Lithuanian garment and textile companies where inexpensive products of Turkish, Chinese and Polish origin are imported. The second hand clothing trade has also become a popular trend among Lithuanians. This helps toward the results of increase unemployment rates among garment factory workers; according to information given by Vidmantas Viksraitis – approximately 15 thousand seamstresses loose their jobs annually. The Lithuanian currency LTL is pegged to the USD. Due to the € decline in 1999, the industry's losses amounted to 60 mln LTL.
Vilnius
Largest Light Industry Enterprises in Lithuania, 1999
Produce

Sales & Service,
mln USD

Export
%

No of
employees

Alitaus tekstile

Cotton yarn and fabrics

42.66

81.4

3 739

Dirbtinis pluostas

Acetate twist

30.26

75.0

2 015

Utenos trikotazas

Knitted wear

27.25

85.0

1 501

Drobe

Woollen and half-woollen fabrics

19.62

95.0

2 260

Linas

Fabrics and sewing

19.02

89.6

1 635

Lelija

Clothing

16.97

81.0

2 990

Edmundas ir kompanija

Clothing

12.63

80.7

105

Audejas

Furniture fabrics

9.75

75.0

260

Linu audiniai

Fabrics and sewing

9.18

90.2

906

Vernitas

Acrylic Fibre

8.68

85.0

927
Source:  Lithuanian Association of Light Industry Enterprises
---