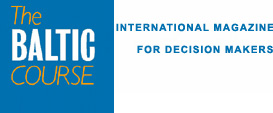 ---
Test-Tube Babies
Olga Pavuk
The first test-tube baby in Latvia celebrated his fifth birthday this year. The clinic helping families to continue the human race is situated in an old building in a green area of the Estonian city Tartu. Director of the clinic Andrei Syritsa and associate professor of the Chair of Obstetrics and Gynaecology at Tartu University feels more like a gambler than a trainer of his well-knit team.
With genuine hospitality, doctor Syritsa led me through all the corners of the reconstructed building built in 1914 by architect Kangro for his own personal use. Peculiarly enough, this house has been full of the sound of children's voices ever after - it has served as a kindergarten and as a young naturalists' club. And it is here that couples or single women turn for help when the common way of conceiving new life does not work.
After defending his doctoral thesis in the field of obstetrics in 1990, doctor Syritsa started to work on solutions for the infertility problem. He improved his knowledge of laparoscopic surgery and artificial fertilisation in Germany and worked at the Tartu University. In 1995, the group led by Andrei Syritsa succeeded in helping the first test-tube baby in the Baltic States come into the world. In 1997, Estonia was the first and so far the only of the Baltic States to adopt the Law "On Artificial Fertilisation and Protection of Embryos".
Understanding that the issue of assistance to infertile families does not lie among one of the priorities of the state, Andrei and his university colleagues discussed the possibility of establishing a private clinic. At first, money for the establishment was collected among their friends, however, they mainly counted on credits from local banks and funds. Over the last two years more than a million dollars have been invested in the Tahe Erakliinik. No foreign investors have been involved: "At first, they were not willing to take the risk, now we do not want to get involved with them," explains doctor Syritsa.
He admits that public hospital treatment is no worse than the private ones. The only difference lies in the time required to get there and in the level of individual attention offered to the patient. And, of course, public medical establishments are not able to provide the level of comfort available in private clinics. Besides that, the university clinic has to go through tendering and other time-consuming procedures in order to obtain the necessary equipment. Private clinics may act differently - they just make a decision and purchase whatever they need.
Dr.Syritsa has himself acquired some knowledge as an economist over the years. Nevertheless, there are no employees dealing with the clinic's financial matters. Economic control, accounting and business plans are carried out by Probill.
Today, doctors and biologists of private clinics in Latvia and Lithuania are also capable of helping people with fertilisation, however, all of them come for experience in Tartu. Some experts from Kaunas were also present while we were visiting Tahe Erakliinik. The first machine for freezing and storing frozen embryos was obtained by the clinic four years ago. Estonian legislation allows the storage of such embryos for five years. 1997 saw the first baby in the former Soviet Union born from a frozen embryo.
Besides test-tube fertilisation, the Tartu clinic can provide help in solving any issue connected to gynaecological illnesses. Meanwhile, the "male doctor" - or andrologist- ensures medical treatment of male problems for patients of any age.
Surgeries performed at the clinic mainly deal with infertility, but if necessary, the doctors can do abortions too. This attitude, by the way, was the cause for refusal of an American fund promising to provide financial assistance. However, Andrei Syritsa believes that people should not be blamed just because the state has not taught them to use contraceptives. At the same time, the number of abortions done at the clinic is low if compared to other hospitals, as the prices are the highest ones in Tartu.
Speaking about prices, a single visit to Dr.Syritsa would cost 30 US dollars, while others may only cost 10. Test-tube fertilisation costs around 1160 US dollars. Just for comparison, similar surgeries in Russia cost between 500 and 2000 US dollars, in the United States this would reach between USD 8000 and 15 000, in Germany - USD 5000, and in Finland - between USD 2000 and 3000. In Riga, this would cost only 800 dollars.
Every third patient coming to the Tahe clinic is from abroad. Most often they are from Latvia or Lithuania, followed by patients from Russia and CIS countries, there are also some patients from Canada and Afghanistan. Part of the expenses for Estonian patients is covered by health insurance companies having signed agreements with the Tahe clinic.
Advertising artificial fertilisation is forbidden in Estonia, and Dr.Syritsa, being a member of the Bioethics Commission at the Ministry of Health, is fully consent to this.
Tartu
At your heart's Service
Olga Pavuk
The only private heart surgery clinic in the Baltic States has been operating in Vilnius for two years now. An absolute majority of their patients come here from abroad. But until recently, Vitas Maciulis, Director of the Heart Surgery Centre had nothing to do with medicine.
The superbly up-to-date centre happened to be opened just before the Russian meltdown in August 1998. Two months passed before the first patient arrived. I guess its worth mentioning that the newly reconstructed building with the most up-to-date medical equipment and technical support had absorbed no less than 16.5 million US dollars.
Fortunately, the situation did not last long. Today patients demanding highly qualified surgeons, safety and comfort do find their way to the clinic. Vitas Maciulis invited a patient from Moscow due to have his heart surgery the next day to join us for our tour around the clinic. His daughter, sponsoring the medical treatment of her father, followed us as we got acquainted with the establishment. In the reanimation ward, we had the chance to find out how a patient from Ukraine felt only one day after surgery.
Lithuania is renowned for the school of academician Algimantas Marcinkiavicius, giving us his well-known students - professors Vitautas Sirvidis and Gedrius Uzdavinis. Both of them perform surgeries at the heart surgery centre. Lithuanian patients may receive their treatment at a public hospital, so from the very start the private heart surgery centre decided to put its stakes on foreign patients, particularly those from neighbouring countries. The explanation is quite a common one. First of all, Lithuanians have not yet forgotten the Russian language, which helps ties with countries to the east and south-east of Lithuania. Secondly, it's no secret that the prices in Vilnius are considerably lower than those in the West, while, according to Western experts, all the other indicators fully meet global standards. A similar operation in Germany, Switzerland or USA would cost 2.5 to 3 times more. The expenses for a 12-day stay in the Vilnius clinic with surgery range from 10 000 to 14 000 US dollars. If the necessity for a longer stay at the clinic arises, all other costs are covered by the clinic.
There are 30 beds in the clinic and 12 more in the intensive therapy department. The surgeons can perform up to 500 surgeries a year. So far, the number of surgeries has not yet exceeded 130.
So how does the Vilnius heart surgery centre find patients? They have an agency in Moscow, and agents in Kiev and Minsk. Connections also exist between doctors. And last, but not least, patients themselves pass on their references of the clinic to other people they know.
It is hard to find something to criticise in the modern six storey building with its own power supply, conditioning and bactericidal air decontamination, with all the conveniences any patient, doctor or member of the service team could possibly wish for. Although the salary of the employees is just 20 per cent higher than in other hospitals, none of them have resigned during the two years at work.
The staff of the clinic comprises of 60 employees, plus 65 doctors working on contract. The founders of the clinic chose to operate as a closed joint stock company with base capital of 50 000 Us dollars distributed between seven shareholders: two professors, two private investors, finance and brokerage company Vilfima, the Director General and Marketing Director. Unlike the Tartu clinic, they have their own administrative and finance group consisting of eight employees.
The BC tried to find out, where they had managed to get their sizeable loans. Director General Maciulis explained that 10 million dollars US were given for 10 years by the Japanese Marubeni Corporation upon the guarantee of the Lithuanian government. USD 6.5 million came as a loan from the IMF, also for 10 years. However, operations at the heart surgery centre are not so smooth yet, and for now at least, they are not able to pay their creditors. The government has allowed the payments to be put off for another 5 years on condition that an investor is found. Currently, negotiations with a Swedish venture investment fund are on the way, who seem keen on developing eye laser surgery as well as other kinds of highly qualified medical treatment on the basis of the Vilnius clinic.
By the way, the staff of the clinic can also provides help in solving problems in the field of orthopaedic surgery, angiosurgery, as well as plastic and reconstruction surgery.
Vilnius
By Trial and Error
Olga Pavuk
Our visit to the Clinic of Plastic Surgery located in one of the old houses in the heart of Riga was delayed for one and a half hours while the only owner of the clinic, doctor of medicine Janis Gilis, was saving the nose of a baby bitten by a dog.
Why did we choose this particular Riga clinic among all the others practising plastic surgery? First of all, because it's one of the oldest private clinics in Latvia, established as a limited company back in 1992. Secondly, because Doctor Janis Giis relies exclusively on himself, and, as he admits, "does not play any games with the state". And thirdly, all the management, including financial provision also lies solely in the hands of Dr.Gilis himself. Moreover, according to his own calculations, he still has 14 free hours a week left for him besides the weekend rest and eight daily hours of sleep absolutely necessary for maintaining working capacity.
In general, communicating with Dr. Gilis leaves an impression that the man has no problems. Everything is done by himself, often by method of trial and error: in 1992, "80 per cent of the day was spent on solving organisational issues, now they take just half an hour". Since 1985, Janis Gilis has been working for the Republican Centre of Plastic Microsurgery, continuing his practice there even now. Two years were spent in Moscow doing fieldwork. After returning, he decided that private practice could lead to better success both in terms of medical career and in terms of financial means. After additional training in Canada and the USA, he assessed his abilities and opened his own clinic. Of course, during the first years, credits had to be taken under inconceivable terms - with annual interest rates at 60 to 80 percent. Today, the clinic is maintained on its own income.
It should be noted that for now the medical establishment renting part of a floor in a building once held by the KGB medical service looks quite modest. According to Janis Gilis, the clinic is soon moving to another building not far from the current location boasting modern interior design. The doctor explained that contemporary methods of plastic surgery do not require long stays in hospital - a day is more than enough. In most cases, patients leave the clinic immediately after surgery. The boy with the dog bitten nose didn't stay overnight either.
The above mentioned is particularly true for extra modern surgeries involving the use of laser equipment - some of the best in the world. "Such equipment cannot be found anywhere in the radius of a thousand kilometres from Riga" proudly stated Dr. Gilis. At the moment of our interview, people had queued up for surgery one and a half months ahead. It did take five years of hard work, however, to attain these queues.
Actually, the clinic does not have to face a lack of patients. The bulk of them - 80% - are local people. The rest come mainly from the West: from Great Britain, Sweden, Finland, Germany, the Netherlands, Poland, USA and even Australia. Usually they are either descendants of Latvian emigrants or people with business links to Latvia. Why do patients come from Australia? Similar surgery costs 14 000 US dollars over there, while you can get the same for a mere 2 000 dollars in Riga. Since the Russian crisis, the number of patients from Russia and the CIS countries has diminished.
The Riga clinic has set no priority for any certain direction. Breast implants are performed here, as are facelifts. Treatment of post-traumatic scars and the removal of fat layers too. Janis Gilis with his colleagues and brothers - Dainis, practising in the field of urology and male illnesses, and Valdis, specialised in paediatric surgery, - have to cope with a variety of medical problems.
Janis told us that he will never forget the girl who had her arm torn off by a tractor - she now sends her drawings to doctor Gilis. Or the boy, who had to have his hand put back on not so long ago - his main artery had even been cut through by glass. Amazingly warm words came from Dr. Gilis on women who had suffered from a lack of breasts. "After surgery they become completely different women - both at home and at work." The number of ladies made happy by him continues to grow.
During the eight years of existence, 9 thousand patients have passed through the clinic. If in 1992 Dr. Моlis made 50 surgeries, in 1998 - 1999, he has provided surgical help to 550 people.
Riga
---