© 1996 — 2016 The Baltic Course.
All rights reserved.
При ретранслировании материалов обязательна гиперссылка
на источник
www.baltic-course.com

Распечатано: 23.05.2018.
РаспечататьElina Egle: Latvian government works more constructively now
Nina Kolyako, BC, Riga, 13.11.2009.

The work of Prime Minister Valdis Dombrovskis (New Era) government has become more constructive, as the Employers' Confederation of Latvia (ECL) Director General Elina Egle said in an interview with the business information portal "Nozare.lv".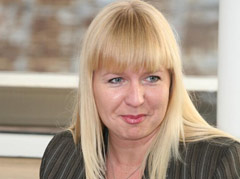 Elina Egle.
"After all the government's frenzied activity in spring and summer, and as a result of external pressure and observing the economic and social situation risks, now the government works in a much more constructive way, I believe," Egle said.
In Egle's opinion, lately there has been less political rhetoric in Cabinet meetings and the ministers come up with more constructive proposals. She underlined that the work style that the government adopted in October could be a good starting point for constructive work further on, but at the same time she admitted that it is hard to say how long the government will remain stable and willing to cooperate, writes LETA.
In Egle's view, the actions by Dombrovskis' government have become more focused, compared with the work of the past governments, and the government now is efficiently tackling the current problems.
Egle comments that Dombrovskis is a more democratic premier than his predecessor, Ivars Godmanis (Latvia's First Party/Latvia's Way), who was very dynamic and "authoritarian". However, Dombrovskis may be reproached for lacking teamwork and leadership skills.
Egle pointed out that it is very difficult to say at the moment what will happen in Saeima when the 2010 state budget plan is reviewed in second reading, and how socially responsible politicians will be.
http://www.baltic-course.com/eng/analytics/&doc=20460