International Internet Magazine. Baltic States news & analytics
Wednesday, 01.04.2020, 23:13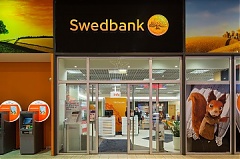 19.03.2020
Sweden's Swedbank has been fined with SEK 4 bn (EUR 360 mln) for serious deficiencies in its management of the risk of money laundering in its Baltic operations, the bank informed LETA.
03.03.2020
A Latvian police convoy on Tuesday brought Kristine Misane, a Latvian national who had been detained in Denmark on suspicions of kidnapping her child, back to Latvia, according to information obtained by LETA.
03.03.2020
The Polish court today decided not to extradite Russian citizen Vyacheslav Ivanov, allegedly involved in laundering of EUR 50 mln in ABLB Bank, to Belarus, Ivanov's lawyer told LETA.
03.03.2020
Vilnius Municipality and the municipal heat supply company Vilniaus Silumos Tinklai (VST) are seeking 560 mln euros from France's Veolia, a former operator of the Lithuanian capital's heating sector, in their Stockholm arbitration dispute, up from the previously announced amount of over 400 mln euros, informed LETA/BNS.
02.03.2020
As the Central Bank of Kosovo has not provided an explanation or solution regarding the revocation of the licence from the Kosovan arm of the Estonian fintech company IuteCredit, the parent company has submitted a request for arbitration to the International Court of Arbitration of the International Chamber of Commerc, informed LETA/BNS.
02.03.2020
A joint proposal by Transparency International (TI) chapters in Estonia and Latvia, Ministry of Justice of Estonia, School of Data in Latvia and Open Knowledge Estonia, aiming to harvest open data for early detection of conflicts of interest in public procurement, has made it to the to the final of International Monetary Fund's (IMF) Anti-Corruption Challenge, writes LETA/BNS.
26.02.2020
Over 100 Lithuanian residents have lost hundreds of thousands of euros while investing via Cyprus company Royal Forex LTD and its investment platforms GMO trading, but the central Bank of Lithuania admits chances of recovering the money are slim, the public broadcaster LRT's investigation division information reports LETA/BNS.
24.02.2020
A Danish court on Monday delivered an official ruling to extradite Latvian citizen Kristine Misane to Latvia, Misane's lawyer in Denmark, Henrik Stagetorn, confirmed to LETA.
21.02.2020
Norwegian police investigating suspicions of employee exploitation by Vlantana Norge have searched the Lithuanian-owned haulage firm's premises, frozen its banks accounts and seized seven trucks, according the 15min online news site reported LETA/BNS.
21.02.2020
The Estonian Information System Authority (RIA) registered 251 cyber incidents during January, more or less the same as the average for the previous year, and the authority also said that a new type of financial fraud is spreading where criminals target the customer base of large companies with fake invoices, writes LETA/BNS.
20.02.2020
Latvian honorary consul to Ukraine, Yuri Ignatko, has been caught on the Ukrainian-Hungarian border on February 19 with contraband cigarettes in his car, according to the Latvian public television LTV7 reports informed LETA.