International Internet Magazine. Baltic States news & analytics
Tuesday, 28.01.2020, 23:10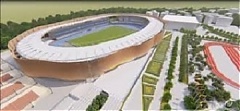 22.01.2020
Turkish construction company Kayi Insaat has appealed against the decision by the authorities of Kaunas, Lithuania's second-largest city, to terminate its contract on the construction of the Darius and Girenas Stadium, informed LETA/BNS.
16.01.2020
he Saeima today decided to ask the Danish authorities not to extradite Kristine Misane, a Latvian citizen accused of abducting her own child, to South Africa.The decision was made with 92 votes, informed LETA.
14.01.2020
Part of assets of Grigeo Klaipeda, a local cardboard producer that released untreated wastewater in the Curonian Lagoon, has been arrested, its managing director Tomas Ekinas confirmed it to LETA/BNS.
14.01.2020
Border guards at Riga Airport on Monday identified ten Russian citizens with passports bearing forged stamps, LETA was told by the State Border Guard.
13.01.2020
Administrative District Court has banned German retailer Lidl from constructing an access road to its store on Dzelzavas Street in Riga as the project is presumed to be unlawful, LETA was told at the court.
08.01.2020
Specialists from Lithuania's Environmental Protection Department plan to carry out an unplanned inspection of Grigeo Klaipeda, a Klaipeda-based cardboard producer, amid an ongoing investigation by the country's law enforcement into alleged pollution of the Curonian Lagoon, informed LETA/BNS.
08.01.2020
In the projects arranging the Latvian-Russian border area, at least EUR 7.4 mln of state budget resources and property have been spent illegitimately, the State Audit Office information referred LETA.
08.01.2020
Lithuanian prosecutors on Monday launched an investigation into environmental pollution involving untreated wastewater in Klaipeda. Based on information from the Environmental Protection Department, Grigeo Klaipeda, a company operating in the seaport, is responsible for the pollution, informed LETA/BNS.
02.01.2020
The State Police arrested gold worth EUR 350,466 and properties worth EUR 1.5 million as a result of investigation into of large-scale drug business, LETA learned from the police.
02.01.2020
Bailiff Risto Sepp is to sell Ocean Spirit, a vessel owned by the Icelandic company IMG ehf, with a starting price of 1 mln euros, informed LETA/BNS.
27.12.2019
For about 50 years, the EU legal system, which is predominantly of a civil law character, has been affected by a rather different legal structure, the British common law system. After the UK joined the EU in 1973 the two systems have been accommodating to each other, with some pros and cons. Now, after Brexit, the "dichotomy" will be over and the EU would have a unified continental civil law system for all its 27 member states.