International Internet Magazine. Baltic States news & analytics
Wednesday, 01.04.2020, 23:40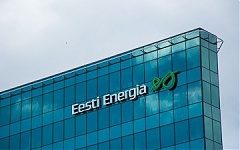 27.03.2020
The Estonian government has authorized Minister of Finance Martin Helme to increase the equity capital of state-owned energy company Eesti Energia by means of a cash contribution of 125 million euros to enable the establishment of a new Enefit 280 oil plant by Eesti Energia, reported LETA/BNS.
06.03.2020
Fermi Energia, an Estonian company exploring the possibility to set up a small modular nuclear plant of up to 300 megawatts in Estonia, is looking at the region of Tostamaa as one potential location for the would-be power plant, according to the Parnu Postimees articles writes LETA.
06.03.2020
Amid a decline in tractor sales, Lithuania's agricultural equipment trade company East West Agro (EWA) is planning to open a trade and service center in the western part of the country this year and is looking for a strategic investor, the business daily Verslo Zinios reported
05.03.2020
Last year saw 27 merger and acquisition (M&A) transactions with a disclosed value of 415 mln euros in Estonia, it appears from the Baltic M&A Monitor 2020 analysis carried out by law office chain Ellex and Mergermarket writes LETA/BNS.
05.03.2020
Due to the increasing interest of tenants and investors, East Capital Real Estate has started actively mapping and certifying environmental efficiency of its real estate portfolio. In February the Metro Plaza office building received the BREEAM (Building Research Establishment's Environmental Assessment Method) certificate, which is issued according to the most highly valued assessment method in the world. In summer of last year this certificate was also issued to the A13 office building located in Mustamäe that, too, belongs to the portfolio of East Capital Real Estate.
03.03.2020
The European Bank for Reconstruction and Development (EBRD) is set to exit E Energija, a Lithuania-based energy group, but is ready to lend money for its green energy projects, according to the Verslo Zinios information reported LETA/BNS.
02.03.2020
Vejo Parkai, a company owned by Enefit Green, a subsidiary of Estonia's Eesti Energia, and foreign-owned Windfarm Akmene One are planning to build a total of around 50 wind turbines with a total capacity of almost 300 megawatts (MW) in the northern Lithuanian district of Akmene, informed LETA/BNS.
27.02.2020
The Three Seas Initiative Investment Fund (3SIIF) in Central and Eastern Europe will support transport, energy and digital infrastructure projects. The Fund's investments will contribute to the economic development of our region and matching high standards of infrastructure.
27.02.2020
The European Investment Bank (EIB) has signed an EUR 18 million loan agreement with the Development Finance Institution Altum (Altum) to finance energy efficiency projects in Latvia, Altum representatives informed LETA.
27.02.2020
Green Genius, a renewable energy company which is part of the Modus Group owned by Lithuanian businessman Kestutis Martinkenas, is launching operations in Hungary and Romania and plans to invest over 300 mln euros into solar energy projects in these countries.
26.02.2020
Estonian and Latvian property developers Novira Capital and Regals Nami will invest about 40 mln euros in a seven-story office building in Riga, reported LETA.