International Internet Magazine. Baltic States news & analytics
Wednesday, 20.06.2018, 04:43
Pietiek: Egle had lobbied airBaltic, Citadele and Pasazieru vilciens
Alla Petrova, BC, Riga, 14.06.2012.

Print version
The former director of the Latvian Employers' Confederation – Elina Egle, was sacked earlier this week as President Andris Berzins' adviser on economic, business and employment matters, because she was lobbying the interests of specific businessmen and used her status to gather confidential information and relay this information forward to the mentioned businessmen, according to unofficial information obtained by the investigative news portal Pietiek.com.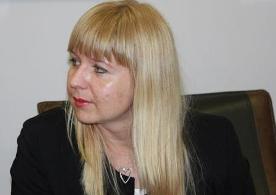 Elina Egle. BC's photo.
The announcement made by Riga Castle yesterday was to give a clear signal that Egle is not authorized to speak in the president's name anymore, writes LETA.
According to the portal, Egle showed heightened interest in the Pasazieru vilciens train procurement, the sale of state-owned Citadele Banka, as well as the situation surrounding Latvian national airline airBaltic. Egle used her position to gain confidential information from the Transport Ministry and the Economy Ministry in regard to the train procurement and the sale of Citadele.
Even though the methods used to gather such information is nothing out of the ordinary, there is suspicion that Egle used her position to gain this information for specific businessmen, and that she relayed this confidential information to them, the portal writes.
President Berzins had spoken to Egle on several occasions recently to find a discreet way for her to leave his team, however, she did not agree to this. Later, she was taken off the president's delegation during discussion with Lithuanian President Dalia Grybauskaite earlier this week. The president then gave Egle a last chance to step down, otherwise the information regarding Egle would be made public and she would be sacked.
As reported, it has been decided to terminate employment relationship with the president's adviser on economic, business and employment matters Elina Egle, LETA was informed by the Presidential Chancery yesterday.
Therefore Egle no longer represents the president when expressing official opinions or participating in public events, pointed out the Presidential Chancery.
"The president makes decisions regarding his advisers. It was his personal decision, LETA was informed the president's press secretary Liga Krapane, declining to comment the reasons behind this decision.
Commenting the situation yesterday, Egle told LETA that she is currently ill and has learned from the mass media that her employment relationship with the Presidential Chancery has been terminated.