International Internet Magazine. Baltic States news & analytics
Wednesday, 20.02.2019, 03:24
Lithuania's OSCE Chairmanship emphasized the importance of a competitive and sustainable transport system
Danuta Pavilenene, BC, Vilnius, 06.04.2011.

Print version
At the conference of the Organization for Security and Cooperation in Europe (OSCE) on sustainable transport development that ended in Druskininkai on 5 April, Lithuania's OSCE Chairmanship emphasized the importance of the development of a competitive and sustainable transport system.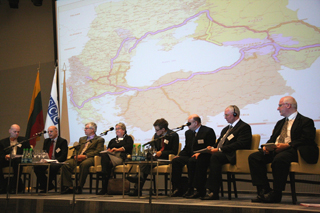 The conference in Druskininkai, 5.04.2011. Photo: urm.lt
Lithuania, in cooperation with other European Union's member states, will aim to be among the leaders in developing a competitive, efficient, economical and environmentally-friendly transport system and intends in the next decade to implement initiatives, designed to increase mobility, clear the hurdles in the transport sector and enable sustainable economic growth, informed BC Lithuanian Foreign Ministry.
The European Commission's White Paper that contains a set of recommendations on how to create a single EU's transport space was presented at the conference. The main aims of the recommendations are transport's competitiveness and efficiency.
At the conference, Lithuanian representatives also emphasized the necessity to develop green transport corridors, which would integrate modern technology and intermodal transport solutions.
The participants of the conference highlighted the benefits of a long-term strategic planning, the location of cooperation of the transport system partners at regional and international levels, and analyzed the facilitation of border-crossing procedures, customs transparency and their significance for the fight against corruption.
"To ensure continuity of the OSCE activity, Lithuania's Chairmanship wishes to contribute to the defining of the OSCE's role in the transport field, to strengthen cooperation between partner organizations, modernize the OSCE approach to and activities in the field of transport, including into discussion such an element as the relationship between transport and environmental issues," Ambassador for Energy and Transport Policy Issues of the Economic Security Policy Department of the Ministry of Foreign Affairs of Lithuania Vytautas Naudužas said when giving the closing speech at the conference.
The two-day conference was attended by experts from international organizations, businesses and academic communities, and diplomats from the 56 OSCE participating States and 12 Partner countries.
The participants positively evaluated the tourism infrastructure and the quality of services at Druskininkai resort.
The conference in Druskininkai is the second preparatory meeting of the 19th OSCE Economic and Environmental Forum. At this conference, experts from international organizations, businesses and academic communities, and diplomats discuss how to promote environmentally-friendly transport and increase efficiency internationally.
The Economic and Environmental Forum is the main annual event of the OSCE's economic and environmental dimension. The OSCE Chairmanship proposes the theme each year. The Forum gives political impetus to dialogue on economic and environmental issues related to security and contributes to the generation of recommendations. This year's Economic and Environmental Forum focuses on the "promotion of common actions and co-operation in the OSCE area in the fields of development of sustainable energy and transport".