International Internet Magazine. Baltic States news & analytics
Monday, 25.01.2021, 07:01
16+1: guidelines for integrated transport corridor between China, Europe adopted in Riga
BC, Riga, 17.05.2016.

Print version
The first meeting of transport ministers from 16 Central and Eastern European countries and China (16+1) in Riga yesterday adopted the Riga Guidelines for facilitating development of an integrated transport corridor between China and Europe, Latvian Transport Minister Uldis Augulis (Greens/Farmers) and Chinese Vice-minister of Transport Dai Dongchang said at a news conference, reports LETA.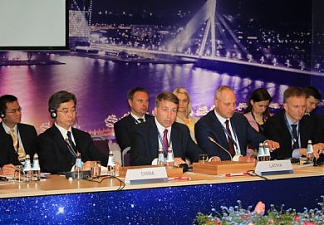 Photo: flickr.com
The meeting chaired by Augulis discussed development of effective Trans-Eurasian supply chains and increased cooperation in transport and logistics.
Adoption of the Riga Guidelines will facilitate development of effective Trans-Eurasian supply chains, strengthen cooperation in transport and logistics to build and improve integrated transport corridors between China and Europe, thus ensuring sustainable and effective cargo transportation. The ministers were also determined to improve information exchange between the countries to strengthen cooperation between the private and public sectors.
The Riga Guidelines call for development of container train routes between China and Europe with emphasis on environmental-friendly rail routes to bolster competitiveness of the New Silk Road land routes.
The countries undertook to improve border crossing by removing bottlenecks and reducing administrative burden. High importance of China's One Belt, One Road initiative focusing on connectivity and cooperation in Eurasia was recognized.
The 16+1 Coordinating Secretariat on Logistic Cooperation was also launched today. Latvia was selected as the coordinating country for logistics during the China-Central and Eastern Europe 16+1 summit in 2015 in Suzhou.
The 16+1 business conference will be held in Riga on Tuesday to discuss the need for continued development of innovative, sustainable, efficient and safe multi-modal supply chain solutions, transport corridors and routes linking Asia and Europe to satisfy the growing trade.
The China and Central-Eastern European countries cooperation formal (16+1) promotes cooperation between China and 16 European countries - the Czech Republic, Estonia, Hungary, Latvia, Lithuania, Romania, Slovakia, Slovenia, Bulgaria, Croatia, Poland, Macedonia, Montenegro, Serbia, Albania, Bosnia and Herzegovina - in different areas, including transport.