International Internet Magazine. Baltic States news & analytics
Sunday, 20.05.2018, 22:34
Riga popularized as 2014 European Capital of Culture in Beijing
Nina Kolyako, BC, Riga, 27.06.2012.

Print version
Today, "Riga 2014" foundation head Diana Civle popularized Riga as the 2014 European Capital of Culture during the 2012 Beijing Forum on the Sustainable Development of Cities and a discussion on sustainable urban development from a cultural point of view.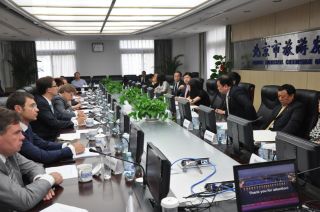 Photo: riga.lv
During her presentation, Civle pointed out that the energy of culture fosters the development of other sectors, ranging from tourism to innovations, LETA was informed by Riga City Council representative Anna Kononova.
"Every person's creative potential is important to us. People involve in urban development through creative manifestations, forming urban cultural space and strengthening ties among various generations, thus ensuring urban sustainability," said Civle.
Civle informed about Riga's program as the European Capital of Culture, inviting Chinese and other forum participants to participate in the 2014 World Choir Games in Riga.
The project of the European Capital of Culture will not only help to introduce Riga to Europe and the entire world, it is already helping to establish creative cooperation with other European cities, creating various cooperation networks and implementing joint projects, emphasized Kononova.
Today, Riga Mayor Nils Usakovs (Harmony Center) also addressed the 2012 Beijing Forum on the Sustainable Development of Cities, emphasizing the importance of social support in sustainable urban development, LETA was informed by Usakovs' press secretary Anna Kononova.
The forum has brought together Beijing, Washington, Bangkok, Budapest, Chisinau, Copenhagen, Tel Aviv and other city mayors.
Usakovs pointed out during the forum that, in order to ensure favorable and sustainable urban development, the Riga City Council set social support for residents (in its broadest sense) as the municipality's priority in 2009. "Social support includes social aid, a municipal housing program, well-functioning municipal police and a large-scale school and kindergarten renovation program. All these activities ensure positive social atmosphere in the city," explained the mayor.
He also mentioned the Riga City Council's program for reconstruction and development of Riga parks and green areas, launched this year, and pointed out that, regardless of the rather severe weather conditions every winter, cycling becomes increasingly popular in Riga. 30 percent of residents use bicycles, 8 percent – on a daily basis.
Usakovs emphasized Riga's role as the Baltic metropolis of culture and the importance of the city's status as the European Capital of Culture in 2014. The mayor also noted the significance of a successful tourism policy in sustainable urban development, explained that Riga wishes to attract more Chinese tourists, and thanked the city of Beijing for the opportunity to become a co-founder of the World Tourism Cities Federation.