International Internet Magazine. Baltic States news & analytics
Monday, 28.05.2018, 08:18
Estonia supports development of e-state and democratic changes in Tunisia
Juhan Tere, BC, Tallinn, 18.06.2013.

Print version
At a meeting with Tunisian Foreign Minister Othman Jarandi on Monday, Estonian Foreign Minister Urmas Paet said that Tunisia's initiative to organize an internet freedom conference is a good example for other countries in the region to promote freedom in cyberspace as well, reported BC the Foreign Ministry of Estonia.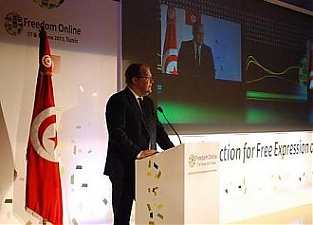 Photo: flickr.com
"In addition to promoting internet freedom, Tunisia has been the quickest on the path to reforms compared to other countries in the region. The next Internet Freedom Coalition conference will be organized next year by Estonia," he added.
The foreign minister confirmed that Estonia as well as the entire European Union are prepared to continue supporting Tunisia in its implementation of democratic reforms.
"For example, Estonia has contributed to promoting open governance and e-governance in Tunisia," said Paet. "Estonia will continue supporting Tunisia's development as an e-state through its development co-operation activities," the foreign minister added.
According to Paet, Tunisia would like to become a more democratic and open country through the reform process.
"It is positive that the Tunisian government wants to become more open and involve its citizens more actively in its decision-making processes. The country sees great potential in adopting modern information technology solutions," said Paet. "New technologies and developing an e-state help to increase transparency, combat corruption, and facilitate peoples' involvement in the governance of the state," he added.
Paet and Jarandi also spoke about developing Estonia and Tunisia's bilateral relations. They spoke at length about visa waivers. Foreign Minister Paet stated that it is good that Estonian tourists that travel to Tunisia with tourism groups are free from the visa requirement.
"However, Estonia would like for travel opportunities to expand and for the visa waiver to extend to individual travelers as well," he said.
The Tunisian foreign minister took a positive view of Estonia's proposal.
Paet said that Estonia would also like to begin holding regular political consultations with Tunisia. "Tunisia has good expertise regarding developments in the Middle East as well as Africa," he added.
The ministers also discussed opportunities to intensify economic relations between the countries. Paet said that economic relations between Estonia and Tunisia have not been very intensive to date, and in order to advance them reciprocal visits by business delegations could be organized.
Paet also invited his Tunisian colleague to visit Estonia.