International Internet Magazine. Baltic States news & analytics
Thursday, 18.10.2018, 21:56
Rinkevics calls for strengthening of strategic partnership between the EU and the US
BC, Riga, 06.12.2017.

Print version
On Tuesday, Latvian Foreign Minister Edgars Rinkevics took part in the meeting of the Foreign Ministers of the European Union and the United States of America, at which the participants emphasized the need for building a closer and more active cooperation between the EU and the US in the field of energy, strategic communications, and cyber defense, informs LETA.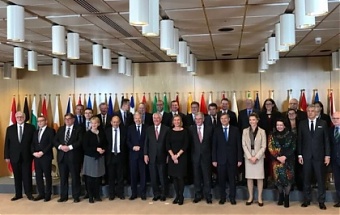 Photo: mfa.gov.lv
Rinkevics called for a continued coordination of positions between the EU and the US to achieve the fulfillment of the Minsk agreements, and he stressed that there are no grounds for lifting sanctions against Russia before the full implementation of the agreements. In relationship with Russia, the Minister urged to sustain the dual-track approach of deterrence and engaging in dialogue in the areas of interest.
The Latvian foreign minister expressed support for the work of the EU-US Energy Council and increased exports of the US liquefied gas and other energy resources. The EU's Energy Union with interconnected liquefied gas terminals and gas pipelines will reduce the dominance of a single gas supplier in Europe, the minister noted.
Rinkevics shared his positive opinion about the resumption of trade negotiations between the EU and the US, as soon as the US is ready for that. The Minister noted that such a development would open up new opportunities for economic growth on both sides of the Atlantic.
In a discussion on a dialogue between the EU and the US on cyber security, Rinkevics called for coordinating the position on processes in cyber-space, especially on matters of internet governance, while advocating the development of an open and safe cyber-space. The minister also urged the EU and the US to develop cooperation in the fight against cyber threat – through enhancing cyber-security, protecting critical infrastructure and countering disinformation.