International Internet Magazine. Baltic States news & analytics
Thursday, 26.05.2022, 11:19
Russian startups are choosing the Baltic States
BC, Vilnius, 20.06.2014.

Print version
Wanting to avoid political risks, attract investors easier, and expand faster in the Western markets, Russian startups are choosing the Baltic States, Ugnė Karaliūnaitė wrote in DELFI.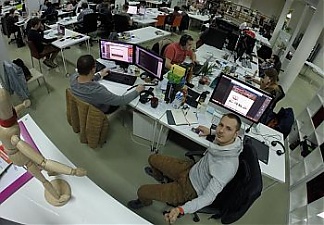 Alexey Sheremetyev and the team of Planner5D.
Recently the Russian startup Game Insight announced that it is transferring its main headquarters to Vilnius and a week ago the team of startup Planner5D from Moscow started working in Lithuania as well.
The interior design tool makers from Planner5D, Alexey Sheremetyev and Sergey Nosyrev, have been working from Vilnius for a week now. They plan to move more of their team to Lithuania soon. A. Sheremetyev describes why the team chose Lithuania.
- Why did you choose Lithuania out of all other European states?
- The climate in Lithuania is very good and the country is near to Russia. It is comfortable living here. Previously we dedicated most of our attention to the Russian market and that was where our headquarters were based, thus it is important for us not to be too far away.
Also, Lithuania is an EU state, allowing convenient travel to Western states from here. Furthermore, not all of our team's members speak English so it is convenient living in Vilnius due to the ease of communicating in Russian here.
- Do you plan to move your whole team to Lithuania or still keep an office in Russia?
- Part of the team will remain at work in Russia, but our main headquarters will be in Vilnius.
- Recently there have been many discussion concerning the founder of the social network Vkontakte, Pavel Durov, and his announcement that he and his team are leaving Russia due to political pressure. Are you moving due to political reasons as well?
- No, definitely not. There are no politics involved in our decision. The main reason we are moving is the desire to reach the Western market (Europe, USA). It is far simpler to reach these markets from Lithuania as being in Russia puts you at a large distance and makes it impossible to directly interact with partners.
I do not know how P. Durov feels, but speaking of me and other startups that I know of, we have had no such issues. I had no bad interactions with the government. Quite to the contrary, the Moscow offices we used were freely given to us as a startup by Russia.
Russia has many acceleration programs and incubators for young entrepreneurs, so I think the situation is good.
- While looking for a location to move to, did you consider any other European countries?
- Yes, we considered many states, but finally settled on Lithuania. We also thought about the USA. We were there a few years ago and spent a month, but for now Lithuania is a better place to work.
- What size team will work in Vilnius?
- Currently it is just the founders, Sergey and me. We plan to have another two or three staff members come to Vilnius from Russia. We also plan to look for local staff.
- Tell us about your startup, Planner5D.
- Our project allows interior design, using virtual space without having specialist knowledge.
In 2010 Sergey and I were working in a certain company as designer and programmer. We had many projects together. While working, we faced the same problem while taking care of our own homes. I had just bought a flat and planned to furnish it, while Sergey had bought some land and planned to build a house on it. We tried finding an electronic tool that would help us create some designs, but found none.
Certainly there were several projects, but they did not satisfy us. We wanted a good product. We created a prototype and realised we could make this happen.
Unfortunately we left the product and forgot about it for a year. After that I saw on Facebook that investor Igor Matsanyuk was looking for new teams to invest in. We decided to give it a go. I wrote an email and we received a response on the same day.
We immediately dropped our jobs and were sitting in a new office within two days, creating our product.
- How big was the investment you received?
- 150 thousand US dollars. Initially we worked together. Only after a few years of work we started to expand our team because we reached a point where we couldn't manage everything on our own in an acceptable time.
- How did your business develop further?
- The beta version of our product was released in about half a year, but we did not market it. We simply released the product and asked friends and colleagues to comment on it.
We released the live version in another six months.
We were very surprised. When we started on the product and thought about our users, we didn't think it would become this popular. We thought the user base would be limited and that few people plan interior design.
We estimated having 100 thousand users within the first year and a million within several years. Instead we had 30 thousand users in two months, 200 thousand users in yet another month and one million within half a year.
After two and a half years we have more than 3.5 million registered users.
- Who are the main users of Planner5D?
- About 25% come from Russia, 15% from the USA and 10% from Brazil. The rest come from a variety of other countries.
- Do you have any strong competitors? What are your strengths?
- We believe we are among the top three leading companies in the sector. When we started the company we decided to make it as convenient as possible. We did not require Flash, plugins or any extra downloads to use the program. There are many products like ours, but most of them are either paid, or complicated, or inconvenient for the client.
- How do you plan to monetise your business?
- One of the ways is to sell specific furniture over our website, another would be the ability to buy extra functionality.
- Thank you for the conversation.
- The startup from Russia, Planner5D that has moved to Lithuania is participating in the business accelerator StartupHighway programme. The startup has been funded by Russian investor Igor Matsanyuk and the fund IMI.
StartupHighway representative Jonas Gavelis states that Lithuania is tempting Russian startups because while working here they are no longer seen as Russian businesses, hence reducing the political risks that would need to be accounted for otherwise.
"This makes their company immediately more valuable in attracting further investment," believes J. Gavelis.