International Internet Magazine. Baltic States news & analytics
Sunday, 24.06.2018, 19:32
Wizz Air to open new base in Riga and launch new flights
BC, Riga, 20.03.2014.

Print version
Low-cost airline Wizz Air will open its Riga base with one new "Airbus A320" aircraft on June 19, commencing flights on four new routes, informs Nozare.lv/LETA.
These include flights from Riga to Barcelona, Doncaster Sheffield Airport, Dortmund and Paris (Beauvais), and Wizz Air will also increase the number of flights from Riga to London (Luton) and Oslo (Torp).
Overall, Wizz Air will be performing 25 weekly flights from Riga on eight routes.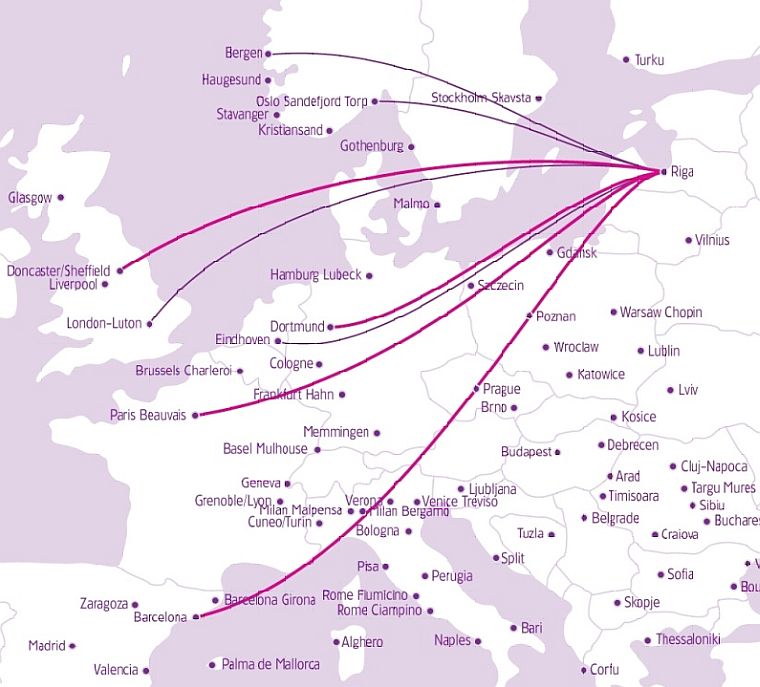 Map of the route network from Riga with highlighted new directions
During a press conference in Riga today, Wizz Air CEO Joseph Varadi said that the airline began its operations in Riga four years ago, whereas already in 2013, Wizz Air annual passenger turnover stood at 200,000 passengers. The new Wizz Air operating base in Riga will create more new jobs at both Wizz Air and the airline's local cooperation partners. Initially, Wizz Air could create around forty new jobs in Riga, said Veradi. Latvia is the tenth country to have a Wizz Air operating base.
On the Riga-Paris and Riga-Barcelona routes, Wizz Air will have to compete with the national airline airBaltic, said Varadi, adding that this would be in passengers' interest as they would have more opportunities to choose from, and that Wizz Air offer would be less expensive. People do not want to spend large amounts of money on traveling and prefer less expensive flights, stressed Varadi. He also said that the airline was planning to expand its operating base in Riga by adding two more aircraft. This is not the first Wizz Air operating base in the Baltic countries – the airline's base in Vilnius was established a couple years ago and currently includes three aircraft.
Commenting on the situation in Ukraine, where Wizz Air also has an operating base, Varadi said that the airline's management would take the appropriate action if necessary, however, this would not have any effect on the operations of the Riga base.
Riga International Airport CEO Aldis Murnieks said that the airport would therefore have a new strategic partner and consolidate its positions as the leading airport in the Baltic countries. At the moment, Wizz Air has approximately 5 percent share at the Riga Airport, but this proportion has been increasing on an annual basis. A Riga-based aircraft could bring 300,000 new passengers to the Riga Airport annually. Murnieks also praised the business-like attitude of Wizz Air, obviously in a reference to Ryanair that has often threatened to leave the Riga Airport. Ryanair had also asked for major investments for the development of its operating base in Riga, whereas Wizz Air has established its base in Riga without making such demands.
Wizz Air currently performs flights from Riga to London, Luton Airport, Eindhoven and Bergen.
Wizz Air is one of the largest low-cost airlines in Central and Eastern Europe. It has seventeen operating bases with 46 "Airbus A320" planes, offering flights to 96 destinations in 35 countries. Last year, Wizz Air carried 13.5 million passengers.