International Internet Magazine. Baltic States news & analytics
Monday, 30.05.2016, 07:59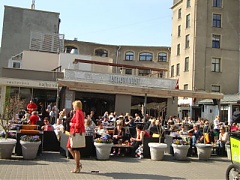 27.05.2016
The number of nights visitors spent at Riga's hotels and other tourist facilities in the first quarter of 2016 rose by 15% against the same period a year ago to 416,956 nights, the Riga Tourism Development Bureau's representative Anna Blaua told LETA.
26.05.2016
Innovation Deals, a new pilot scheme launched by the European Commission on May 26th, aim to help innovators with promising solutions to environmental issues to navigate regulatory challenges to bringing their ideas to market.
26.05.2016
Latvian pharmaceutical company Olainfarm plans that sales of Tonus Elast, the producer of elastic medical appliances Olainfarm has just acquired, will grow by 23% to EUR 9 million, Olainfarm board member Salvis Lapins reported LETA.
26.05.2016
A total of 64 members of the Christian Democratic Union faction of the North Rhine-Westphalia state parliament visited software and business consultancy firm Nortal in Tallinn on 20th May with the aim to learn more about Estonia's e-government solutions.
26.05.2016
More than 35,000 foreigners attended the 550 or so international conferences that took place in Estonia in 2015 and the conference visitors left an estimated 40 million euros here, the conference tourism industry association informed LETA/BNS.
25.05.2016
Uber, a US-based international ride-sharing network that launched operations in Lithuania last fall, opened an engineering center and a ride-sharing services support unit in Vilnius on May 25th. The sum invested in the center is withheld, reports LETA/BNS.
25.05.2016
Finland's stainless steel giant Outokumpu is set to open a multifunctional business services center in Vilnius, Invest Lithuania said on May 25th, cites LETA/BNS.
25.05.2016
Latvian Finance Minister Dana Reizniece-Ozola (Greens/Farmers) and the Finance Minister of Cyprus, Charis Georgiades, in Brussels signed the Convention for the Avoidance of Double Taxation and the Prevention of Fiscal Evasion with Respect to Taxes on Income, the Latvian Finance Ministry said LETA.
25.05.2016
The Tartu-based company Frozen Kingdom OU is developing a game platform for children suffering from chronic illnesses and those being treated in a hospital, informs LETA.
25.05.2016
Latvian pharmaceutical company Rigas Farmaceitiska Fabrika (Riga pharmaceutical plant, Rigas FF) plans to increase its 2016 turnover by 10% by focusing on exports, informs LETA, according to the company's management report for 2015.
24.05.2016
According to the data of the Central Statistical Bureau (CSB) in the 1st quarter of 2016 more than 366.0 thsd visitors stayed in Latvian accommodation establishments, which is 1.6% more than in the corresponding period of the previous year. As compared to the 1st quarter of 2015, the number of foreign visitors grew by 2.5%, and the number of nights spent increased by 7.6%.