International Internet Magazine. Baltic States news & analytics
Wednesday, 01.04.2015, 08:45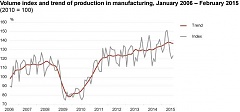 31.03.2015
According to Statistics Estonia, in February 2015, the production of industrial enterprises increased by 5% compared to February of the previous year. Production increased in manufacturing and energy production, but decreased in mining.
30.03.2015
Central Statistical Bureau in Latvia show that compared to January, the total retail trade turnover in February 2015 rose by 1.2%, according to seasonally adjusted data at constant prices.
30.03.2015
The market consultation phase of the Marvele cargo port public private partnership (PPP) has been launched last week. The Lithuanian Ministry of Transport and Communications, the contracting authority for the project, has prepared draft tender documents and is now inviting parties to express their interest and provide feedback until May 8, 2015, reports BC Dainius Normantas from project management department at Invest Lithuania.
30.03.2015
Statistics Lithuania informs that, based on provisional data, in February 2015, the turnover (VAT excluded) of retail trade enterprises* amounted to EUR 601.4 million; against January, it decreased by 4.3% at constant prices (seasonally and working day adjusted – grew by 1%).
30.03.2015
Tallinna Kaubamaja (Tallinn Department Store) general meeting of shareholders approved dividends of 40 cents per share in 2015, or 25 cents more than last year, LETA/Delfi Ärileht reports.
27.03.2015
Software created by the Estonian Ministry of Internal Affairs Information Technology and Development Centre (SMIT) enables scanning documents of train passengers directly to a data information system starting March 2015 on the Tallinn-St Petersburg-Tallinn train route, which means that the handwritten lists that were used for border control for 20 years are finally replaced with a digital system, LETA/Public Broadcasting reports.
27.03.2015
The new Latvian National Library building has been named the best public facility in Latvia in 2014 by the Latvian Builders Association, as the association's representative Aija Zule told LETA.
27.03.2015
Silicon Valley-based accelerator GSVlabs and Riga High Tech University (RHTU) (Riga, Latvia) announce today a partnership to accelerate Latvian tech startups in Silicon Valley.
27.03.2015
The winners of the architecture competition organized by web-based architecture marketplace Katus.eu for prefabricated wooden houses were revealed this week in Tallinn, Estonia. The winning design for the Stavanger development site in Norway came from Estonian architecture firm ARS Projekt (Rasmus Tamme, Reio Raudsepp, Rene Safin, Evelin Eelmaa, Joonas Saan, Kristjan Männigo, Kristina Oolu, Karolin Kõll) and the winning design for the Ülenurme site near Tartu, Estonia came from the Lithuanian firm Paleka Archstudija (Rolandas Palekas, Dalia Zakaite, Mantas Skirmantas).
27.03.2015
With the summer flight schedule setting in at Riga International Airport (from 29 March, 2015), the airline SAS will return to the airport and Ukraine International Airlines and Swiss International Air Lines will start operations. The national carrier airBaltic will open several new destinations, reports BC airport's press service.
27.03.2015
A sturdy plastic bomb shelter created by an Estonian military technology company has attracted worldwide interest and serious negotiations are ongoing with several countries, LETA/Eesti Päevaleht writes.