International Internet Magazine. Baltic States news & analytics
Friday, 30.01.2015, 02:21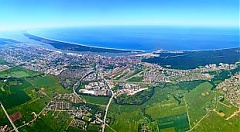 29.01.2015
In January-December 2014, the overall cargo handling in the Baltic Eastern Coast Seaports totalled 122 216 490.8368 161,5 thou. tn; the year-on-year change is +3,6% or +8 12 681,6 thou. tn, reports BC Klaipeda port's press service.
29.01.2015
The total turnover of "Galactico" shopping malls in Riga – "Alfa", "Mols", "Dole", "Origo", and "Galerija Centrs" – run by the shopping center developer Linstow Center Management, increased by 4% in 2014 as compared to 2013, Linstow Center Management spokeswoman Evija Majevska informed LETA.
28.01.2015
According to the preliminary data of Statistics Estonia, the production of milk amounted to 799,300 tons in 2014, which is 4% more than the year earlier. The number of dairy cows decreased by the end of the year, but milk production per cow increased.
28.01.2015
US investors are becoming increasingly interested in Latvian enterprises lately, especially IT companies, according to the international audit, tax, and business advisory company KPMG, reports LETA.
28.01.2015
The Latvian capital Riga has been nominated as one of 20 cities competing for being named Europe's top travel destination in the annual European Best Destination awards 2015.
28.01.2015
According to the preliminary data of Statistics Estonia, cereal production was 1,221,600 tons in 2014, which is 25% more than the year before and the biggest cereal production ever recorded in Estonia.
28.01.2015
For the summer season, the Latvian national airline airBaltic will launch its third direct route from Tallinn, Estonia, linking the city with Vienna, Austria, and significantly strengthening its position in the Baltic region, reports BC Janis Vanags.
28.01.2015
A total of 47 Latvian movies will have their premieres in 2015; 42 of them were produced in collaboration with the National Film Center of Latvia, as the Center's head Dita Rietuma said, cites LETA.
28.01.2015
As member-states of the European Union have finally blessed the Liliputas, a Lithuanian semi-hard cheese, from now on it will be possible to sell it with a protected geographical indication logo, informs LETA/ELTA.
27.01.2015
In 2014, foreign direct investment in Latvia reached EUR 7.259 billion, which is a 2.92% increase year-on-year, reports LETA, according to Lursoft.
27.01.2015
A total of 70.4 million euros were invested in Estonian start-ups in 2014, which is 2.3 times more than in 2013, Äripäev.ee/LETA reports.