International Internet Magazine. Baltic States news & analytics
Thursday, 21.08.2014, 15:06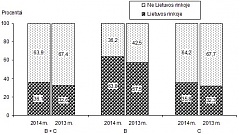 21.08.2014
Statistics Lithuania informs that in July 2014, industrial production totalled LTL 5.8 billion at current prices and, compared to June, grew by 5.5% at constant prices, seasonally adjusted – by 1.6%.
20.08.2014
Travel agency Tez Tour turned over EUR 21,583,681 and earned EUR 446,663, reports LETA/Nozare.lv, according to information provided by Firmas.lv.
19.08.2014
In the first six months of 2014, Latvijas Finieris posted EUR 102 million in turnover, whereas the value of the company's exports was EUR 79 million, which is respectively 4% and 2% more than in the same period of 2013, the company's spokeswoman Jolanta Medne informed the business portal Nozare.lv, cites LETA.
19.08.2014
CSC (NYSE-CSC), a global leader in next-generation IT services and solutions, continues to carry out plans for growth in Lithuania. Through 2015, as a result of the project "Vilnius DC Expansion" 100 new technology employment positions will be created in CSC Baltic IT Services Center which was opened six years ago, informed BC company's press service.
19.08.2014
Baltic ICT Market review, launched by the Prime Investment, indicates that Latvian companies have become successful service providers with high potential in export. According to the research data, local data center operator DEAC reached the largest growth in revenue from IT services, becoming one of the fastest growing companies among major Baltic ICT service providers, informed marketing and development department group leader at DEAC Alina Zizina.
19.08.2014
Lithuania has recently actively developed relations with the United States. US Ambassador Deborah McCarthy met with Minister of Agriculture Virginija Baltraitiene and assured that Lithuanian products are highly valued. Thus, it is in the interest of the two countries to work together on opening the US market to Lithuania, reports LETA/ELTA.
19.08.2014
The Ministry of Agriculture continues the active search of new markets for Lithuanian agricultural products. Lebanon and Serbia have opened their doors to Lithuanian meet, fisheries and dairy products, reports LETA/ELTA.
18.08.2014
Ryanair, Europe's favourite low fares airline, today Ryanair, Europe's favourite low fares airline, today (18 Aug) launched a new payment partnership with PayPal, providing customers, business travellers, travel agents and corporate travel departments with even more ways to book and pay for the lowest fares on the Ryanair.com website, informed BC Elina Hakkarainen.
18.08.2014
During the first half of 2014, Latvian forest industry's export increased by 10%, reaching EUR 1.06 billion, compared to EUR 912,307 million in the same period in 2013, according to data provided by the Forest Department of the Ministry of Agriculture, cites LETA/Nozare.lv.
18.08.2014
The average turnover of Latvian companies in the lodging industry has grown by 14.27% since 2011, according to information provided by Lursoft, cites LETA/Nozare.lv.
15.08.2014
The Port Festival 2014, that has become a beautiful tradition, is part and parcel of the annual Riga City Festival. This year the main Port festival events "Ielu muzikas diena (The Street Music Day)", "Kanala Regate 2014 (Regatta of the Canal). The Freeport of Riga Cup" and 24-hour outdoor basketball tournament "Krastu Macs (The Game of Two River Banks)" will take place on August 16-17, 2014, reports BC the port's press service.