International Internet Magazine. Baltic States news & analytics
Sunday, 24.06.2018, 19:23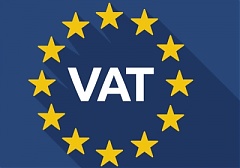 22.06.2018
The Commission has welcomed the agreement reached by the EU states (22.06.2018) on new tools to close loopholes in the EU's Value Added Tax system. Existing inconsistencies can lead to large-scale VAT fraud causing losses of €50 billion for the EU states' budgets each year. New VAT system will provide the EU states with a reliable exchange information system to cooperate closely in combating criminal and terrorist activities.
21.06.2018
The Lithuanian seaport of Klaipeda handled 18.223 million tons of cargo during the first five months of 2018, up 5.8% from 17.232 million tons a year ago, the port's authority told BNS/LETA.
21.06.2018
The listed Estonian builder Nordecon AS has completed the 6.3 million euro construction of an eight-story apartment building in Upplands Vasby in Stockholm County, Sweden, reports LETA/BNS.
21.06.2018
The main construction works under the project for development of port infrastructure in the Krievu Sala area in Riga are to be completed by fall this year, said Ansis Zeltins, CEO of the Freeport of Riga which coordinates the project, informs LETA.
21.06.2018
Latvia's largest grain mill Dobeles Dzirnavnieks operated with EUR 113.7 million in turnover in 2017, which was 27% more than the previous year, the company informed LETA.
20.06.2018
Data of the Central Statistical Bureau (CSB) show that, in 2017 gross energy consumption1 in Latvia comprised 194.9 petajoules (PJ), which is 5.5% more than in 2016. Over the past five years (from 2013 to 2017), the gross energy consumption has not changed significantly, however the share of renewables has increased by 2.55 percentage points.
20.06.2018
Revenue of Lithuania's electronic communications market stood at 167.9 million euros in the first quarter of 2018, up 1.6% from 165.28 million euros in the same period last year, figures from the Communications Regulatory Authority show, cites LETA/BNS.
20.06.2018
The volume of goods transported in Lithuania by all means of transport rose to 35.7 million tons in the first quarter of 2018, up 16.3% from the same period last year, new figures from the Statistics Lithuania show, cites LETA/BNS.
20.06.2018
Representatives of the Estonian island municipality of Saaremaa and the city of Ventspils, Latvia have decided to start searching for a suitable boat to operate a regular ferry service between them already next summer, regional newspaper Saarte Haal reported, cites LETA/BNS.
20.06.2018
Neste Lietuva, the Finnish-capital company operating a network of unmanned stations in Lithuania, plans to open three new stations in 2018, informs LETA/BNS.
19.06.2018
Estonian personal identification services startup Veriff has raised 7.7 million dollars, with the leading investor being Mosaic Ventures, reports LETA/BNS.