International Internet Magazine. Baltic States news & analytics
Sunday, 30.08.2015, 06:32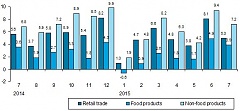 28.08.2015
Statistics Lithuania informs that, based on provisional data, in July 2015, the turnover (VAT excluded) of retail trade enterprises* amounted to EUR 816.7 million; against June 2015, it increased by 5.9% at constant prices (seasonally and working day adjusted – remained unchanged).
27.08.2015
On August 28, 2015, Eesti Telekom will launch Vunk Garage48, an incubator for start-up companies, writes Äripäev.ee/LETA.
27.08.2015
During the first half of 2015, the Latvian forest industry's exports increased by 5.2%, reaching EUR 1.03 billion, compared to EUR 988 million in the same period in 2014, reports LETA, according to data provided by the Forest Department of the Ministry of Agriculture.
27.08.2015
Starman managed to increase their sales revenue as well as profitability in H1 of 2015 in Estonia, writes LETA/Delfi.
27.08.2015
The Tallinn Zoo celebrated their 76th anniversary on August 25th, and it is already clear that this year will be a record year in terms of visitors, writes LETA/National Broadcasting.
27.08.2015
Starting from 26 October 2015, Estonian Air will serve the Örebro-Copenhagen route. The flights will be operated twice a day on workdays and once a day on Sundays with CRJ700 aircraft. The service agreement is valid until 25 October 2018, reports BC airline's press service.
26.08.2015
The new European Commission's investment package will bring 129.6 million euros to the Estonian marine, fishing and agricultural industry, writes LETA/Postimees Online.
26.08.2015
The Latvian airline airBaltic will launch a new route between Tallinn and Stockholm, Bromma airport on March 27, 2016. The new route will offer convenient travel between the two cities and support business communities in both Estonia and Sweden, reported BC vice president of corporate communications at airBaltic Janis Vanags.
26.08.2015
15 years ago, the domestic beverage producer Latvijas balzams started making what was, at the time, the first hard cider in Latvia, Lucky Dog, based on apple juice concentrate and a recipe developed by Latvian food technologists. Today, hard cider with the Lucky Dog brand is available in five flavors and is the second most popular hard cider in Latvia and the 12th most popular alcoholic beverage.*
26.08.2015
In June, as well as in July 2015, the national carrier Estonian Air earned a profit of an average of 200,000 euros, writes LETA/National Broadcasting.
25.08.2015
Statistics Lithuania has reported based on preliminary data that in the second quarter of 2015 investments in tangible fixed assets in Lithuania amounted to EUR 1.4 billion and, compared with the second quarter of 2014, increased by 10%, informs LETA/ELTA.