International Internet Magazine. Baltic States news & analytics
Friday, 22.06.2018, 11:54
Riga airport's passenger turnover increased by 0.5 mln in 2011
Alla Petrova, BC, Riga, 19.01.2012.

Print version
The most popular destinations with flyers from the Riga International Airport were London, Moscow, Helsinki, Oslo and Stockholm in 2011, the airport informed the business portal Nozare.lv. The airport's passenger turnover increased by 0.5 million last year from 2010, setting a new annual passenger turnover record.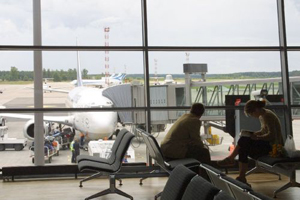 "By serving five million passengers a year, we are officially ranked a medium-size airport," emphasizes the Riga International Airport CEO Arnis Luhse.

Of the total number of passengers registered at the airport last year, 66% were carried by the national airline airBaltic and 20% by the low-cost airline Ryanair. Compared to 2010, the number of passengers increased the most with Wizz Air (62% growth), Finnair (40%) and Aeroflot (34%), writes LETA.

Transfer and transit passengers accounted for 37% of all Riga Airport passengers last year. The most popular transfer and transit destinations were Vilnius, Tallinn, Helsinki, Moscow and Berlin.

"The number of passengers leaving Riga is still larger than the number of passengers arriving in Riga. Last year the difference was 21,000 passengers," says Luhse.

2,563,970 passengers left Riga and 2,542,956 passengers arrived in Riga last year.

"The Riga International Airport continues work on optimization of routes, so we could offer travelers versatile and easily-reached destinations for both leisure and business trips," says Luhse, adding that the airport hopes to serve as many passengers this year as in 2010.

A new airline will start operating flights from the Riga Airport this year, whereas Ryanair will add flights to Karlsruhe in Germany in the spring. Several airlines plan to increase the number of flights: airBaltic will increase the number of flights to Vienna, Zurich, Munich and Amsterdam, Lufthansa will operate more flights to Frankfurt and Aeroflot to Moscow.

As reported, Riga International Airport served a total of 5.1 million passengers in 2011, which is approximately 9% more than in 2010, according to the airport's data.

Last year, flights to six new destinations commenced from the Riga Airport. At the moment, fifteen airlines offer flights from Riga Airport to a total of 82 destinations.