International Internet Magazine. Baltic States news & analytics
Thursday, 21.01.2021, 14:19
"Smart" SMEs projects will be approved by the EU's two institutions: EFSI and EIB
Eugene Eteris, BC/RSU, Riga, 13.12.2017.

Print version
European Parliament adopted Commission's draft for enhancing the European Fund for Strategic Investments (EFSI). Thus, EU legislative institutions supported new EFSI, called EFSI-2.0 version aimed at modernising EU and states' financial resources for "smart" projects from January 2018, while removing existing barriers for investments in European perspective SMEs.
When the EFSI was established, it met with some skepticism; during last 2,5 years things changed and presently the EU together with the European Investment Bank (EIB) wants to activate existing financial resources for "strategic growth" in the member states.
Commission's Investment Plan for Europe focuses on boosting investments to create jobs and growth by making smarter use of new and existing financial resources, removing obstacles to investment and providing visibility and technical assistance to investment projects. The European Fund for Strategic Investments (EFSI) is the central pillar of the Commission's Investment Plan for Europe, which provides financial guarantees and allowing the EIB to invest in more, often riskier, projects.
This final step for EFSI's further active involvement follows the approval initially reached by the European Parliament and the Council in September 2017. See more on:
https://ec.europa.eu/commission/priorities/jobs-growth-and-investment/investment-plan-europe-juncker-plan_en
About EFSI's role
The European Fund for Strategic Investments (EFSI) is the central pillar of the Investment Plan for Europe. It aims to tackle the lack of confidence and investment which resulted from the economic and financial crisis, and to make use of liquidity held by financial institutions, corporations and individuals at a time when public resources are scarce.
The Commission works together with the European Investment Bank (EIB) Group and supports strategic investments in key areas such as infrastructure, energy efficiency and renewable energy, research and innovation, environment, agriculture, digital technology, education, health and social projects. It also helps small businesses to start up, to grow and to expand by providing risk finance.
The EFSI as an EU-budget guarantee instrument provides the EIB Group with a first-hand analytical support; this means that the EIB Group provides financing to higher-risk projects approved by the Commission. Then, an independent EIB's Investment Committee using strict criteria decides whether a project is eligible for EFSI support. There are no sectors or/and by country quotas: financing is purely demand-driven. See more on EU' project's priorities on: https://ec.europa.eu/commission/priorities/jobs-growth-and-investment/investment-plan-europe-juncker-plan/european-fund-strategic-investments-efsi_en
In line with the Commission's 2016 State of the Union address, the EFSI extends its duration and capacity to boost further investments: in this way, the so-called "EFSI 2.0" was born. The idea is to extend the initial three-year period with a target of €315 billion with more than a trillion euros in investments by 2020. It also seeks to place a greater emphasis on additionality, cross-border projects and those helping to achieve the climate change support for SMEs and enhancing the EFSI's geographical coverage. 
Double approach to support business: EFSI & EIB
= The EFSI is going to provide financial support for approved projects (see Table I below) while mobilizing over €250 billion in investments and support for some 528,000 SMEs in the EU states. According to the EIB estimates, by 2020 the EFSI will help creating 700,000 jobs and add 0.7% value to the EU GDP.
= The European Investment Bank (EIB) is the EU's long-term lending institution "owned" by the member states. It makes long-term finance available for sound investment in order to contribute towards EU policy goals. The European Investment Fund (EIF) is part of the European Investment Bank group; its central mission is to support European SMEs by helping them to access finance. 
European Commission Vice-President Jyrki Katainen, responsible for Jobs, Growth, Investment and Competitiveness, commented that the Investment Plan would bring real benefits to European companies. The EFSI's investment decisions will be made more transparent while providing more technical support at a local level. The EFSI's lifetime is also extended to the end of 2020 with final investments of about €500 billion; EFSI has already helped creating about 300,000 jobs.
= European Investment Bank President Werner Hoyer underlined that during more than two and a half years the bank supported thousands of companies and created hundreds of thousands of jobs. The EIB Group's expertise played already an important role in European recovery and the bank wishes to do more.
Box: Tips in financing projects selected by EFSI
The procedure to get EFSI's funding, is going through the EIB approval procedures, so-called EIB standard due diligence. It helps the bank to verify application projects for EIB financing.
The bank's "operational department" approval is then backed by EFSI and finally presented to the independent Investment Committee to decide on the use of the EU-guarantee.
Following a positive outcome of the due diligence process, projects are submitted for approval by the relevant EIB Group Governing Bodies.
See more: http://www.eib.org/efsi/how-does-a-project-get-efsi-financing/index.htm
The projects that applied for EFSI financial guarantees have to fulfill the following basic criteria:   the projects have to be a) economically and technically sound; b) to be in accordance with the EFSI development sectors (so-called EFSI eligible sectors), as defined in Article 9 of the EFSI Regulation*); c) contributing to the EU's development objectives, including sustainable growth and employment; d) mature enough to be bankable; and e) priced in a manner commensurate with the possible risks. See Table I and: http://www.eib.org/projects/cycle/index.htm
*) For EFSI eligible sectors see: Regulation (EU) 2015/1017 of the European Parliament and of the Council of 25 June 2015 on the European Fund for Strategic Investments, the European Investment Advisory Hub and the European Investment Project Portal and amending Regulations (EU) No 1291/2013 and (EU) No 1316/2013 - the European Fund for Strategic Investments. In:
http://eur-lex.europa.eu/legal-content/EN/TXT/?uri=uriserv%3AOJ.L_.2015.169.01.0001.ENG.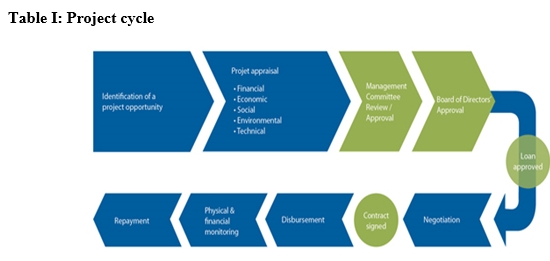 Modernised EFSI 2.0 version
The EFSI 2.0 Regulation is expected to enter into force on 1 January 2018. As well as extending the timeline from mid-2018 to the end of 2020, and increasing the investment target from €315 billion to at least €500 billion, the new and improved EFSI has the following features:
= Increased transparency. Under the new EFSI, the Investment Committee will publish their decisions online, showing the reasons why they chose a project to receive support from the EU budget guarantee. The scoreboard of indicators will be published after the signature of each EFSI project. The new Regulation also gives a more detailed definition of what makes a project eligible for EFSI support, so-called "additionality".
= Larger proportion of sustainable projects. At least 40% of EFSI infrastructure and innovation projects will aim to contribute to climate action in line with the Paris Agreement. EFSI 2.0 also explicitly targets new sectors: sustainable agriculture, forestry, fisheries and aquaculture.
= Greater focus on small projects. Given the success of the EFSI in supporting small companies, with 528,000 SMEs already set to benefit as of November 2017, the extended EFSI will increase the proportion of the guarantee for SMEs from 26% to 40%. The new EFSI also encourages the EIB Group to help national promotional banks set up investment platforms to bundle several small-sized projects by theme or by region in order to attract investors.
 = More technical support at the local level. The European Investment Advisory Hub, which is jointly managed by the Commission and the EIB, is proving a useful resource for businesses in need of technical support to get their project off the ground. In EFSI 2.0, the work of the Hub will be enhanced by providing more tailor-made assistance on the ground and working in close cooperation with national promotional banks.
About the Hub see: http://eiah.eib.org/about/index.htm
= Improving the business environment in the EU. Commission's Autumn Forecast**) and the EIB's investment report has shown that investment levels in the EU are gradually increasing. However, they are still not at pre-crisis levels. The euro area economy is growing slowly (in 2017, at its fastest pace in a decade), with real GDP growth forecast at 2.2%. This is substantially higher than expected in spring 2017 (1.7%). The EU economy as a whole is also having a robust growth of 2.3% in 2017, up from 1.9% in spring. Thus, according to Autumn 2017 forecast, Commission expects growth to continue in both the euro area and in the EU at 2.1% in 2018 and at 1.9% in 2019 (previous Spring forecast for 2018 was 1.8% in the euro area and 1.9% in the EU-28). Source: **) https://ec.europa.eu/info/business-economy-euro/economic-performance-and-forecasts/economic-forecasts/autumn-2017-economic-forecast_en
In the Work Programme for 2018, the Commission suggested to carry out a full assessment of efforts to improve business environment and bring down investment barriers, both at EU and the states' level. Latvian economic forecast see at: https://ec.europa.eu/info/files/autumn-2017-economic-forecast-latvia_en  
More information in: = Factsheet: What is new in EFSI 2?; = Memo: Extension of the European Fund for Strategic Investments (EFSI) – Frequently Asked Questions; = Investment Plan website: latest news and results from the EFSI; = EIB EFSI website: full list of EFSI projects and how to apply for financing; = Advisory Hub: technical assistance for project promoters and small businesses; = Project Portal: free service, matching investment opportunities with investors.
Reference: Commission press release "Final adoption of extended and improved European Fund for Strategic Investments", European Parliament, Strasbourg, 12 December 2017. In: http://europa.eu/rapid/press-release_IP-17-5169_en.htm
Latvian's version: http://europa.eu/rapid/press-release_IP-17-5169_lv.htm