International Internet Magazine. Baltic States news & analytics
Thursday, 04.06.2020, 17:12
New office buildings and conference center in Skanste to contribute greatly to economic development of Riga
BC, Riga, 19.04.2017.

Print version
The most modern office buildings in Riga will be built in Skanste neighborhood in the coming years, which will further contribute to the development of the neighborhood as well as the economic development of Riga and the entire country, according to the conclusions of a conference organized by the Riga City Council and Skanste Development Agency today.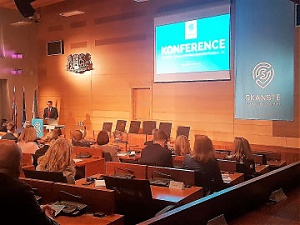 As a result of the development of Skanste neighborhood, there will be around 24,000 jobs in Skanste by 2024, which means the neighborhood will generate more than EUR 32 mln annually in personal income tax. Various business, cultural and sports events will also generate additional income - a conference and concert center alone could contribute more than EUR 20 mln to the Riga economy each year.
"Riga is the heart of the Latvian economy, and its development in the coming years will be determined by export of services. Right now we should focus on services that deal with data processing, intellectual work, such as outsourced business services, information and communication services, financial services," said DNB Banka macro analyst Peteris Strautins. "Services of this kind are provided by companies that require large, quality office space. The lack thereof has limited the ability of Latvia to bring business outsourcing centers here, and we have lost some such investment projects to Lithuania," he added.
Guntars Cauna from company Pillar, the developer of the New Hanza City quarter, said in his presentation that Riga had few modern office buildings to offer. "There is untapped business environment potential in Riga - new jobs can be created by bringing international centers of business services to the city," said Cauna, adding that development of such centers in Skanste neighborhood would create at least 10,000 jobs in three to four years.
However, centers of business services are not the only development opportunity. For several years already, Riga has been in desperate need of a conference center that could host conferences attended by 1,000 and more delegates. As a result, various international events that could be organized in Riga are held in other European capitals, said Sally Greenhill from The Right Solution company.
Building a multifunctional conference center would give Riga economy more than EUR 20 mln annually as well as foster tourist flows, indicated Greenhill. Skanste would make a perfect location for such a center, and the neighborhood has a great potential to become a major generator of economic activity in Riga, she believes.
Arena Riga was built in Riga in 2005 and, as a result, Riga has an advantage over Vilnius and Tallinn in organization of sports events, Latvian Basketball Association's Secretary General Edgars Sneps told the conference. The 2015 European Basketball Championship in Riga contributed EUR 15.3 million to the economy of Latvia, and generated at least EUR 2.2 million in value added tax revenue. The championship was seen by 86,000 spectators, many of which had come to Riga from other countries, which also contributed to the national economy of Latvia, said Sneps.
Development of the Skanste neighborhood is one of the priorities in Riga development strategy. Already in the near future, the new Latvian Contemporary Art Museum will be built in the neighborhood, there will be offices of local and international companies, construction of the New Hanza City complex and many other facilities is under way in the Skanste neighborhood.
The Skanste Development Agency is an association founded by the most important developers and property owners of the Skanste neighborhood.