International Internet Magazine. Baltic States news & analytics
Wednesday, 23.05.2018, 02:18
Riga City Council announces tender for first round of Mezaparks Grand Stage reconstruction project
BC, Riga, 10.01.2017.

Print version
The Procurement Commission of the Riga City Council decided today to announce a tender for the first round of the Mezaparks Grand Stage reconstruction project, Baiba Gailite, a representative of the city council's Property Department, told LETA.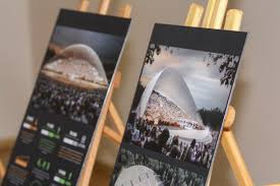 The commission approved the rules of the competition and decided to announce the tender. February 23 is the deadline for bids in the tender.
The Procurement Commission will include not only representatives of the Riga City Council bit also Signe Pujate, director of the Latvian National Culture Center, and Aivars Taurins, CEO of Rigas Mezi municipal forest management company.
Representatives of the local authority indicated that work on the Mezaparks Grand Stage reconstruction project is taking place as scheduled.
As reported, the estimated cost of the first round of Mezaparks Grand Stage reconstruction has increased to EUR 23 mln, while spectator capacity is to increase to 30,000, as Austris Mailitis and Juris Poga, the authors of the reconstruction project, said during a presentation of the project.
The project is to be implemented until the 2018 National Song and Dance Festival, and the reconstruction is to commence at the beginning of summer, said Poga.
The first reconstruction phase will cost EUR 23,176,157. Of this amount, 43% will be spent on reconstruction of the spectator area, 22% on various equipment in the spectator area, 25%on transport infrastructure, and 10 percent on utility systems.
The first round of the reconstruction project was originally estimated to cost EUR 18 mln. According to Poga, the estimate had to be raised as the original one was calculated back in 2009, and new regulations on Mezaparks neighborhood came into force in 2013.
The total area of the complex, 92,000 square meters, will increase by about 50,000 square meters.
Temporary wooden choir stands will be set up for the 2018 Song and Dance Festival, and the maximum number of choristers performing on the stage at a time will increase from 7,510 now to 9,802. The spectator area will increase to 22,197 square meters, and the seating capacity - from 23,000 now to 30,557 in 2018.
The project also envisages construction of four towers to improve lighting of the stage and radio and TV broadcasts, and new underground facilities will be built - public toilets, retail outlets, first aid rooms, and an information center.