International Internet Magazine. Baltic States news & analytics
Tuesday, 16.10.2018, 01:11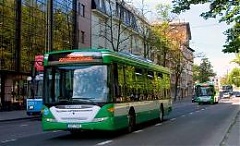 15.10.2018
The supervisory board of the Tallinn public transport company Tallinna Linnatranspordi AS (TLT) has approved the company's investment plan for 2019, according to which TLT next year will purchase 100 new environmentally friendly gas buses and the estimated cost of the procurement is to be 25 mln euros, informs LETA/BNS.
12.10.2018
Transportation of international rail freight increased by 9.3% against January-September 2017 to 35,066 mln tons in the first nine months of 2018, while the amount of domestic freight carried by rail fell 15.4 % to 1.044 mln tons. Transportation of transit freight grew 10.2% y-o-y to 32.53 tons, import freight rose 0.5% to 2.313 mln tons and export freight dropped 11.1% to 222,800 tons. The amount of rail freight shipped through Latvian ports grew 5.8% y-o-y to 28.594 mln tons in the nine months of 2018, and deliveries of transit freight by land jumped 57.9% to 3.936 mln tons. In 2017, transportation of rail freight in Latvia fell 8.4% from a year before to 43.792 mln tons, which included 33.314 mln tons carried in the first nine months of 2017. According to the press secretary of Latvijas Dzelzcels (Latvian Railway), the increase in freight turnover by rail in September was mainly due to traditional types of cargo, mainly coal.
12.10.2018
Kesko Senukai Digital, a company which belongs to the Finish Kesko concern group, closed the transaction in which it acquired 100 % of the shares of the online retail market group 1A and became one of the leading e-commerce platform operators in the Baltic countries.
12.10.2018
The Latvian airline airBaltic starting from October 15, 2018 will gradually introduce new, improved uniforms for flight attendants and pilots. In order to guarantee the best uniform design that would meet all flight crew needs, first an internal sketch contest was held. Designer Inese Alhimoviča then created the new airBaltic uniform collection, informed airBaltic.
12.10.2018
The unaudited consolidated sales revenue of listed Estonian retailer Tallinna Kaubamaja Group in the third quarter of the year was 167.1 mln euros, 3.9% bigger than in the same three-month period of 2017, the retailer told the stock exchange.
11.10.2018
Construction firm Merks, a company of the listed Estonian construction group Merko Ehitus, is due to start building a logistics center for retailer Lidl Latvia in Riga next week, informed LETA.
11.10.2018
With 53 new projects financed with foreign direct investment (FDI) launched in Latvia in 2017, FDI projects grew 39% from 2016, according to a survey on FDI attraction conducted by Ernst&Young (EY), citing LETA.
11.10.2018
The Baltic states have been allowed to join continental Europe's power network, which is one of the key steps in Lithuania, Latvia and Estonia's bid to synchronize their power networks with that of Europe, reported LETA/BNS.
11.10.2018
Provisional data on use of pesticides on cereals, field beans and rape to be harvested in 2017 compiled by the Central Statistical Bureau (CSB) show that, compared to 2012, in 2017 the volume of pesticides1 used on one hectare of cereal cropland reduced by 5.8 % and of that used on one rape hectare by 11.7 %. Last year, 689.3 tonnes of pesticides or 0.98 kg on average per one hectare of sown area were used (1.04 kg in 2012), while rape areas were treated with 159.2 tonnes of pesticides or on average 1.36 kg per hectare of sown area (1.54 kg in 2012).
11.10.2018
The Swedish furniture and home accessories retailer IKEA affirmed in a newsletter published on Wednesday its plan to open a store in Estonia in the coming few years, reported LETA/BNS.