International Internet Magazine. Baltic States news & analytics
Wednesday, 22.05.2019, 22:35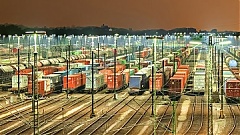 22.05.2019
Germany's rail logistics giant VTG has established a company in Lithuania. VTG Project Logistics Baltics was registered on May 20 with an authorized share capital of 30,000 euros and Violeta Vlasoviene as CEO, according to information from the Center of Registers, reported LETA/BNS.
21.05.2019
The Organization for Economic Cooperation and Development (OECD) in its latest forecast predicts that Latvia's economic growth will be slowest among the Baltic states, reported LETA/BNS.
21.05.2019
Starting from June, the Finnish air carrier Finnair in cooperation with local airlines China Southern and Juneyao Airlines will start offering the possibility to fly to 11 new destinations in China, reported LETA/BNS.
21.05.2019
Atran Airlines, the Russian air express carrier within Volga-Dnepr Group, is introducing new route into its network between Hangzhou, China, an emerging technology hub and home to the e-commerce industry in China, and Riga, Latvia, BC learned from the Riga airport.
21.05.2019
The listed Estonian builder Merko is to build the school and sports buildings of Turi Basic School for 11.4 mln euros and the construction work is scheduled to be completed in August 2020, Merko told the stock exchange.
21.05.2019
Getlini EKO landfill operator is considering a possibility to grow medical cannabis as it would ensure higher return than growing tomatoes and cucumbers, said the company's board chairman Imants Stirans in an interview with LETA.
21.05.2019
Latvia's Sonarworks IT company has raised EUR 5 mln for development from Estonian investors Karma Ventures and SuperAngel, Lithuanian investors Practica Capital, Latvian investors ProksCapital and Imprimature, as well as Turkish investor Revo Capital, LETA was told at the company.
20.05.2019
Pipeline installation of the offshore part of Balticconnector, the Estonian-Finnish gas interconnection, will begin today. In 2018 all preparatory offshore works were completed, and the seabed is now ready for the pipeline to be installed, Elering informed BC.
20.05.2019
Lithuania's state-run energy group Lietuvos Energija (Lithuanian Energy) posted 429.3 mln euros in revenue in the first quarter of this year, up 19.8% from 358.3 mln euros a year ago, informed LETA/BNS.
20.05.2019
Lithuania's largest Vilnius International Airport is set to invest 12 mln euros in to the reconstruction of its platform's northern part due to improper position of aircraft stands, informed LETA/BNS.
20.05.2019
The listed Estonian builder Merko Ehitus is to carry out additional work in the amount of 5 mln euros in the establishment of the Neringa hotel building in Vilnius, informed LETA/BNS.