International Internet Magazine. Baltic States news & analytics
Thursday, 04.06.2020, 04:04
Latvian robotics team victorious in Japan
Nina Kolyako, BC, Riga, 23.12.2014.

Print version
A team of Latvian students from Riga Technical University and University of Latvia has won first place in the prestigious "All Japan Robot-Sumo Tournament International 2014", a feat never before achieved by a foreign team in the tournament's 26-year-long history, reported BC the Latvian Institute.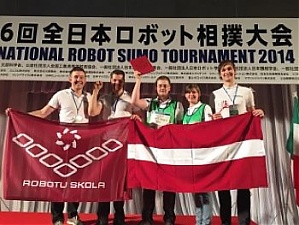 Photo: Robotu Skola.
There were 5 Latvian robots among 48 finalists competing in the autonomous robot category. It is no coincidence either – Latvians are current European champions and have also reaped gold in the U.S. Yet the Japanese tournament is more like the robot-sumo version of the Olympic Games.
Robot sumo wrestlers from 10 countries battled each other at Tokyo's Ryogoku Kokugikan arena, the Mecca of traditional sumo, in the first such event of its kind. The Latvian team named Robotu Skola took the title in the autonomous category at the inaugural International Robot Sumo Tournament, which saw 48 robotic sumo machines face off.
In the autonomous robot event, the machines had to fight on their own in a 1.5-meter-wide ring using pre-programmed movements and sensors to find their opponent and attack. Under the contest's rules, robots must weigh no more than 3 kg and be no more than 20 cm deep or wide. They win by pushing their opponents outside the ring completely.
Many robots had a square shape, like a box, with a blade mounted on the front to assault and push their opponents out. The battles could finish within seconds because the robots move so quickly. For the autonomous robots, it seemed critical to pinpoint the opponent's position and attack from an effective angle.
The engineering teams watched intently during the matches, and the winners did not shy away from expressing their excitement. "I feel very happy to win this championship," said Einārs Deksnis, 25, from Robotu Skola, who won the contest for the autonomous category.
Deksnis, who competed in a trial international match in Japan last year, said he, too, learned from past mistakes and made adjustments.
Organized mainly by Fujisoft Inc., a Yokohama-based system engineering firm, Japan's annual robot sumo competition started in 1990 to boost the motivation and technical expertise of engineers.
Similar events have caught on in other countries, so the organizers decided to inaugurate an international tournament this year. Other teams hailed from Brazil, U.S., France, Germany, Mexico, Poland, Romania Spain, Turkey, Austria, Columbia etc.