International Internet Magazine. Baltic States news & analytics
Wednesday, 26.09.2018, 16:23
New forms of work discussed in Tallinn within the framework of Estonia's presidency in EU
BC, Tallinn, 10.11.2017.

Print version
On November 8th, the Labor Inspectorate of Estonia in collaboration with the Ministry of Social Affairs held a SLIC (Senior Labor Inspectors Committee) thematic day and an occupational health and safety conference "New forms of work and occupational health and safety", informed BC Kristel Abel from the Labor inspectorate.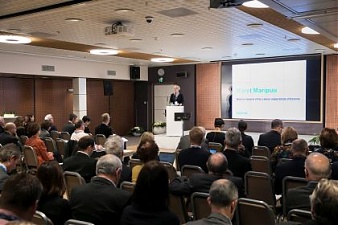 Photo by Oleg Hartshenko.
During the conference held in Radisson Blu Hotel Olympia in Tallinn, experts, practitioners, social partners and scientists were discussing how European high occupational health and safety standards can be ensured and followed at a time when work content, working environment and the relevant habits have changed. The conference is available to watch again at https://livestream.com/eu2017ee/events/7921532.
Mr. Denis Pennel, Managing Director of the World Employment Confederation, talked about employees' and employers' readiness to embrace changes. "Work environment today is more diverse than ever before: the employees are well educated, there are several different generations in the work market. You can hire people to do work from different places of the world, which contributes to the diversity," Pennel said. "We are living in an on-demand economy, where consumers are becoming prosumers - actively contributing to the creating of the service or product they are ordering from the producers and providers," Pennel added.
Aino-Silvia Tali from a start-up company Testlio and Kai Realo from Circle K Eesti shared their experience of new entrepreneurship models and new generations on the labor market. According to Tali, distant work requires a high level of trust between employers and employees - but there can be no work without trust in a traditional office as well. "Team is the most important asset, whether the people are all in the same office or scattered over the world," Tali said.
William Cockburn of the EU-OSHA talked about new work formats and the occupational health and safety regulation. Dr. Jukka Takala, managing director of the Workplace Health and Safety Institute of Singapore, provided an overview of research data to explain what affects employee health and safety.
Andreas Tautz, Chief Medical Officer at Deutsche Post DHL Group, shared the experience of successfully implementing the occupational health and safety system. David Walters, Professor of Work Environment & Director of Cardiff Work Environment Research Centre at Cardiff University, provided an overview of European labor inspectorates, their various models and preparedness for facing new challenges. Håkan Olsson from the Swedish Work Environment Authority talked about the role of the labor inspectorate in the in transformed society. Dr. Stephen Kinghorn-Perry introduced the goal of the Great Britain's occupational health and safety system: risk mitigation control in the changing working environment.
According to the Director General of the Labor Inspectorate, Maret Maripuu, it is already today that companies need to take the options provided by technology as well as changes accompanying expectations of the new generations which are emerging on the labor market into consideration. "Technology allows work to be done at home or in places with a nice climate at the other end of the world. The young want to try various occupations and career paths; they are more open-minded and quick at giving feedback. New work formats increase the worker's share of responsibility for their occupational health," Maripuu added.