International Internet Magazine. Baltic States news & analytics
Saturday, 20.07.2019, 16:53
Rimsevics appoints Razmusa as proxy to represent him on ECB Council
BC, Riga, 10.09.2018.

Print version
Bank of Latvia President Ilmars Rimsevics has appointed his deputy Zoja Razmusa as his proxy to represent him on the European Central Bank (ECB) Council, informs LETA referring to the Latvian central bank's spokesman Janis Silakalns.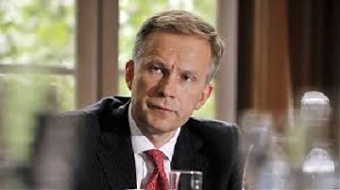 Ilmars Rimsevics. BC.
He said that in this new capacity Razmusa will take part in the ECB Council meeting, scheduled to take place on September 12 and 13 in Frankfurt, Germany.
Silakalns indicated that Razmusa already participated in several previous ECB Council meetings but without voting rights.
As reported, based on the European Union Court of Justice instructions, the Prosecutor General's office has revised security measures imposed on the Bank of Latvia Governor Ilmars Rimsevics, who has been accused of taking bribes, and he will now be able to appoint a deputy to work on the European Central Bank's Council in his stead.
The EU Court of Justice reviewed the ECB's petition seeking a temporary solution, so the Latvian authorities would permit Rimsevics to perform his duties on the ECB Council, or let him appoint a proxy to work on the ECB Council in his place.
As reported, the Corruption Prevention Bureau has started a criminal proceeding against Rimsevics, who is suspected of having solicited and accepted a bribe of at least 100,000 euros. Rimsevics insists he is innocent and therefore will not step down as the head of the Latvian central bank.
For the duration of the investigation, Rimsevics has been banned from performing his responsibilities as the head of the Latvian central bank, from leaving Latvia and from contacts with certain individuals.
Rimsevics has lodged a complaint with the European Court of Justice over the restrictions that prevent him from performing the duties of a member of the European Central Bank's Council. He claims the restrictions had been imposed on him unlawfully.
It has also been reported that the Latvian parliament appointed Martins Kazaks, chief economist at Swedbank Latvia, as a Council member of the Bank of Latvia.