International Internet Magazine. Baltic States news & analytics
Wednesday, 26.06.2019, 23:36
Latvian government responds to Moneyval report
BC, Riga, 23.08.2018.

Print version
Today, August 23, Council of Europe's Committee of Experts on the Evaluation of Anti-Money Laundering Measures and the Financing of Terrorism (Moneyval) has published its 5th Round Mutual Evaluation Report on Latvia, which details the Anti-Money Laundering and Terrorist Financing (AML/CTF) measures in place in Latvia for the reporting period to November 2017. Latvian government has welcomed the report, saying it will help guide and direct ongoing reform efforts.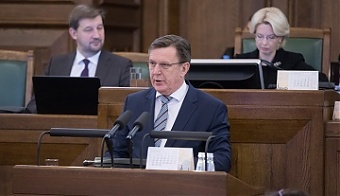 Māris Kučinskis. Photo: mk.gov.lv
The committee found that the Latvian government has cooperated effectively with its foreign counterparts to share financial and legal intelligence and to launch joint investigations on AML/CTF.
The committee also found that Latvian measures in place around "Legal persons and arrangements" and the "proliferation of financial sanctions" had not been adequate.
In particular, Moneval recommended that Latvia should continue improving the measures to ensure that the authorities collect relevant beneficial ownership (BO) information, with particular attention to the LLC sector. It also recommended that Latvia establish a mechanism to compel FIs/DNFBPs to actively verify such information.
The report recommends increasing outreach to reporting entities to improve internal control systems outreach and additional resources to supervisory authorities.
The Latvian government has recognized the need for fundamental improvement in these areas. It has until the end of 2019. Moneyval will include Latvia in its enhanced follow-up procedures until it judges that these improvements have been made.
The Latvian government has thanked the committee for its report and has indicated that this high-quality audit will help Latvia continue to reform its financial sector and ensure that the changes planned meet the latest global AML/CTF standards.
Māris Kučinskis, the Prime Minister of Latvia said, "The government welcomes the publication of the report. It is in line with both the findings of Latvia's National Risk Assessment ("NRA"), published in summer of 2017, and Latvia's "Complementary Measures for Increasing the Level of Conformity of Prevention of Money Laundering and Terrorism Financing" plan.
"Since the beginning of 2018, we have reduced risk in the financial sector by discontinuing service to high-risk shell companies, improved access to information about beneficial owners, and strengthened our laws on the enforcement of national and international sanctions. We are making progress, but we have to keep working hard to achieve our goal of a clean, sustainable, modern financial sector."
Since Moneyval plenary in July this year, when the report on Latvia was considered, the responsible Latvian authorities with the representatives of the Latvian financial industry have begun an extensive consultation process in order to approve a detailed action plan to address deficiencies in AML/CTF measures. They will approve this plan on 11 September this year, during a meeting of the Financial Sector Development Council (FSDC), and it will supplement the government's existing action plan.
Daniel Thelesklaf, Moneyval Chairman, commented during his visit to Riga in a meeting with representatives of FSDC today, "Today, Moneyval's evaluation procedures are more stringent than ever before. The main task for the Latvian government and the sector as a whole is to improve the efficiency of the AML/CTF system. In order for Latvia to continue developing as a recognized financial center, it's necessary to effectively manage all risks that are related to this sector."
Latvia will now submit a progress report ahead of the second Moneyval Plenary meeting, expected near the end of 2019. The government will submit further progress reports on an annual basis until the next on-site Moneyval evaluation which is currently expected in 2022. Latvia can request a move from the enhanced follow-up process to the regular follow-up process, once it can evidence sufficient progress to Moneyval.