International Internet Magazine. Baltic States news & analytics
Wednesday, 26.09.2018, 16:32
Baltic FinMins sign capital market cooperation agreement
BC, Riga/Tallinn, 07.11.2017.

Print version
Baltic finance ministers Toomas Toniste, Dana Reizniece-Ozola and Vilius Sapoka in Brussels on Monday signed a cooperation agreement between finance ministries to develop a regional capital market, reports LETA.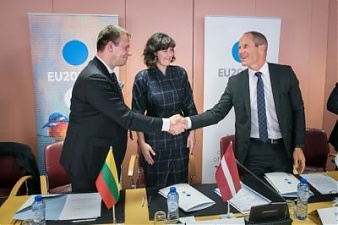 Photo: fm.gov.lv
"The Baltic markets by themselves are relatively small and thus foreign investors often consider us as a joint economic space, even though the regulations here may be quite different," Estonian Finance Minister Toomas Toniste said in a press release.
"Developing a regional capital market is in the interest of all of us and a few lone measures are not enough, we need coordinated activity. Harmonizing the Baltic market would enable foreign investors to more easily conduct business here and would increase their interest in the market here," Toniste said.
For example, Estonia, Latvia and Lithuania are all at present handling a secured bond regulation. "This is definitely a place for thought on how to harmonize the legislation on all three countries so that it would in the future support coming to the market with secured bonds," the minister said.
The crowdfunding regulation is also on the agenda in the Baltic countries. "Ideally we ought to reach a situation in which a crowdfunding platform provider acknowledged in one country could also render its services in other Baltic countries without having to fulfill separate requirements for it," Toniste said.
The signing took place in the presence of European Commission Vice-President Valdis Dombrovskis and European Bank for Reconstruction and Development (EBRD) Vice-President for Policy and Partnerships Pierre Heilbronn.
The realization of the cooperation agreement idea was helped along by EBRD and the European Commission's Structural Reform Support Service (SRSS) project, in which all Baltic states are participating and which helps promote the development of Baltic capital markets. An analysis of the Baltic capital markets will be finished in 2018 with the support of SRSS and help of EBRD, which can be used to develop the long-term strategy of Baltic capital markets.