International Internet Magazine. Baltic States news & analytics
Saturday, 21.04.2018, 08:41
LNG terminal to create new business in Klaipeda City
Petras Vaida, BC, Vilnius, 13.07.2012.

Print version
The future liquefied natural gas terminal near the Kiaules Nugara Island will create a new business in the port of Klaipeda elevating it to the new level, Jura reports.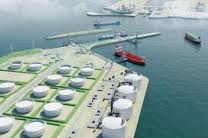 Klaipeda Oil prepares the construction documents for the liquefied natural gas terminal and also analyzes the future functioning of a ships' filling or the so-called bunkering system. The Head of Klaipeda University Maritime Department Vytautas Palauskas noted that the question of ships' bunkering will become especially relevant after 2015.

The requirements for marine fuel ant its sulfur emissions will become much tighter and that will increase the number of gas-powered ships in the Baltic Sea. It is believed that the first ships to use gas will be the route ships sailing in the Baltic Sea and transporting passengers or cargo.

Lithuanian Ship Owners' Association Director Gintatuas Kutka said that the Association has submitted proposals for the Lithuanian Government to seek for a bunkering system in the port of Klaipeda. At the beginning, various ships' owners will look for cheaper alternatives (compared to gas), but later will turn for bunkering. "The new subsidized ships (as happens in Norway) will use ecologically clean fuel: gas," claimed Kutka.

Klaipeda Oil has prepared schemes for re-filling of ships and other small gas tanks. Ships could be re-filled using a special gas carrier of 7 to 20 thousand cubic meters. This ship could take gas from an adoption ship of the liquefied natural gas terminal. The construction of the adoption ship for Klaipeda port will start on September 17 in South Korea.

The bunkering ship could service not only the port of Klaipeda, but also other neighboring ports. Lithuanian Ship Owners' Association President Gintautas Kutka talked positively about the opportunity to use a special small vessel for this service. This is a conventional scheme: the bunkering ships are servicing other ships with the fuel. There were suggestions about the possibility to build a special embankment in the port of Klaipeda, so that the ships which need refilling could come near it and be serviced.

However, the stationary equipment seems less attractive than a mobile ship. The world has seen various other schemes, whereby ships are serviced by a special truck, placed on the shore. Klaipeda Oil Liquefied Natural Gas Terminal Manager Rolandas Zukas claimed that there is a possibility to have a scheme for refilling smaller tanks. Gas could be transported from the port of Klaipeda to other ports by special barges, carrying a cryogenic 40-50 cubic meters containers. The gas could be used for heating: a town of 10 thousand people could use this amount of gas for one week, reported ELTA/LETA.