International Internet Magazine. Baltic States news & analytics
Tuesday, 19.02.2019, 15:15
Baltic states to test desynchronization from BRELL in 2019
BC, Riga, 12.07.2018.

Print version
The Baltic states will test their planned desynchronization from the Russian-Belarussian power system (BRELL) next year, representatives of Augstsprieguma Tikls transmission operator told LETA.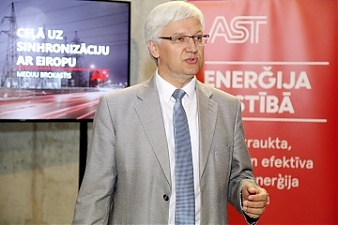 A full synchronization of the Baltic power grids with Europe is planned for 2025.
During the test in 2019, the Baltic power grids will be disconnected from the Russian and Belarussian energy system, meaning that during the test all the necessary power will have to be provided by the Baltic states themselves and also from the DC connections with Sweden, Finland and Poland. The Baltic states will also have to ensure power balancing and frequency regulation.
After the three Baltic transmission operators - Lithuania's Litgrid, Latvia's Augstsprieguma Tikls and Estonia's Elering – agree on the best scenario and date for the test, the terms of the test will be agreed also with other parties concerned, including market participants, transmission operators of other countries and power producers.
Augstsprieguma Tikls CEO Varis Broks said that electricity trade with Russia and Belarus has been dropping in recent years.
"The Baltics need to be synchronized with their main trading area. At present, trade basically takes place with Scandinavian countries and Poland, while trade with Russia and Belarus is constantly dropping. During the past year trade [with Russia and Belarus] has even dropped slightly below 10%t. The test of isolated operation is the next bid step towards attaining this target in 2025," said Broks.
Janis Patmalnieks, deputy state secretary of the Economics Ministry, said that the Baltic power grids' integration with the European Union's (EU) power system has been defined as one of the strategic priorities of the bloc's energy policy.
Augstsprieguma Tikls is an independent transmission system operator, which operates the electric power transmission network and ensures security of electric power supply in Latvia, as well as fulfills the following mission: providing power transmission services based on the published transmission service tariffs and providing free third-party access to the transmission network. Augstsprieguma Tikls holds operational control of the transmission system and ensures its stable operation.