International Internet Magazine. Baltic States news & analytics
Monday, 18.12.2017, 05:15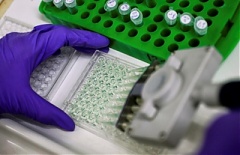 15.12.2017
Latvia's Citadele bank has issued a EUR 994,000 loan to Rigvir holding company Latima for completion of science center laboratory, said Rigvir executive director Kristine Juckovica, cites LETA.
05.12.2017
During the sixth summit the China, Central and Eastern European (16+1) leaders, a trilateral cooperation memorandum was signed by global genomics services company BGI, the Wuhan National Bio-industry Base and the Economic Ministry of Latvia on establishment of a life sciences and technologies part in Latvia, the ministry reported LETA.
04.12.2017
Some 35 million euros in EU funds have been allocated for selected high-level research projects by scientists from Lithuanian universities and scientific institutes, the Education and Science Ministry said on December 1st, informs LETA/BNS.
04.12.2017
Lithuania in 2016 spent 286 million euros on research and development (R&D), which accounted for 0.74% of GDP, among the lowest ratios in the European Union, figures from Eurostat showed on December 1st, cites LETA/BNS.
01.12.2017
According to Statistics Estonia, in 2016, the expenditure on research and development (R&D) in Estonia amounted to 270.3 million euros, which is 11% less than in 2015.
01.12.2017
Ricor Systems 2011 – A.C.S. Ltd., an Israeli scientific research company working with defense and space projects, has filed an application under the EU Smart FDI instrument and said it aimed to establish a unique perimeter monitoring and security device Halo in Lithuania, Verslo Zinios business daily said, cites LETA/BNS.
30.11.2017
At present, there are around 70 certified anti-money laundering specialists in Latvia, Angela Salter, the European head of the Association of Certified Anti-Money Laundering Specialists (ACAMS), told LETA.
27.11.2017
The provision banning persons with criminal history from doing education jobs is unconstitutional, the Latvian Constitutional Court ruled in Latvia on November 24th.
23.11.2017
Contemporary legislation in the countries of European culture is based on the underlying premise that an individual has a free will and the capacity for the independent decision-making. If the particular human being has such abilities it presupposes an appropriate responsibility for personal misbehaviour. But this admission doesn't function in many preliterate cultures. It is easy to show that these abilities represent the consequences of the very long historical process of the human being and society's development.
22.11.2017
EU and global economies are facing "labour problems": in various states angry workers denounce both a shortage of jobs and low wages. Besides, robots already appear to be a threat to workers being able to replace millions of humans. Another issue is that of the basic income: the idea attracts attention around the world providing potentials for a universal social safety net implementation.
22.11.2017
Estonian 15-year-old students achieved the best score among European countries in a global PISA collaborative problem-solving assessment based on data for 2015, informs LETA.