International Internet Magazine. Baltic States news & analytics
Friday, 07.03.2014, 09:35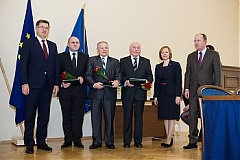 07.03.2014
Yesterday, on behalf of the Government, Lithuania's Prime Minister Algirdas Butkevicius congratulated the laureates of the Lithuanian Science Award, reports LETA/ELTA.
28.02.2014
Latvia is interested in continuing cooperation with Belarus in the area of political dialog, thus enhancing opportunities to discuss bilateral partnership as well as relations between the European Union and Belarus, President Andris Berzins said during a meeting with visiting Belarusian Foreign Minister Vladimir Makei on Thursday, cites LETA.
28.02.2014
Today through March 2, the international book and publishers exhibition "Baltic Book Fair 2014" is held at Kipsala Exhibition Hall in Riga, bringing together authors, translators, publishers and readers, exhibition organizer BT1 informs, cites LETA.
28.02.2014
Residents associate Latvia's European Union membership with a number of advantages, such as free travel and the opportunity to work and study in other EU member states, as well as making use of EU funds for the development of the country, according to the latest "DNB Latvia Barometer", informs LETA.
27.02.2014
The Lithuanian Government has taken complex employment decision and plans to provide support to employers, employees, education and vocational guidance, reports LETA/ELTA.
27.02.2014
Prime Minister Andrus Ansip, the Minister for Education and Research Jaak Aaviksoo and the Minister for Culture Urve Tiidus in Pärnu presented the national science awards, the Wiedemann Language Award as well as the sports and culture awards om Februuary 24th at Pärnu Endla Theatre, informed BC press service of the government.
26.02.2014
According to Statistics Estonia's projection, if the current demographic trends continue, the population of Estonia will decrease by 125,000 in the next roughly 30 years due to negative natural increase and negative net migration. Thus, the projected population of Estonia in 2040 will be 1,195,000.
25.02.2014
The Education and Science Ministry's conduct in handling earmarked subsidies meant for paying teachers full salaries has been inefficient and, in some cases, even against the law, the State Audit Office of Latvia has concluded.
25.02.2014
Today, Lithuania's Prime Minister Algirdas Butkevicius welcomed participants of the conference of the For the Progress of Libraries 2 project, informs LETA/ELTA.
24.02.2014
Lithuania's Prime Minister Algirdas Butkevicius attended a business forum Siauliai Region Economic Development: Public Investment to Encourage Business Ideas, informs LETA/ELTA.
24.02.2014
On February 24, the economic forum Economic Development of Siauliai Region: Ideas for Business Promotion – State's Investments will take place in the Siauliai University, informs LETA/ELTA.