International Internet Magazine. Baltic States news & analytics
Wednesday, 07.12.2016, 22:14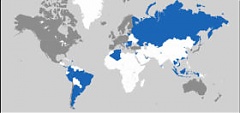 06.12.2016
Estonia outperforms the rest of Europe in the OECD's latest PISA survey, which evaluates the quality, equity and efficiency of school systems.Latvia is ahead of Lithuania but still trails behind Estonia.
29.11.2016
While Russian language education in Estonia is today taking a backwards step, the new government led by the Center Party is ready to ease the rules now valid for Russian medium high schools, Tallinn Deputy Mayor Mihhail Kolvart told Russia's Interfax news agency citing LETA/BNS.
24.11.2016
He will replace Ingrida Simonyte, who won a parliamentary seat in last month's general elections., a Lithuanian businessman engaged in high-tech development, has been elected president of the Vilnius University Council, the university said, reported LETA/BNS.
23.11.2016
Most teachers believe that their profession is not held in high regard in Latvia, according to a survey carried out by the Trade Union of Education and Science Employees writes LETA.
17.11.2016
Universities reach the coasts of the Baltic Sea in the 15th century – Rostock in (1419),Greifswald (1456), Uppsala in (1477) and Copenhagen (1479). The eastern coast got its first academic settlements roughly a hundred years later – in Königsberg (1544) and Tartu (1632) respectively.
15.11.2016
Baltic branches of DNB Bank are providing 8.4 million euros to the Estonian company 1Home Group AS to build rental apartments for students in Tallinn, Tartu, Riga, Vilnius, Kaunas and Warsaw, reports LETA/BNS.
15.11.2016
The Russian Foreign Ministry has drafted a presidential decree that would give rights of visa-free travel to Russia also to those Latvian and Estonian non-citizens, who had been born after February 6, 1992, when the Soviet Union citizenship ceased to exist, according to pravda.ru writes LETA.
11.11.2016
Digital Freedom Festival to hold a policy discussion on future on collaborative or shared economy powered by European Commission. The main goal of the round-table discussion is to identify the challenges and opportunities of collaborative economy's models, to engage into dialogue and find the cooperation potential among startups, policy makers and opinion leaders for better results in the future.
08.11.2016
EU funding worth EUR 66.8 million will be made available to Latvian research projects with high commercial potential, LETA was told at the Education and Science Ministry
25.10.2016
The results of the project "Preventing human trafficking and sham marriages: A multidisciplinary solution" (HESTIA)* were presented at the dissemination briefing organised by the Ministry of the Interior (MoI). The main goal of the project initiated in January 2015 and co-funded by the European Union (EU) "Prevention of and Fight Against Crime" programme was to seek correlations and explore the phenomenon of sham marriages in the context of human trafficking and to propose comprehensive action for their prevention.