International Internet Magazine. Baltic States news & analytics
Sunday, 26.06.2016, 05:42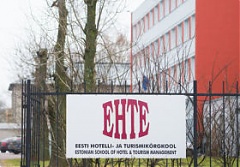 22.06.2016
The Estonian School of Hotel and Tourism Management (EHTE), a private school providing applied higher education in Tallinn, has been declared bankrupt, informs LETA/BNS.
13.06.2016
In the first four months of the year 2016, the average monthly salary of teachers of municipal schools in Estonia was 1,135 euros, which marks a year-on-year rise of 6.3%, informs LETA/BNS.
10.06.2016
The Launch of Latvia's first satellite Venta-1 into orbit planned this month has been put off, Aigars Krauze, a researcher at Ventspils University College and a coordinator of Venta-1 project, told LETA.
09.06.2016
The European Commission has registered a new European Citizens' Initiative called "More than Education" to modernise the existing education systems in the EU states. The European Citizens' Initiative (ECI) is a reflection of "citizens' democracy": a registered ECI with 1 million signatures from seven EU states forces the Commission to take actions.
07.06.2016
Estonian parliament (Riigikogu) on June 7th adopted changes to the Private Schools Act, according to which the state will continue to pay an operating subsidy to private schools until the end of 2019, informs LETA/BNS.
01.06.2016
The number of foreign students in Latvia has trebled in the past three years, and their contribution to the national budget reaches EUR 148 million a year, a study by Certus think tank shows, cites LETA.
30.05.2016
Steps have been taken this year to establish in Turkey the first Latvian Society and the week-end school for Latvian children, the Latvian embassy in Turkey announced LETA.
27.05.2016
Vilnius University (VU) professor Virginijus Šikšnys is the first Lithuanian scientist invited to become an Associate Member of European Molecular Biology Organization – an association uniting and promoting excellence elite scholars of life sciences.
26.05.2016
Past crises seem like small headaches compared to the challenges the European Union is facing today, Estonian President Toomas Hendrik Ilves said speaking at the Stanford University on May 23rd, cites LETA/BNS.
25.05.2016
Since the establishment of BAA Training's Ab Initio School in 2011, the company has welcomed twelve students from Ukraine for various airplane and helicopter pilot license training courses in Lithuania. Over the years, Ukrainian students have carved their way to Lithuanian aviation school, which is then followed by the successful employment at the companies of their home country or abroad.
25.05.2016
Latvian Robotics Championship will take place at the Electronics and Telecommunications Department of the Riga Technical University (RTU) on Saturday, May 28, featuring robotics enthusiasts and fans from all Baltic countries whose robots will compete in seven categories, informs LETA.