International Internet Magazine. Baltic States news & analytics
Monday, 31.08.2015, 09:46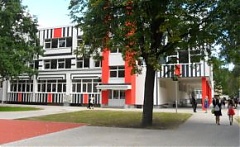 28.08.2015
The State Construction Control Office in Latvia had inspected 261 educational establishments in Latvia by August 25, which is 40% of all buildings the office has visited so far this summer. The majority of the inspected educational establishments, 89%, are either in excellent or good condition, according to the office.
24.08.2015
Production of bioethanol is an alternative energy source of utmost importance in replacing ordinary fuel made from hydrocarbons. Latvian scientists have succeeded in producing bioethanol and furfural from plant waste – wheat straw. Co-generation of the two products – ethanol and furfural – is what makes their method unique.
21.08.2015
Lithuania's Civil Service Department (VTD) has completed implementing a project financed by the European Union – the Improvement of the Selection System of Civil Servants. It was recognised as one of top ten public governance improvement projects implemented in 2007-2013, reports LETA/ELTA.
20.08.2015
The elites' idea is neither an abstract theory dreamt up by modern technocrats nor a wild fantasy hatched by futurists. It has become a primordial socio-economic phenomenon in absolute majority of contemporary states. Cumbersome and often too complicated "official" decision-making process in a modern state allow for a non-official, however not less efficient, way to make important decisions; and sometimes quicker to implement some of them.
19.08.2015
Vilnius University (VU) students Jonas Narkeliunas and Mikalojus Brazdziunas on 31 August 2015 will begin four month placement at The National Aeronautics and Space Administration (NASA) Ames Research Centre, informs LETA/ELTA, referring to Lietuvos zinios.
18.08.2015
Laura Steponavičiūtė, 16, from Vilnius, Lithuania became one of 20 finalists at Google Science Fair. On September 21st, Laura will join 19 more young talents from all over the world in Mountain View to present their projects to a panel of notable international scientists and scholars, eligible for a $50,000 scholarship and other incredible prizes from Google Science Fair partners at LEGO Education, National Geographic, Scientific American and Virgin Galactic, reports BC Invest Lithuania.
14.08.2015
Statistics Lithuania informs that, according to the Labour Force Survey data, in II quarter 2015, the unemployment rate stood at 9.4%. In II quarter 2015, against I quarter 2015, the unemployment rate decreased by 0.6 percentage points, against II quarter 2014 – by 1.8 percentage points. In II quarter 2015, the male unemployment rate stood at 10.7%, female – 8%.
14.08.2015
At the end of July 2015, Webometrics published its latest rankings of the top world universities: for the third half-year in a row, three leading Lithuanian universities retained their former positions. Vilnius University (VU) is in the first position; Vilnius Gediminas Technical University (VGTU) is in the second position and Vytautas Magnus University (VMU) – in the third position, informs LETA/ELTA.
12.08.2015
Data of the Central Statistical Bureau (CSB) show that in the 2nd quarter of 2015 unemployment rate was 9.8%, which is 0.9 percentage points less compared to the previous year. Compared to the previous quarter unemployment rate declined by 0.4 percentage points.
12.08.2015
According to the data of the Central Statistical Bureau at the beginning of 2015 there were 277 thousand young people aged 13 to 25 in Latvia. Of them 142 thousand were males, and 135 thousand - females. Over the last five years the number of youth shows on average 5.7% decrease annually. Also the share of young people in the total number of population keeps declining each year. If in 2005 each fifth (20%) Latvian national was aged 13 to 25 years, then in 2010 the share of youth dropped to 17%, and in 2015 - to 14%.
12.08.2015
President of Lithuania Dalia Grybauskaite on Wednesday visited the summer camp of young riflemen Strength in Unity, held in Salcininkai district, and said that in case of military aggression Lithuania would be defended by people of every ethnicity living here, reports LETA/ELTA.