International Internet Magazine. Baltic States news & analytics
Saturday, 20.07.2019, 17:05
Good advice for good business
Eugene Eteris, European Studies Faculty, RSU, BC International Editor, Copenhagen, 17.08.2018.

Print version
All sorts of activities need professional advice, particularly in political economy and business. Such advice generally comes from think tanks. Their numbers are growing by years, with rising influence and importance. Think tanks (TT) among European "advisers" are becoming more active, but the Baltic States have to catch up, in particular concerning global issues…
The rise of a new global phenomena, the think tanks (TT) appeared in 1950s; most of them in the United States, the country has been pioneering innovations for a century. The European TT have been lagging behind so far, i.e. there are about half European out of the total number; some have calculated that there are about 6,5 thousand think tanks worldwide.
However, the TT's roles are growing: they are becoming particularly important when it comes to making professional decisions in political economy and entrepreneurship. And their roles are increasing in the Baltic States as well.
According to the "Think Tanks and Civil Societies Program" at the Lauder Institute University of Pennsylvania, which has prepared the 2017 Global Go To Think Tank Index (GGTTI), there have been in 2017 over 50 think tanks in the Baltic States. Among them, 20 in Estonia, 19 in Lithuania and 11 in Latvia.
See more in: here. Follow this and additional works at: here.
European TT in the ranking
Among the "top 20" European think tanks (or TT) there are some leaders: on the first place the French Institute of International Relations (IFRI); on the second the Belgium's Bruegel; third and fourth place are for the Chatham House and the International Institute for Strategic Studies (both from the United Kingdom.
Interesting enough that the Danish Institute for International Studies is the sixth in the top ranking followed by the Center for European Policy Studies (Belgium, eighth).
There are in the top-20 TT three think tanks from Germany: German Institute for International and Security Affairs (10th); Konrad Adenauer Foundation (11th) and Friedrich Ebert Foundation (12th); the Stockholm International Peace Research Institute (14th).
The so-called "all European" think tank, i.e. the European Council on Foreign Relations is on the 15th place; Transparency International on the 18th and Clingendael, the Netherlands Institute of International Relations on the 19th place.
Interesting enough that even in Russia there are over 105 TTs, just like in Japan (!); to compare, there are 512 TT in China, 444 in the UK, 225 in Germany and 197 in France.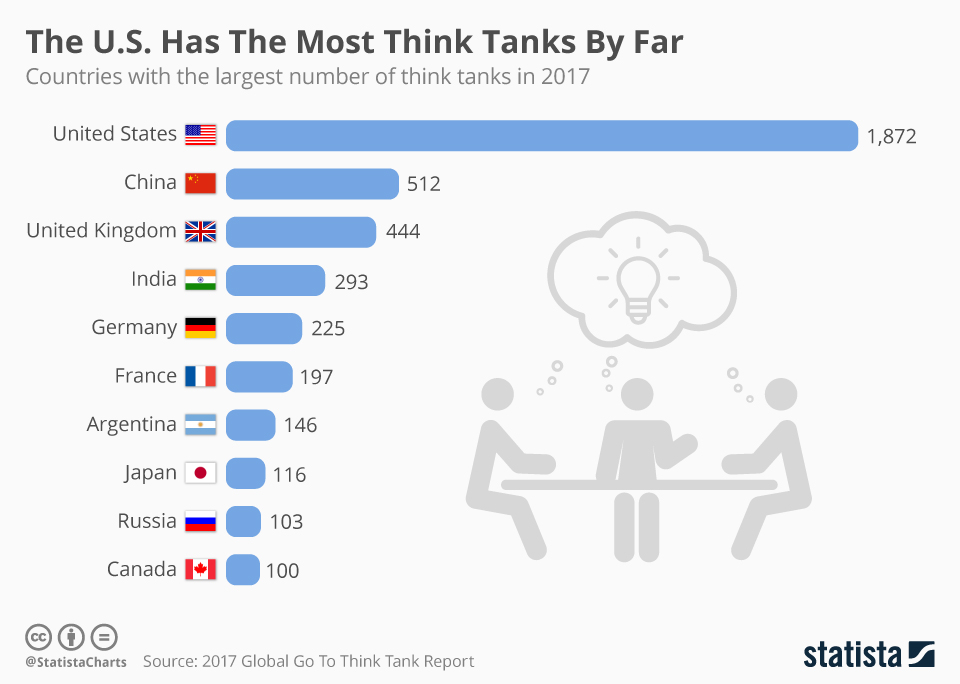 References to Niall McCarthy, data journalist publication in "Statistical Portal", 14.08.2018. See more in: here.
Baltic's-China connections
My attention to the TT's issues was inspired by the coming this fall the 20th International Business Networking Event titled "Asian business: the new challenges and opportunities"(19th October, in Riga, Latvia). I just wonder, how much Latvian entrepreneurs know about Asian and "China-way" of doing business? More information on the event see in: www.sfk.lv.
For example, taking the China-Europe relationship, some experts say that China is going "to transform the world economy" (!?) with the so-called "Belt and Road Initiative, BRI", with involved "strategic risks for Europe". In the article by V. Bohman and Ch. Ljungwall, the authors stress that "despite widespread fears of Chinese competition and the security risks involved in their takeover of major infrastructure projects, China's move to the West also offers plenty of opportunities that (if handled properly) can help Europe advance her own strategic priorities".
To exploit these opportunities, the Baltic States need to develop an approach which should be in line with: first, the national development strategies; and second, the "common European approach" in order to consider both advantages and drawbacks in the modern China business moves.
It is already generally acknowledged that China's advances in numerous European states have exposed tensions in EU common cohesion policy. Thus, proper assessment of all kinds of "China moves" is not only important for the Latvian political economy alone but for the rest of the Baltic Sea States in order to avoid splitting the regional interests. Besides, the EU-27 in general shall urgently formulate a concrete common approach to the China's Belt & Road Initiative.
Source: here.
No doubt that BRI is going to boost China's geo-political and economic position: modern China's investment schemes have already made some Asian states' economies "China-dependent". Just one example: China has been already using investment and other economic levers for their political gains while providing a "generous" loan on 99-year lease for construction of a huge Hambantota Port in Sri-Lanka; the port is going to be a vital link in the BRI's network. Such examples around the world are numerous…
Making Asian and China's interests work for Europe
China's global ambitions can create a "window of opportunity" for a number of Baltic States' countries, including Latvia. Some experts clearly underline that for a number of countries "the lack of credible economic alternatives leaves little room to contradict Beijing when it comes to setting norms and rules for future economic flows". In the absence of a counterweight that can stand up for fairness and transparency, China is likely to exploit its exclusivity to elevate its strategic standing.
Some analysis can be seen in the article updated on 15.08.2018. in: here.
Scientists in the world already advise that "to sidestep the risks involved, the EU needs to set out clear red lines to ensure governments do not support BRI projects unless they live up to recognized criteria on transparency, equal say of stakeholders and environmental and labor standards. I just wonder what Latvian TT is advising the coming Latvian-Asian forum this fall?
Because regardless of Latvian entrepreneurs' vision about Asian/China's global ambitions, the latter are already coming to the region. Numerous China's business-investment initiatives are going to present a challenge both to the Baltic States and the EU in general. These countries have to face the reality and adapt to it: the sooner the Latvian think tanks accommodate to the challenges, the better.
Bottom-line: the Latvian leaders and businessmen have to overcome a "knee-jerk reaction" to China's ambitions, face the alleged threats and possibly contain them; that is my humble personal advise…