International Internet Magazine. Baltic States news & analytics
Wednesday, 12.12.2018, 09:45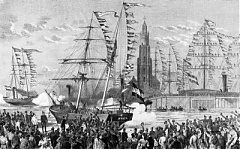 09.11.2017
The ports of the Baltic Sea are an important gateway to economically successful regions, as well as a gateway of trade between East and West. In Latvia, Estonia, and Finland, the political, cultural, and intellectual elites have concentrated in Riga, Tallinn, and Helsinki. Meanwhile, the only seaport of Lithuania, Klaipėda, is not the capital city of the state.
25.01.2017
The long-time and controversial CEO of the Freeport of Riga Leonids Loginovs, whose name has been mentioned in various scandals over the years, has stepped down, Mareks Gailitis, the advisor the port's board chairman Andris Ameriks, informed LETA today.
19.01.2017
The new term "retirement economy", as no other one, characterises realities not only of the modern labour market, but also of the world economy. The adverse demographic situation in the Baltic States allow speaking about the inability of the present retirement system for future pensioners. Besides low birth rate it is necessary to mention substantial out-migration of able-bodied population to other countries with good working opportunities. The adverse demographic situation and labour migration are the basis of pessimism and non-confidence of the population, especially of the youth, in the state retirement system.