International Internet Magazine. Baltic States news & analytics
Monday, 21.05.2018, 19:34
Norwegian economist: Latvians lack healthy national self-confidence
Nina Kolyako, BC, Riga, 03.10.2011.

Print version
Latvians lack healthy national self-confidence, the famous Norwegian economist Erik Reinert said in an interview with the business magazine "Kapitals". It is planned that Reinert's book "How Rich Countries Got Rich... and Why Poor Countries Stay Poor" will be published in Latvian by the end of this year.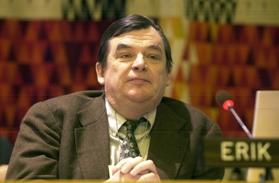 Erik Reinert.
Reinert believes that, even though the current immigration amounts are "extremely dramatic", the Latvian government still has several instruments to improve the situation in the country or at least prevent it from deteriorating, informs LETA.
"Re-industrialization is the only solution," emphasizes the economist.
Reinert emphasizes that the government should not allow further privatization of the state-owned companies, which would be a shortsighted solution. These companies usually wind up in foreign investors' hands, who are frequently connected with foreign governments. This basically means that Latvians are being told that their country is worse than others because it gives away its companies.
The economist recommends considering turning to agriculture. "During good times, people move from rural areas to cities, during bad times – it is the other way around.
Reinert criticizes banks, which previously served as a bridge between businessmen and their goals, but now have become parasitic organisms. Theoretically, in case of bad loans, the banks should take the risk and lose. However, at the moment, they are demanding to be rescued.
The expert also criticizes the banks' bailouts, which are in contradiction with "natural self-purification". If the country's banking sector greatly exceeds its manufacturing sector, then it is one of the main signs that something is amiss.
Commenting the current situation in the European Union, Reinert points out that Latvia was one of the first member states to be affected by the crisis and among those which suffered the most. However, the situation in Lithuania and Estonia was only slightly better.
At first, it could seem that something was wrong with the country itself, however, now, when the same is happening in Greece, Iceland and Italy, it becomes clear that the system is to blame.
Reinert emphasizes that Latvia's main losses are those thousands of residents who have left the country or continue to leave it.
"Those who leave Latvia, are socially active. They are the ones who should stay and establish new companies. Capitalism is based on capitalists who create new jobs. What will happen when they mass migrate?"
If a country faces mass migration of doctors, IT and other highly-qualified specialists, Europe will inevitably divide in rich and poor countries, Unfortunately, the economic theory could not predict such twist. "Most of the politicians still do not realize that the EU model is an illusion. They believe that it cannot fail, whereas it has already done so," admits Reinert.